Welcome
We hope you enjoy your experience at Crossings Church. This page is designed to help you navigate your way through your first visit this Sunday morning. We have a come as you are attitude. Please feel free to dress casual. If you have any questions please ask one of our greeters when you arrive at the entrance.
Getting Here
WE MEET AT
Desert Edge High School
15778 W Yuma Rd.
Goodyear, AZ 85338
SERVICE TIMES
Sunday mornings at
10:00 AM Childcare & Kids Programs Available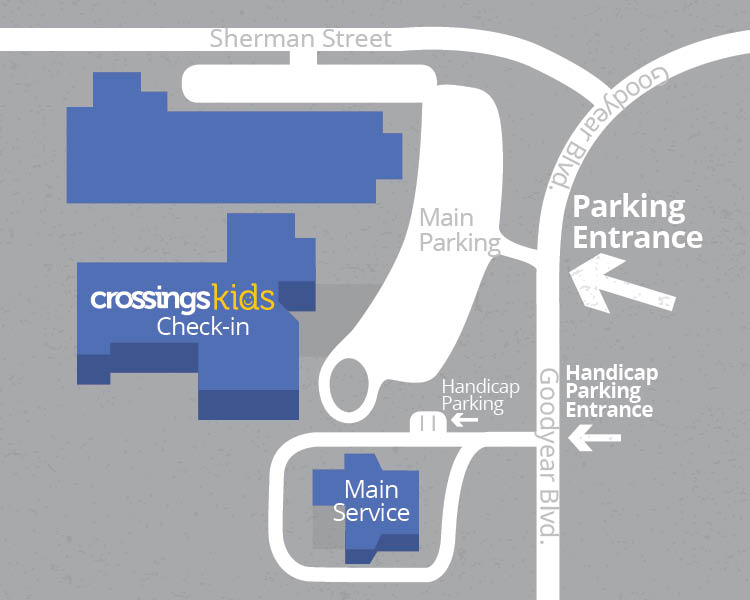 When you get here
When you arrive on campus park in the main parking lot. Handicap parking is available adjacent to the large main service banner.
If you are checking in kids, our children's area is located west of the main parking lot. You will receive a barcode sticker which you will need later to pick your child up at the end of service.
Once children's check-in is complete, head on over to our main service located in the auditorium south of the main parking lot.
Thank you for attending to Crossings, as always, it's better with you!
FAQ's
Thinking about giving us a try? We'd love to get a chance to meet you!
Trying out a new church is a big deal—and we want you to be as comfortable as possible for your first visit. Look at the info below to get a feel for the atmosphere at Crossings.
You meet at a high school, so how will I know where the actual service is?
We have signs set up on the roads so that you can find the school itself and also the parking nearest to our service (it's in the auditorium). Once you're out of your car, look to the south for the blue signs. Head under the ramada, through the outer double doors, then through the interior double doors. Once inside, you are welcome to sit anywhere you like (fear not; we don't pick on anyone, even if they're in the front rows!).
Should I dress up?
Please wear whatever you're comfortable in. Many Sundays our lead pastor is in jeans and a button-down shirt.
Will I be called out and embarrassed during service?
NO. Being new is intimidating enough—we don't want make it worse! We do encourage you to check out our Welcome Table so we can answer any questions you might have and say hello.
Am I expected to give money during offering?
No, and you won't look out of place if you don't (many of us give online).
Can my kids come?
We offer kids programs for every age. Childcare is in the cafeteria (from the parking lot, head west to the kids check-in signs. We have several security practices in place to ensure your children's safety while you trust us with them. All children's volunteers have undergone background checks and kids cannot be checked out by anyone who doesn't have their ID tag.
Can I meet the pastor?
Yes. He would love to meet you either before or after services—he loves people!
Still have questions? Don't hesitate to contact us at info@crossingschurchaz.org.