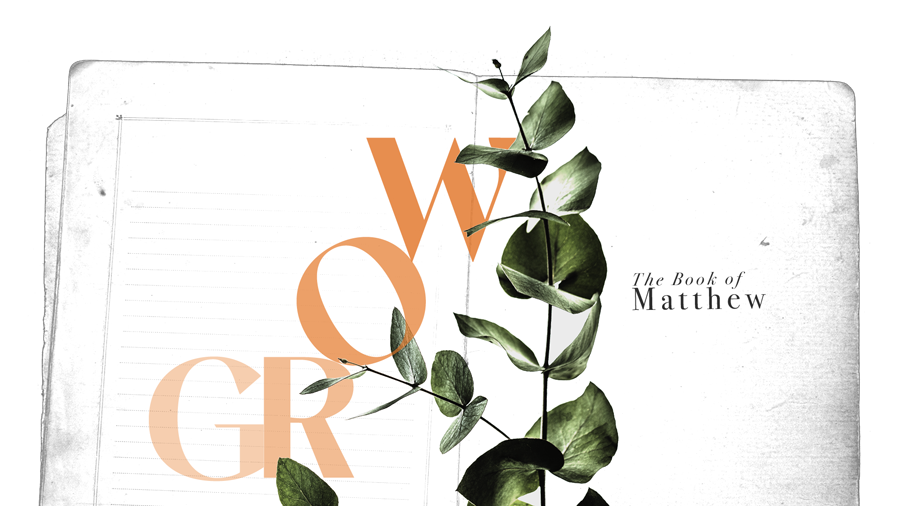 GROW - The Book of Matthew
Growing in our faith is lifelong process and it doesn't happen by accident. It is something we have to actively pursue. One essential way to spiritual growth and a closer relationship with Jesus is reading and studying the Bible. We will begin this year by reading one chapter of Matthew each week. Below is a reading plan with the chapter to read, verses to meditate on and verses to commit to memory.
We are excited to see God move in your life as you set aside time to be with Him!
STUDY: Matthew Chapter 1
MEDITATE: Matthew 1, verses: 3, 5, 6, 16
MEMORIZE Matthew 1:21
STUDY: Matthew Chapter 2
MEDITATE: Matthew 2:7-12
MEMORIZE Matthew 2:2
THIS WEEK'S STUDY GUIDE
Chapter 2 overview
This first section in Matthew (Matt 2:1-12) includes 3 main characters, Jesus, Herod the king and the magi (the magi being several men of which little is known but most traditions state that there were 3 magi due to the 3 gifts they brought). Jesus had already been born at this time and was at most 2 years old. We can see this from the decree Herod made to kill all male children of 2 years old and under in verse 2:16. Jesus at this time was still in Bethlehem since the magi had not visited Him yet, later God would direct Joseph to take his family and flee to Egypt to avoid Herod's wrath. Next, we see Herod the king. Herod was a jealous, vengeful and evil king who sought mainly to keep his throne at all costs. There are extra-biblical accounts of him killing one of his wives and 3 of his sons. We know that the sons were killed because Herod thought that they meant to take his throne from him. However, Matthew does not need to dive deeply into Herod's past to demonstrate his wickedness. Matthew simply states that Herod ordered the murder of all male children 2 and under in Bethlehem and the surrounding vicinity and that is all the words needed for us to truly understand the wickedness of Herod. Finally, we get to the magi who were traveling from the east. Nothing much is mentioned of the magi including how many there really were. What we can understand from history is that magi were educated men that were practitioners specializing in astrology, sorcery, medicine, and dream interpretations among other things. The term magi was used by the Babylonians, Medes, and Persians and so we can discern that these magi were Gentiles.
Here in these initial verses in chapter 2, we see a couple of contrasts. First, we see Jesus King of the Jews alongside Herod the king (also known as Herod the great). Jesus, the rightful and righteous king of not only the Jews, but also all the world. Jesus, who was prophesied as the king and born into His kingship. Jesus, who was fully God and fully man. This is in stark contrast to Herod who is evil, unrighteous, and very deceitful. Herod was very fearful of losing his throne to others, whereas no one can ever take the throne away from Jesus.
The second major contrast is that of who was drawn to Jesus. Matthew is a Jew writing to Jews to prove that Jesus was messiah, king and savior. Jesus even stated that He came first to the Jew and second to the Gentiles (see Jesus' conversation with the Canaanite (Gentile) woman in 15:21-28). However, the first people that Matthew mentions who are seeking out Jesus (not only as Jesus, but as Jesus King of the Jews) are the magi...Gentiles! We do have other gospel accounts where shepherds were drawn to Jesus by an angel's appearance, but Matthew leaves that out, focusing on those outside of the Jewish community seeking Jesus. As we shall see in verse 2:2, they weren't just seeking Him, it was far more important than just seeking Him.
About the Meditation Verses:  Matthew 2:7-12

Now Matt 2:3-8 details the reaction of Herod and the Jews. Most likely "all Jerusalem" meant the religious leaders (chief priests and scribes mentioned in Matt 2:4) and not every single person in Jerusalem. The Jewish religious leaders seem apathetic to this news of magi seeking out the king of the Jews since they clearly explained to Herod where Jesus would be born but they themselves were not seeking their messiah. Herod's fear and hatred of this new king eventually peaked in the religious leaders later during Jesus' ministry as they sought to trap Him and eventually kill Him. Nothing much more is said of the religious leaders at this point as scripture only tells us that they were "troubled", but not enough to actually take action as Herod did. We do know that later the religious leaders would take it upon themselves to kill their messiah. It is possible that they might have thought not to get involved at this point and maybe Herod would solve their problems for them by killing their messiah. This would allow them (in their minds) to keep their hands free of blood by turning a blind eye towards Herod's actions when in truth it just meant that they were complicit in Herod's actions against Jesus.
After leaving king Herod, the magi moved on from where they were. At some point, they again saw the star. This time the star led them to the place where Mary and Jesus were staying, which some historians say took roughly 2 hours of travel time. Salvation was so close to all in this story, but very few had their eyes opened in order to see things clearly. Notice how the magi reacted to seeing the star once again. Matthew says they "rejoiced exceedingly with great joy". Usually when there is repetition, in this case with "rejoiced" (a verb) and "joy" (a noun), it places an emphasis on what is repeated. We know that the magi's joy (both inward and outward) is being emphasized here, but Matthew doesn't stop there, he also adds that they rejoiced "exceedingly" and that their joy was "great". We must understand the magi's joy as magnificent, overwhelming and exhilarating. The magi were finally going to be able to fulfill their purpose in worshiping the king. Do we come to the King in this manner...rejoicing exceedingly?
Upon finding the house where Jesus and Mary were staying, the magi entered and seeing Jesus and Mary they first "fell to the ground" or bowed down before Jesus. This showed their reverence for Jesus and was a prelude to their worship of Him. It is interesting that Matthew wrote that the magi both bowed down and worshiped. The Greek word for worship here could have also been translated as bowing down in order to show homage to others of higher rank (including human kings). Translating this word as bowing down would not make sense within this context since Matthew already stated that the magi "fell to the ground". Rather, the magi first bowed down and then worshiped Jesus. This is important since some would argue that the magi simply came to see a human king that would someday rule the Jewish nation, not that they came to see God himself. If the magi simply fell down before Him, you could argue (perhaps poorly) that they were simply paying homage to a man. However, since they fell down and worshiped Him, we know this is more than just paying respects to a potential human king, it was much more. This same word is used later in Matthew to describe how the disciples worshiped Jesus:
Matthew 14:33 - And those who were in the boat worshiped Him, saying, "You are certainly God's Son!"
The magi's final act of worship was to present their treasures to Him. They brought Him gold as appropriate for a king, frankincense as appropriate for a deity, and myrrh as appropriate for death, which was used for embalming. These treasures were of high value and highly valued, they were their best treasures that they gave to Jesus the King.
These verses give us an example of how we are to worship. We are to worship with exceeding joy, a joy defined by the object of our worship, Jesus. Our worship should be humble and submissive to an all-powerful and all-loving God, Jesus. Our worship should be to glorify the one who was born to us in the most humble circumstances, Jesus. Our worship should cause us to want to give our best to the one who gave everything that we could be made whole, Jesus.
Throughout these verses we also see God's sovereignty play out, protecting and providing for Jesus, Mary and Joseph as well as the magi. Protection for Jesus and the magi against Herod's wrath, as Herod was also enraged when the magi didn't return to tell him where Jesus was at. Protection for Jesus and His family as Herod pursued them in order to kill Jesus (presumably the same fate would have awaited Mary and Joseph, as well as Herod, would have wanted to end king David's bloodline once and for all). Provision for the magi in the form of a star. Provision for Jesus and His family in the form of the treasures given to Him by the magi that would be useful in their travel to Egypt (Matt 2:13).
About the Memory Verse:
"Where is He who has been born King of the Jews? For we saw His star in the east and have come to worship Him." - Matthew 2:2
Why do you think we should memorize a verse that speaks of Gentiles who were looking for Jesus (and not only just any Gentiles but those practicing things that God forbade and mocked, see: Isa 47:13–15)? The answer lies in understanding exactly what God wants us to hear and understand in this verse and that can only be found by examining this verse intently and within the larger context of chapter 2. First, we see that this entire verse is what was uttered by the magi (Matt 2:1) and is comprised of 2 distinct sentences. The first asks a question and the second provides a reason for the initial question. To expand our view slightly, Matt 2:1 ends with "magi from the east arrived in Jerusalem, saying,". We see the magi in Jerusalem after traveling quite some distance and they were asking those in the city where their king is. This word "saying" in the Greek is a present participle verb that is also plural. Knowing that this verb is of a plural form gives us the image that each of the magi was asking this same question. Additionally, the present participle gives the sense they they kept asking this question, obviously not getting an answer. This is very odd since the Jewish people had the scriptures and knew of this prophecy, but were oblivious when the prophecy arrived. The magi were not oblivious, they had been studying the Jewish scriptures and had realized (probably through a prompting by God to understand scriptures and also by the appearance of the star) that the king of the Jews was here. Jesus was already working, He was calling to Himself those who were spiritually poor and in need of the ultimate healer.
The first question they asked was "Where is He who has been born King of the Jews?". This shows that the magi not only understood the prophecy about Jesus, but that they also had knowledge of the genealogy of Christ. Obviously, the gospel of Matthew was not yet written when the magi were looking for Jesus so they couldn't have just looked up Matt 1 and read about His genealogy, so they had to have intently studied the scriptures (the OT at that point in time) in order to understand that Christ was of the line of King David. It's interesting that no one gave an answer to the magi's question, otherwise the magi would have immediately gone to the house where Jesus was. We see later that king Herod was a jealous king and wanted to rid himself of this king of the Jews. This is God's sovereignty at work, God prevented Herod from killing Jesus prematurely (before He could fulfill what scriptures said about Him) essentially blinding everyone except the magi from where Jesus was at during this time. Notice that the magi were not following the star at this point in the story, which must have disappeared temporarily while they met with Herod in Matt 2:7. This is also very telling of God's sovereignty and how far away from God the Jewish people had strayed.
Now the magi didn't stop with just this question, they gave an explanation as to why they were asking such a question. One that again must have been perceived by the people of Jerusalem as strange or crazy. Just imagine if you were a Jew in Jerusalem at that time and an outsider came to you asking where your king was. They must have thought these magi had lost their minds. This second sentence starts with the word "for", which in Greek is a conjunction that indicates an explanation is coming and we see here that the first reason for their question is due to not just a star appearing, but "His" star appearing. Now we get to the high point of this verse, and the second reason for the magi's question, in which the magi state "...and have come to worship Him.".  This is the crux of this verse, the fact that they didn't just want to find this king of the Jews, but that they wanted to worship Him. In fact, their main purpose was to worship Him. How do we know this. Well, looking at the verb in the original Greek we see that it is what is called an adverbial infinitive, which is just a fancy way to state that the phrase "to worship" makes further assertions about the verb it modifies (i.e., "have come"), that is the purpose of the magi's quest in seeking out the king of the Jews. Simply put, the central purpose of the magi's journey was to worship the king of the Jews!
This is absolutely amazing, in this one verse we see the magi, who are gentiles, eagerly looking for the one whom is prophesied as the king of the Jews. They have followed scripture and a star (His star) to Jerusalem where the star mysteriously disappeared (but we know that this was God's provenance in order to protect Jesus from Herod and possibly even the religious leaders). And most importantly, we see that the magi have come to worship Jesus as king. Contrast this with the reaction of the Jews. They cannot (or won't) answer the magi's question, we know this because the star had to reappear to guide them, otherwise someone would have told them where to go. Additionally, Herod and "all of Jerusalem" (Matt 2:3) were troubled by this news. The chief priests and scribes of the Jews informed Herod of the OT prophecies of where Christ would be born (Matt 2:4-6), but they were not eagerly seeking Jesus as the magi were. Finally, Herod, who was exceedingly jealous of his throne, was worried this king of the Jews would take his throne so he secretly plotted to kill Jesus.
Today, as we commit this verse to memory, we should also strive to be more like the magi when we come together as a church. Coming together humbly and with joy to worship Jesus as our king, knowing what He has endured for our sake. It is my prayer that this verse would cause us to pause and consider our own worship and how we can grow closer to Christ in worship. Let us be more like the magi (Matt 2:10-11) exceedingly joyful, bowing down in submission, worshiping and giving of our best (first-fruits) to Jesus.
STUDY: Matthew Chapter 3
MEDITATE: Matthew 3:11-12
MEMORIZE Matthew 3:11
THIS WEEK'S STUDY GUIDE
Chapter 3 - Overview
Matt 3:1-12 can be divided into 2 major sections verses 1-6 introduce John the Baptist while verses 7-12 contain what John says after he sees the Pharisees and Sadducees arriving on the scene. All of this transpires before Jesus even arrives to be baptized by John. Before we get to the meditation and memory verses, let's first examine how Matthew answers the question of who is John the Baptist. This will help us understand the rest of Chapter 3.
Chapter 3 - Go Deeper
The Preaching of John the Baptist
John the Baptist is the son of Zechariah who was a priest of the order of Abijah and his wife Elizabeth, who was a daughter of Aaron. Luke 1:6 says that they both were righteous before the Lord and walked blamelessly in all the commandments of the Lord. But Matthew's gospel begins not with his birth, but at a time when he appeared in the wilderness of Judea preaching. This word for preaching gives the sense of a herald, who is publicly and loudly announcing something very important. Indeed, John is considered a forerunner of Jesus who would prepare the people to receive their messiah, effectively heralding in or announcing the presence of the messiah. His message was simple:
        Repent, for the kingdom of heaven is at hand.
- Matthew 3:2 
This is the key to John's message. The idea of repentance is important, so important that it is mentioned 3 times in Chapter 3 alone. To understand this term better we need to first define repentance. In the NT, repentance generally refers not simply to changing one's mind but also to turn back to God.1
We also see how Paul uses repentance in Acts.
First to those in Damascus, then to those in Jerusalem and in all Judea, and then to the Gentiles, I preached that they should repent and turn to God and demonstrate their repentance by their deeds.
- Acts 26:20
That is repentance! It is not just turning away from sin, but also turning to something better. If we simply turn away from sin we turn away on our own strength and do not enlist the help of Jesus. However, by turning away from sin and towards Jesus, we find grace and mercy from Him to help overcome our sins.
John doesn't just stop here in preaching to repent, but he gives a reason to repent, that of the kingdom of heaven being near. Now Matthew is the only gospel that uses the phrase "kingdom of heaven", other places we see the "kingdom of God". These two terms are interchangeable, Matthew was a Jew writing to other Jews and at that time God's name was usually not used out of respect. Instead heaven was used in place of God's name. Simply put the kingdom of heaven is the sovereign rule of God over His domain. The rest of this verse, "for the kingdom of heaven is at hand" refers to the nearness of God's rule in the person of Jesus and explains why John emphatically preached this command. In other words, "Repent, Jesus is near!". As we will see later in Matthew, Jesus tells us that the kingdom of heaven has arrived:
But if I cast out demons by the Spirit of God, then the kingdom of God has come upon you.
- Matthew 12:28
Of course, the kingdom of heaven can also mean the future reign of Jesus on earth:
I say to you that many will come from east and west, and recline at the table with Abraham, Isaac and Jacob in the kingdom of heaven;
 - Matthew 8:11
As to which of these definitions we are to use when interpreting the phrase "the kingdom of heaven", we must rely on the context of scripture. Here in chapter 3, we see John proclaiming that the kingdom of heaven is near and then we see Jesus appear and be baptized by John. Jesus is God incarnate and the rightful and sovereign ruler of the world. It's not by chance that John is telling the people that the kingdom of heaven is near and then the king of heaven appears. Additionally, if we look at verse 3:3 we see an OT prophesy that tells us who John is. He is the one that will "MAKE READY THE WAY OF THE LORD". He is preparing the way for Jesus by announcing that He is near. That the kingdom of heaven is near. So in this context it is clear that this phrase refers to God's sovereign rule in the person of Jesus.
Now in verse 3:4 something curious is mentioned. It talks of what John is wearing and what he ate. This is an odd verse to have situated between an OT prophesy and the picture of everyone coming out to be baptized by him in the next verses. In these cases (and there are quite a few of them in the Bible) where some seemingly random verse is thrown into what seems like a cohesive paragraph (i.e., verses 3:1-6) we have to look more intently at this odd looking verse. Let's go back to what we have just read. We read what John was preaching, who he is as prophesied by Isaiah and then we are told what he wore and ate. So Matthew is explaining who John is in verses 3:1-3 so it stands to reason that verse 4 is also giving us more of a clue as to who or what John is. Some Bibles have a built-in concordance that cross-references other verses that have a bearing on the verse you are reading. If we follow those cross-referenced verses (especially in the OT) we see some similarities between John and Elijah in 2 Kings.
 They answered him, "He was a hairy man with a leather girdle bound about his loins." And he said, "It is Elijah the Tishbite."
- 2 Kings 1:8
The description of both John and Elijah is very similar. Additionally, we see Jesus say in Matthew.
And if you are willing to accept it, John himself is Elijah who was to come.
- Matthew 11:14
But John said that he was not Elijah in John chapter 1.
They asked him, "What then? Are you Elijah?" And he said, "I am not." "Are you the Prophet?" And he answered, "No."
- John 1:12
So who's right? Well, if we dig up more cross referenced verses we see that John came in the spirit and power of Elijah as we see in Luke chapter 1.
                It is he who will go as a forerunner before Him in the spirit and power of Elijah, TO TURN THE HEARTS OF THE FATHERS BACK TO THE CHILDREN, and the disobedient to the attitude of the righteous, so as to make ready a people prepared for the Lord.
- Luke 1:17
So John was a "type" of Elijah that prepared the way for Christ. That is, the literary device "Typology" is use to relate John to Elijah. Typology is the way to show how an OT person or institution is understood to correspond to or foreshadows a NT person or institution. In essence, Elijah was a foreshadowing of who was to come, that is John
 Similarities exist also between the ministry of these two men. Elijah faced political opposition in his encounters with King Ahab. John the Baptist's opposition was Herod Antipas. Each man spoke out strongly against the evil of these two political powers. But both men's real enemies were the wives of these two leaders: Jezebel and Herodias. Each woman hated the prophet of God and each woman manipulated her husband to have the prophet put to death.2
Next we see that In preparing the way for Christ, John was baptizing many people as they repented and confessed their sins. We see in verses 3:5-6 that people were coming from all around to hear John's message of repentance and as a result they were repenting and becoming disciples of John. This was preparing the people to hear the messiah's message and to open their hearts to Him. As John himself says in verse 3:11, I baptize with water for repentance, but Jesus will baptize with the Holy Spirit. Repentance must come first before we can turn to Jesus and truly be ready to receive His Holy Spirit.
The Arrival of the Religious Leaders
Now in verse 3:7 we come to a point of inflection in the story. Verse 3:7 starts with the word "But" which indicates a contrast in the story. Previously in verses 3:5-6 we saw an amazing sight, people from all over were showing up to repent and be baptized (there are indications that Gentile converts were being baptized as well). Now we see the Pharisees and Sadducees come on the scene (...play ominous music here...). Not only did they show up where John was preaching repentance, but Matthew says they came to be baptized. Bear in mind that what John says, in the following verses (3:8-12), is directed mainly at these religious leaders but all who were present heard it. He starts by calling them a "brood of vipers", which would have brought to mind a nest of baby vipers, poisonous snakes that, as newborns, cannot control their venom. Note that Jesus also used this same term for the religious leaders in Matt 12:34. John's second rebuke of these leaders was to ask the rhetorical question of "who warned you to flee from the wrath to come?". These religious leaders believed, as perhaps many Jewish people did, that the "wrath to come" from God would be directed only towards the Gentiles. This couldn't have been farther from the truth, and John was about to point that fact out to them.
In verse 3:8 John again falls back to his original proclamation, which is that of repentance. But here John adds that the religious leaders should bear fruit in accordance to true repentance. For a person who thinks they are righteous (when they really are not), bearing fruit is an impossible task. Remember that repentance is not only turning from sin, but also towards God. The turning towards God also requires faith, which is necessary in order for us to bear fruit. The religious leaders were not repentant as we see later in the Gospels when they continuously try to trap and eventually kill Jesus.
Verse 3:9 is where John presumes (correctly) what the religious leaders were thinking and answers them directly. They were thinking that because they were the sons of Abraham they were automatically given a ticket to heaven. Again, this could not be further from the truth, our genealogy does not determine our acceptance or rejection by God, nor does our works or our goodness or who we know or what we know. But, if our faith is the same faith as Abraham (which, as we know, was credited to him as righteousness), we can know that we are truly children of God. John further strengthens his argument against the use of genealogy as proof of faith by stating that God can raise up sons of Abraham from these very stones. The key to properly interpreting this verse is to understand what is meant by "stones".
And coming to Him as to a living stone which has been rejected by men, but is choice and precious in the sight of God, you also, as living stones, are being built up as a spiritual house for a holy priesthood, to offer up spiritual sacrifices acceptable to God through Jesus Christ.
- 1 Peter 2:4-5
In the above passage, we can see that not only is Jesus considered the chief cornerstone, but we (as faithful believers) are considered "living stones" of which the church is built. So if John is talking about believers as living stones, who are the stones in verse 3:9 referring to? Well, we can look at the previous context verses 3:1-8 and we see John mentioned two groups of people, the repentant people seeking baptism and the non-repentant religious leaders. John is certainly not talking about himself here, neither is he talking about the religious leaders as repentance is necessary for John's baptism of repentance. And as we see in the rest of Matthew the religious leaders are not repentant. Therefore, John must be talking about those repentant people that were seeking John's baptism of repentance. John is basically saying that God can raise up His church from those repentant people that are being baptized by John. This again is another twist of the knife in the religious leader's sides as not all of those seeking repentance were Jewish, some were Gentiles truly seeking the messiah.
In verse 3:10 John returns to the idea of bearing fruit in accordance with repentance. But in this verse the idea that sudden and swift judgement was at hand as the ax was already near the root of the trees (note that "trees" is in the plural). Any tree that does not bear fruit (remember, to bear fruit one must first be repentant, turning from sin and towards God) is cut down and thrown into the fire. This is a fairly common use of imagery to denote the unrepentant sinner's final judgement in hell.
About the Meditation & Memory Verse:
We now come to our memory verse for this week, Matthew 3:11.
                As for me, I baptize you with water for repentance, but He who is coming after me is mightier than I, and I am not fit to remove His sandals; He will baptize you with the Holy Spirit and fire.

Here we see the contrast between John and his baptism of repentance as compared to Jesus and His baptism with the Holy Spirit and fire. John doesn't say too much about himself here, only that he is baptizing with water for repentance and that he is not worthy to even serve Jesus (as evidenced my his unworthiness to even untie His sandals). However, John does glorify Jesus. He says that Jesus is mightier that he and that Jesus will do something that no human can do, which is to baptize not with water, but with the Holy Spirit. Not only with the Holy Spirit, but fire too.
What does baptism with fire mean? Fire is mentioned 3 times. Once before verse 3:11 and once after in verse 3:12. In both cases the use of fire is to burn up useless or unfruitful things. We've already seen in verse 3:10 that fire is used to burn up unfruitful, unrepentant trees. In verse 3:12, fire is used to burn up the useless chaff, which is the useless husk that surrounds the seed of a plant such as wheat. Before there was gas powered farm machinery, the farmers would use a wooden pitchfork-like shovel called a winnowing fork to toss the wheat into the air that has been gathered from the fields. The lighter chaff would blow away and would be collected and burned up, whereas the heavier seed would fall to the ground to be collected and safely stored in the barn. Examining the second part of verse 3:11 "He will baptize you with the Holy Spirit and fire." placed in context within the verses about the unfruitful trees and the useless chaff being burned up and further within the context of John rebuking the unrepentant religious leaders, we can understand that Jesus will baptize those who repent and turn to God with the Holy Spirit, but for those who remain unrepentant, there is only fire.
Final Words:
This has been a difficult passage to digest. There are some difficult verses to interpret as well as some words in which even the academics are divided on as to how to precisely interpret. The introductory verses tell us who John the Baptist is and what his message was, one of repentance. After verse 3:6 the focus is mostly on the "brood of vipers" or the religious leaders and their unrepentant, unceasing march towards judgement along with a comparison between John and Jesus and their respective types of baptisms. As we read this passage we need to respond by clearly seeing those around us who, like those seeking John's baptism of repentance, are truly seeking God and we must pray that God would direct us to minister/disciple to them with the hope of gently leading them to Christ. Likewise we need to clearly see the stubborn unrepentant people in our lives, similar to the religious leaders, that don't see a need for Christ and we must pray that God would grant them repentance leading to salvation. While we are not commanded to call them a brood of vipers, we are to demonstrate grace to them, which is difficult for us but glorifies God.
The truth here is that in order to preach and teach Jesus, we must first preach and teach repentance. Repentance, faith and salvation; one leads to another, but all must be present in order to reach the lost for Christ and bring them to salvation.
1 DiFransico, L. (2014). Repentance. In D. Mangum, D. R. Brown, R. Klippenstein, & R. Hurst (Eds.), Lexham Theological Wordbook. Lexham Press. 2 Cooper, R. L. (2000). Mark (Vol. 2, p. 158). Broadman & Holman Publishers.
STUDY: Matthew Chapter 4
MEDITATE: Matthew 4:1-11
MEMORIZE Matthew 4:19-20
STUDY: Matthew Chapter 5
MEDITATE: Matthew 5:13-16
MEMORIZE Matthew 5:16