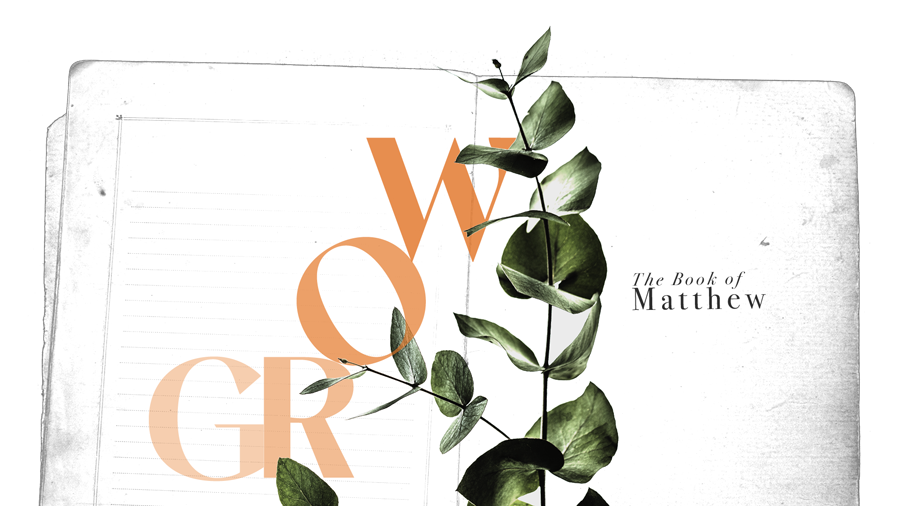 GROW - The Book of Matthew
Growing in our faith is lifelong process and it doesn't happen by accident. It is something we have to actively pursue. One essential way to spiritual growth and a closer relationship with Jesus is reading and studying the Bible. We will begin this year by reading one chapter of Matthew each week. Below is a reading plan with the chapter to read, verses to meditate on and verses to commit to memory.
We are excited to see God move in your life as you set aside time to be with Him!
STUDY: Matthew Chapter 27
MEDITATE: Matthew 27:27-56
MEMORIZE: Matthew 27:54
THIS WEEK'S STUDY
Coming Soon!
STUDY: Matthew Chapter 28
MEDITATE: Matthew 28:1-20
MEMORIZE: Matthew 28:19-20
THIS WEEKS STUDY 
Coming Soon!
STUDY: Matthew Chapter 23
MEDITATE: Matthew 23:1-12
MEMORIZE: Matthew 23:11-12
THIS WEEK'S STUDY
Coming Soon!
STUDY: Matthew Chapter 24
MEDITATE: Matthew 24:36-51
MEMORIZE: Matthew 24:42
THIS WEEKS STUDY 
Coming Soon!
STUDY: Matthew Chapter 25
MEDITATE: Matthew 25:14-30
MEMORIZE: Matthew 25:29
THIS WEEKS STUDY
Coming soon!
STUDY: Matthew Chapter 26
MEDITATE: Matthew 26:6-13
MEMORIZE: Matthew 26:41
THIS WEEK'S STUDY GUIDE
Coming Soon!
STUDY: Matthew Chapter 18
MEDITATE: Matthew 18:15-20
MEMORIZE: Matthew 18:19-20
THIS WEEK'S STUDY
Matthew 18:15–20
We are now entering into the 4th of 5 discourses from Jesus. This 4th discourse includes all of Matt 18.
Matt 18 gets a bad rap as there is usually a stigma attached to this chapter. When churches talk of invoking Matthew 18, they usually mean that they are initiating the process of church discipline, laid out in verses 18:15-20. This provokes the image of church members being chastised and even excommunicated from the church body. However, this is not exactly the end goal that we as believers should strive towards.
Before we get too deeply into verses 15-20, let's back up to the beginning of chapter 18 where the disciples are asking Jesus a question. The question they posed to Jesus was, "Who is the greatest in the kingdom of heaven?". From this question we can see that the disciples' hearts were still on the things of man (their status in heaven) and not the things of God (knowing who we are in relation to Jesus). This is exactly the question you would ask in a secular setting such as when starting a new job, "Who is my boss?" or "Whom will I be managing?". In the setting of the kingdom of God, this is definitely not the question you need to be asking. Instead, we should be asking whom can I serve. Jesus gently corrects His disciples in verses 18:2-3 where He brings a child before them and tells them that they must first become like this child to enter the kingdom of heaven. That is, we must become innocent, helpless and trusting towards God. Only then does Jesus begin to answer their question about who will be the greatest in the kingdom of heaven. Notice that the disciples weren't even thinking of the most important thing, which is to become believers. Only then can we even become a part of the kingdom of heaven.
The answer to who is greatest in the kingdom of heaven is given by Jesus but not in the way the disciples probably were expecting. Before we look at the answer Jesus gives, I think it is obvious that God (the Father, Son and Holy Spirit) are the greatest in the kingdom of heaven, but the disciples were still missing this point as they did in Matt 17:1-8 during the transfiguration where Peter wanted to build sacred tents for Jesus, Moses and Elijah. Peter was putting all three on the same level. Jesus gives the disciples the answer to their question, but it must have seemed backwards and upside down to them. Jesus answered that whoever humbles themselves as this child is the greatest in the kingdom of heaven. Jesus was the one who humbled Himself to death on a cross for our sakes. He is the greatest in the kingdom of heaven.
Later in Matthew as we read about "the first will be last and the last will be first" and the parable of the workers in the field, it will become clear that we all will be equal in the kingdom of heaven. Only will Jesus be greater, the One we owe all too.
As we read on through the rest of the chapter we start to notice a common theme, that of the child-likeness of believers. In fact, the phrase "one of these little ones" appears throughout Matthew 18 showing us that overall Jesus is talking about things concerning believers in this chapter. To further prove that the "little ones" Jesus is talking about are truly those that believe we read in verse 18:6a "but whoever causes one of these little ones who believe in Me to stumble...". Jesus even states that the little ones are believers in Him.
This is actually a very important part of the overall context in which we read Matthew 18. It all centers around the child-like believer and how we are to act towards one another. In fact, this chapter is a perfect segue into how Jesus begins to present the church to His disciples. The church at this point in time was a very foreign idea. Here in this chapter we see instruction on humility, treating others well, how to deal with straying believers and of course forgiveness. All of these are prerequisites for a healthy church.
Next we encounter the parable of the lost sheep in verses 18:12-14. This is an especially important parable to understand since it is preparing us for the verses on church discipline in 18:15-20. We talked in depth about interpreting parables earlier on Mar 27th when I covered Matthew 13. I'll reiterate a few points here:
Before you start reading a parable it's important to understand a few general points:
* Typically there is only 1 central point in each parable.
* Parables explain doctrine; they do not introduce new doctrine (it's all about context in which the parable is spoken).
* The details of the parable reinforce the central point.
* Don't allegorize (attach spiritual meaning) to all details of a parable. Sometimes a word is just there to point out a location or object or to enhance the imagery of the story in order to make it memorable.
Ask these 4 questions:
* Who are the Main Characters?
* What Occurs in Direct Discourse?
* Who or What Gets the Most Attention?
* What Occurs at the End?
The main characters in this parable are the shepherd, the one wandering sheep and the 99 sheep that do not wander away. In the context of chapter 18 we can think of the sheep as children of God who are part of the church and the shepherd as the pastor of the church (the head of the flock). Why do I say that the sheep are children of God (all 100 of the sheep)? Well, first of all the entire chapter concerns all of God's children and how we are to act toward one another. But also we can see in Matthew 18:14 (which is the verse that explains this parable):
So it is not the will of your Father who is in heaven that one of these little ones perish.
God is speaking of the sheep as "little ones", which has been established earlier in verse 18:6 that this is how He describes His saved children. It is also of significance to note that the word "perish" at the end of this verse can be defined in several ways. It could mean to be made useless, to be killed, to be destroyed as in the ultimate eternal destruction in hell. Since Jesus is only talking about believers (the little ones) in this chapter, we know that "perish" must mean to be made useless as in a spiritual destruction (or as Paul would say, "a spiritual shipwreck"). This could mean, in extreme cases, to lose one's life. But we know that we cannot lose our salvation, so "perish" cannot mean eternal destruction in hell. We know this because Jesus told us in John.
My sheep hear My voice, and I know them, and they follow Me; and I give eternal life to them, and they will never perish; and no one will snatch them out of My hand. My Father, who has given them to Me, is greater than all; and no one is able to snatch them out of the Father's hand. I and the Father are one."
-John 10:27–30
The man described in this parable is one who "has a 100 sheep", or we can say that this man is responsible for all of the sheep. This is exactly the job description of a pastor. The pastor is the overseer of the church body of believers and is responsible for them. We might also say that this man described here is Jesus who restores sinning believers to their place in the body of believers. But consider this, the parable here and the verses on church discipline (verses 18:15-20) are tied very closely together and the verses on church discipline describe how believers are to handle a sinning believer. Likewise, this parable shows the way the shepherd (or pastor of a church) seeks out the wandering (sinning) believers and brings them back to the fold (the church). A counterpoint to this argument would be that overall Jesus is the one that seeks out the straying believer with the intent of bringing that believer back into the fold. Whichever argument you accept as describing who this man is in this parable, I think it is important to understand the main idea here which is laid out in Matthew 18:14:
So it is not the will of your Father who is in heaven that one of these little ones perish.
There is no direct discourse in this parable so we can skip that question.
The two characters that get the most attention are the seeking shepherd and the wandering sheep. The other 99 sheep are necessary to the story as they represent the non-wandering body of believers (contrasted with one the wandering sheep). However, the 99 sheep are really just background participants in this parable.
What occurs at the end of the parable is very important here. The wandering sheep is found and brought back to the fold. But that's not all, the shepherd rejoices greatly over the return of the wandering sheep, as we should anytime a believer in our church returns from sin. You see, once the believer is restored and all is forgiven from the heart, all that is left is to rejoice over the return of this child of God. Notice also in verse 13 Jesus says that the shepherd rejoices more over the one than the 99. This implies that the 99 are still rejoiced over, but the wayward one who has been restored is now rejoiced over more due to the fact that this one has now been won back.
This idea of restoration and forgiveness of a church member that wanders off into sin is an incredibly important part of church discipline. You will see in verses 18:15-20 that the whole goal of church discipline is not to berate or belittle a sinful believer but to compassionately help them to see their sin and repent so as to keep the unity of the church body intact. Just last month our family was eating dinner with Jeff and Meredith from our church and I remember that we happen to be talking about some of the topics here in Matthew 18 and it was so wonderful to hear them talk of the principals in Matthew 18 as having the goal of restoring a believer and not as a sword to be waved around in order to attempt to keep everyone in-line through fear tactics.
Understand that church discipline is a good and healthy thing that results in a stronger church as well as much rejoicing both here on earth and in heaven. However, in extreme cases (e.g., a person unwilling to repent) drastic measures will have to be taken, even to the point of treating this person as an unbeliever (note, that they still are considered a believer, just treated as if they were not). This is never the desired outcome, but in some cases it is necessary. Even so, this person should still be prayed over with the goal of restoration.
The next set of verses 18:15-20 contain the process for church discipline and is meant to be used within your own church and between believers. It is not used between believers that are part of different churches or between a believer and a non-believer.
Now my family and I were members of a church years ago in a different state that had no ties to Crossings church. One of the members in that church started to sin against the pastor. I won't go into details, but this person decided that he didn't like our pastor anymore and wanted him gone. At that time we were very close with our pastor and his family (in fact, he was the one who started teaching me Greek) and we could find no fault in the pastor or his biblical teachings.
If your brother sins, go and show him his fault in private; if he listens to you, you have won your brother.
-Matthew 18:15
Our pastor met with this person privately to try to understand the problem and resolve the issue.
Things started escalating after this first meeting and this person started contacting others in the church for the purpose of driving a wedge between the church body and our pastor.
But if he does not listen to you, take one or two more with you, so that BY THE MOUTH OF TWO OR THREE WITNESSES EVERY FACT MAY BE CONFIRMED.
-Matthew 18:16
As the attacks from this person towards our pastor grew, they began to cast a palpable darkness over our church services and fellowship. Driving my family to church every Sunday morning almost became a physically painful ordeal as we knew what awaited us when we got there. This person was slowly gaining ground as more and more people began to believe and follow this person thereby dividing our church.
The pastor took two others with him to meet again with this person to try to discuss the issues that this person had against our pastor and to show him that he was hurting the church by dividing it. This meeting went worse than the first. This person was now more determined than ever to remove our pastor from the church. Things were about to get worse.
This person started holding meetings separate from the church with the sole intent of drawing up battle plans against our pastor. But these battle plans were not only directed at our pastor but any family (including mine) that was "siding" with the pastor. I use the word "siding" here because that's the way they saw it. It was us against them. However, in reality, we were simply using the church discipline practice in Matthew 18 to try to bring this wandering church member back into the fold.
If he refuses to listen to them, tell it to the church; and if he refuses to listen even to the church, let him be to you as a Gentile and a tax collector.
-Matthew 18:17
Well, this whole situation had come to a head and we had no choice but to bring this person before the church. It was decided that we would hold a meeting to bring this issue before the whole church after the service one Sunday morning.
On the way to that Sunday's service we all had a terrible feeling in the pit of our stomachs. We knew this would be a difficult Sunday, but we never thought it would go so horribly wrong as it did that Sunday morning.
The first problem we noticed was that as the service was coming to a close, there was a fairly good size crowd gathering in the front of the church (we were a small church so any size crowd seemed large at the time). Many, if not all, of the people gathering in this crowd were previous members of our church that had since left for various reasons. What was happening was a carefully choreographed plan to bring in enough people who were on the side of the man who was trying to oust our pastor in order to derail the meeting and attempt to turn everyone against the pastor.
After the meeting had started, one of the men who was against our pastor stood up and said something that sent chills down my spine. He stood up and placed two empty chairs together at the front of the room and said that one was for Jesus and one was for Satan who were both watching over this meeting. I couldn't believe my ears, it was as if he was inviting both Jesus and Satan into our meeting. Of course, I understand Jesus being in our midst at that time. Verse 18:20 reveals that (but more on that in a minute). But inviting Satan to our meeting was just an act of insanity. I couldn't believe my ears. This shows how one person in our church was able to cause so many of our church members to go astray.
This was by far the most heart-rending experience I have ever gone through in a church.
Many other odd, hurtful and hateful things were said in this meeting, which I won't cover here. But then something happened that none of us were ready for. Our pastor stepped up to the front of the room and tearfully told the crowd there that he would turn in his resignation effective immediately. The room went so silent it was almost painful. And after what seemed like ages of silence, the man who had started this whole ordeal stood up and began shouting at the top of his lungs, hurling insults and lies against our pastor. But not many were even listening to him at this point. There was no more point in continuing this meeting. This man who started this had finally gotten what he wanted.
We all got up, picked up our things and start to leave. It was over.
As we were walking out of the church many of us ended our membership there as this conflict had resulted in a broken and non-Christ centered church. But I happened to notice something odd as I was leaving the church for the last time. Everyone who renounced their membership at this church served in key roles at this church. There was the pastor, the entire praise team, the children's church leaders, Sunday school teachers, the people in charge of church finances, and others as well. I didn't realize it at the time, but this was important. God was not done with us yet.
Something that kept echoing in my mind (as well as others') was the verse John 10:27:
My sheep hear My voice, and I know them, and they follow Me.
Later, our pastor and his family were hanging out at our house. We were all exhausted and just wanted some friendly time of fellowship. Later that night we were discussing what to do next. Would our pastor move back to his home town? Would he leave his role as pastor for a secular job or maybe something else? We were all unsure. So we decided to have a time of prayer about what to do next, and it was such a peaceful, sweet time with our Lord. From that prayer time we all decided to contact all those that left the church and form a new one.
Long story short, we all started meeting in our house every Sunday for a couple of months before renting an old stone church. Our church began anew and continued on. God was truly not finished with us and continues His work with us and in us.
The last time I talked with my previous pastor, they were still meeting in that same old stone church every Sunday. As for the church we broke away from, I think they continued on for several more months until something happened and they shut down the church. I'm not sure what happened and I don't really care to know. But this whole trial was something that I will never forget as well as something that matured me and my family greatly in the faith.
You may think it odd of me to tell you this story of my old church and how our attempt to enact church discipline on a member of the church failed so miserably (or did it...God created something wonderful from something so miserable). Well, there are a couple of reasons. First, church discipline is a difficult principle to do well in any church. Many pastors and laypeople have deep scars from enacting church discipline. These scars end up being for our good. You see, we are called to suffer as Jesus, our example, suffered. In these sufferings we grow and mature as Christians. But we must take care not to allow these sufferings and scars to make us afraid to continue to do God's will and continue to follow Him and suffer for Him. Second, while our hope and goal is that we bring the straying brother or sister back to repentance and back into the fold, that won't always be the case. There are times that we must treat those believers as Gentiles or tax collectors (note that Matthew was a tax collector so he knows exactly how ostracized any tax collector would be treated) so that their conscience may be dealt with by the Holy Spirit in the hope of inducing repentance. Finally, (as with my old church's situation in particular) we must guard our church against the wolves in sheeps' clothing. As I think back on this time, I'm more inclined to believe that this person who started this mess really might not be a believer after all. I do pray that he has since then become a true believer. Church discipline as it is in Matthew 18:15-20 is geared towards the believer in Christ, not the unbeliever and those who are wolves in sheeps' clothing. Paul speaks separately in his epistles on dealing with these wolves. So we must take great care to not be deceived by others but to accurately discern the situation and the person in light of God's word.
Before I end this, I want to finish up the rest of Matthew 18:15-20. We've only talked about verses 15-17 up to this point. Verses 18-20 are also very important in understanding what is going on behind the scenes with church discipline, that is what we don't always see happening, things that take place in the heavenly realm
Verses 18-19 discuss the final results of church discipline but more from God's perspective, that is what is happening in heaven during this time of church discipline. We see in verse 18 it says that "whatever we bind [decide to forbid] on earth shall have been bound [forbade] in heaven". It makes a little more sense when we parse "shall have been bound" in the Greek "shall" is a future tense verb in the indicative (i.e., a future statement of fact). The phrase "have been bound" is a single word in Greek that is a verb in the perfect tense (you could read this phrase as, "have already been bound"). A verb in the perfect tense is one that describes an action that was completed in the past and its effects are felt in the present (its effects are ongoing). So this verse means that whatever we as a church decide is to be bound [forbidden] or loosed [allowed] on earth has already been bound or loosed in heaven. The binding and loosing are pointing back to whether we decide if a person has truly repented and returned or continues to stay mired in sin.
You see, God has already agreed with us on the result of church discipline. But the one key thing is that for God to agree, we must already be understanding and following God's word. If we are following God's word rightly then verse 18 gives us the knowledge and confidence that we have correctly handled the wayward brother or sister thereby agreeing with God's judgement in heaven.
Verse 19 presents this same idea in a slightly different way. What we agree amongst ourselves about the discipline of a brother or sister is carried out in heaven by God.
Finally in verse 20 we see that Jesus is saying that He will be in the midst of those exercising church discipline. Let me explain. This verse starts with the word "For", which ties directly back to the previous verses that cover church discipline. So we know that verses 15-20 are tightly woven together to form a complete picture of church discipline, both from an earth perspective and a heavenly perspective. Next, verse 20 continues with "where two or three have gathered together". This two or three ties back to verse 16 where the one sinned against takes one or two witnesses with him to confirm all the facts and to hopefully bring the wayward brother or sister back into the fold. Taken out of context, this verse could be interpreted as somehow meaning that in a small group of only two or three, Jesus is somehow even more present. But this doesn't make sense as God is omnipresent. Consider when only one person is praying alone or an entire church gathers, is not Jesus present as well?
Knowing that Jesus is in our midst specifically when we exercise church discipline should make us pause and think much more deeply as to how we should act and what we should say especially to fellow believers.
STUDY: Matthew Chapter 19
MEDITATE: Matthew 19:16-30
MEMORIZE: Matthew 19:24-30
THIS WEEKS STUDY 
Matthew 19:16–30
Blessed are the poor in spirit, for theirs is the kingdom of heaven.
-Matthew 5:3
With the completion of the 4th discourse of Jesus in Matthew 18, we begin the next to last narrative section beginning with Matthew 19.
In Matthew 19:16-30 we have the narrative of the rich young ruler (make sure to read the previous verses 19:13-15 and compare/contrast how Jesus dealt with the little children as compared to this rich young ruler). This section is yet another teaching on the humbleness and child-likeness required to enter into the kingdom of heaven. To understand this better, let's focus first on the questions that this rich young ruler asked Jesus and then Jesus' response to each.
His first question was, "Teacher, what good thing shall I do that I may obtain eternal life?". Let's break this question down a bit. First, he addresses Jesus as "teacher". This is correct as Jesus was the greatest teacher, but go back through Matthew and look at how people who had faith approached Jesus. Look at how the centurion approached Jesus in a worshipful manner with his request, trusting that Jesus could do all that he asked. This rich young ruler approached Jesus in a respectful way (this same story in Mark 10:17 adds that he knelt before Jesus), but from his line of questioning and how he reacts to Jesus' answers I don't believe this man had faith or a knowledge that this was the Son of God to whom he was asking these questions.
He goes on to ask "what good thing shall I do that I may obtain eternal life?". This question assumes a legalistic, works based faith. That is, this man thinks that all he has to do is some (most likely one) good thing that will allow him entry into the kingdom of heaven. We know that we do not grasp salvation through our own strength. To attempt to do so is futile. So Jesus answers him by explaining that overall there is only One that is truly good and worthy of entry into heaven based on His own merit and that is Jesus, the Son of God, who was standing right in front of him. But continuing, Jesus tells this rich young ruler that for him to enter heaven he must keep the commandments of God. Keep in this verse means to conform to and practice these commandments. It's not just that he follows these commands from a superficial, outward manner, but that he truly is conformed inwardly to uphold all of these commands. For example, "You shall not steal" is a command that could be easily adhered to outwardly. Simply do not take what is not yours. However, is this command easily adhered to inwardly from the heart? What if you plotted to steal something from another but stopped before you got caught? Or what if you held back on taxes or something you owed to another, maybe due to a grey area? You see, it's not all about what we do on the outside that makes us keepers of God's commands but what we do from the heart that truly allows us to keep God's commands.
The rich young ruler proceeds to ask, "which ones?" or which commandments should I follow to enter into heaven. Before we can understand Jesus' answer to this question, we have to understand the reason for the law and God's commandments in the first place. They were not designed to grade people so as to allow some into heaven and not others. Rather, God's law was given to show us the sheer impossibility of entering into heaven on our own merits, Romans 3:23:
for all have sinned and fall short of the glory of God.
-Romans 3:23
No one, not one, has kept God's law both inwardly and outwardly except for Jesus.
Jesus is also giving us an object lesson in witnessing to others. First, we must tell the unbelievers the bad news. They are completely unable to enter heaven on their own merit. They are sinners and the wages of sin is death (Rom 6:23). Once the unbelievers understands this, the fertile ground is laid to where the seeds of salvation (the good news) can be planted, watered and hopefully come to maturity.
Now Jesus answers the question of, "which ones?" by listing out some (not all) of the 10 commandments plus another command which sums up the commandments that Jesus just listed out. First, Jesus lists out the commandments that point to how one should treat others:
You shall not commit murder
You shall not commit adultery
You shall not steal
You shall not bear false witness
Honor your father and mother
Finally, Jesus adds:
You shall love your neighbor as yourself
This last item Jesus added from Lv 19:18 that sums up the previous 5 commandments Jesus just stated in this verse. Notice Jesus omitted the other commandments that deal with how we are to treat God. First, Jesus wanted to show this rich young ruler that there was no way he could even keep just the commandments that deal with human relationships. And if he couldn't keep these, how much less could he keep the other commandments that dealt with his relationship to God?
It doesn't seem that this rich young ruler understood what Jesus was trying to show him. He replies, "all these things I have kept; what am I still lacking?". He incorrectly thought that he was keeping all of these commandments, but he correctly knew there was something more that he was missing.
Finally Jesus tells him what he is lacking. Jesus starts by saying, "If you want to be complete..", some translations use perfect instead of complete indicating a state of perfection that would allow entry into heaven. Jesus continues by giving him a task that He knows the rich young ruler cannot bear. He tells him to first go and sell all that he has and give it away to the poor. Jesus knows that the rich young ruler is only looking for a legalistic way to make it into heaven just through his works and not by faith in the Son of God standing right before him. But Jesus doesn't just flippantly tell him to do this. Remember in Matthew 16:24–25 Jesus tells His disciples what is required of them:
Then Jesus said to His disciples, "If anyone wishes to come after Me, he must deny himself, and take up his cross and follow Me.
For whoever wishes to save his life will lose it; but whoever loses his life for My sake will find it.
-Matthew 16:24–25
Jesus was telling this rich young ruler in a way that he could clearly understand that what is required of him is everything. What is required of him is much more than he can bear within his own strength. For we see that he leaves Jesus grieving in verse 22. He must deny himself by giving up what he truly sees as his treasure...his wealth. He simply cannot do that.
And of course in both this narrative and in Matthew 16:24 the final step is to follow Jesus. Something that cannot be done unless a person first fully denies one's self.
As a note, it is interesting here that Jesus did not add the 10th commandment to the first list of commandments He gave to the rich young ruler. The 10th commandment is do not covet (Exod 20:17). In Jesus' last answer to the rich young ruler He says to give away all that he owns, thereby keeping the 10th commandment. But this is one commandment that he could not keep.
But all is not lost for this rich young ruler. We are told that he leaves in a state of grieving. The way we can understand this verb participle from the Greek is that there was an ongoing state of grieving that he is going through. Grieving isn't always a bad thing. Sometimes we just need to let people grieve for awhile after the bad news of their inability to measure up to God's standards is presented to them. Through prayer and the work of Jesus in their lives, people will then understand and humble themselves before a merciful and gracious God, leading to their salvation.
Nothing more is said about this rich young ruler. The ending leads us to believe that he could not and would not deny self and follow Jesus. We ultimately don't know if this rich young ruler truly came to know Jesus later on. As we will see, Jesus uses this story as a lesson to teach His disciples about how truly impossible it is to get into heaven on one's own merit and works.
Jesus turns His attention to His disciples for another key lesson about salvation. The next verses (19:23-26) are connected to the previous verses about the rich young ruler through a connective conjunction in the Greek that is sometimes translated as "and" or "then" (in rare cases, it is not translated at all). For us, this conjunction indicates that Jesus is going to give us a deeper understanding of the narrative about the rich young ruler. Remember, this rich young ruler was thinking that all he had to do was something good and keep a few of God's commandments in a superficial way. But Jesus presented him with the true weight of being good. The rich young ruler could not possibly live up to what Jesus was calling him to do.
Before explaining the next verses, we need to understand that the culture In those days considered the rich to be extra blessed and because of this they were assumed to be on God's "good side" and therefore were expected to gain entry into heaven. However, Jesus tells us the opposite in verses 19:23-26.
It is important that we always read verses 23-24 (concerning the difficulty/impossibility of the rich man entering into the kingdom of heaven) within the context of the narrative about the rich young ruler and especially the verses that follow. In fact, Matthew 19:26 is overall probably the most important verse to keep in mind when reading verses 23-24:
And looking at them Jesus said to them, "With people this is impossible, but with God all things are possible."
Let's start with verse 23 where Jesus talks about the difficulty of a rich man to enter the kingdom of heaven. We could read this as it is hard for a rich man to be saved. This word for "hard" (sometimes translated as "with difficulty") seems to mean that it is not impossible for a rich man to be saved. However, I'd like to think about this word a little deeper within the context of the surrounding passages. We know that in reality many rich people will be saved. There were rich people in the Bible who are now in heaven (remember Joseph who was second only to Pharaoh in Egypt). It also makes sense that rich people will have a more difficult time becoming saved because they can tend to rely on their wealth which blinds them to their desperate need for Jesus.
What follows in verse 24 is directly tied to what we just read in verse 23. In fact, the wording, "Again I say to you..." indicates that this is a rephrasing of or a way to clarify verse 23. In verse 24 Jesus says that it is easier for a camel to go through the eye of a needle than for a rich man to be saved. Taking verses 23 and 24 together (and don't forget verse 26). It seems more likely that Jesus is saying that it truly is impossible for a rich man to be saved. But wait, I know what you're thinking...you're thinking that I just said that it's hard but not impossible for a rich man to be saved. So which is it?
Before I move on to answer the question I just posed, I have just a quick word on the camel and needle that Jesus speaks of. Looking at these Greek words in a dictionary of Greek terms, we can see that these are literally a camel and literally a sewing needle. There have been many possible interpretations of this verse, but these interpretations usually fall apart at some level. But before we make too much of the literalness or non-literalness of the camel and needle, let's continue through this line of reasoning.
So you might be asking, "If it truly is impossible for a rich person to be saved, what about all the saved people in America (one of the richest countries in the world)?" Certainly it must be possible for a rich person to be saved. And in fact, this is almost exactly what the disciples answered Jesus with in verse 25, "Then who can be saved?". This is the correct question! The disciples were starting to understand. You see, in the narrative about the rich young ruler, he thought he could be saved by simply doing something good in his own strength. Also, he thought that simply an outward display of piety (i.e., keeping only a few of God's commandments superficially) would cause God to view him as a son, and inheritor of everlasting life. This is totally false. God requires more, much more that any of us (rich or poor) can ever hope to fulfill.
Then Jesus answers the disciple's question in verse 26, "With people this is impossible, but with God all things are possible". This is the key to all of what we have just read. People on their own are unable to save themselves. They are dead spiritually just as this rich young ruler was. But here's where Jesus turns the tables and says it is nothing that anyone can do that saves one's self, it is the grace of God that saves and only that grace that saves.
So it is impossible for a rich person to be saved though his or her own works, just as it is impossible for you or I or anyone else to be saved on the basis of our own works. But salvation is not impossible for God.
For the wages of sin is death, but the free gift of God is eternal life in Christ Jesus our Lord.
Romans 6:23
and
8 For by grace you have been saved through faith; and that not of yourselves, it is the gift of God;
9 not as a result of works, so that no one may boast.
Ephesians 2:8–9
STUDY: Matthew Chapter 20
MEDITATE: Matthew 20:20-28
MEMORIZE: Matthew 20:27-28
THIS WEEKS STUDY
Matthew 20:20-28
The world says, "You must be important. Actively take what is owed you. Greatness is all that matters." But Jesus counters with, "To be important or great, you must be a servant to all (Matt 20:26)." The world says again, "You must be prominent to be valuable. Being first is the only thing that matters. Coming in second is the first place loser." Jesus again counters with, "To be prominent, you must be a slave to all (Matt 20:27)." The world rewards greatness and prominence (which can be rooted in pride), but Jesus seeks to teach us to replace those worldly longings with a servants mindset.
In our meditation verses for today (Matt 20:20-28) Jesus teaches us that the ways of heaven above and of His church here on earth are extremely different from the ways of the world. We have learned from a young age what the world expects of us. These disciples were no different. They had been taught, through their culture, that position was very important. Position was a way to be seen as someone of importance and a way to grow in influence.
Here in verse 20:20 we see the mother of James and John (the sons of Zebedee) coming before Jesus and bowing down and asking for her sons to be seated in positions of the highest honor in heaven, that is to the right and left of Jesus' throne. This request most likely was brought on because of what Jesus said in Matt 19:28-29 about the disciples sitting on 12 thrones and judging the 12 tribes. James and John were probably trying to get the "best seats" next to Jesus, positions of greatness and prominence. But what follows is a response from Jesus that was not what they expected (this is a constant theme in Matthew and the other Gospels where the world say one thing and Jesus teaches the opposite). Indeed it was not only a foreshadowing of suffering that they (James and John) were to take on but also of a dramatic shift in thinking from worldly to heavenly that needed to happen.
Before we get too deep into our meditation verses, we need to go back several verses and pick up the larger context and carry that with us into our meditation verses. Lets start in Matt 19:30:
 "But many who are first will be last; and the last, first.
For the kingdom of heaven is like a landowner who went out early in the morning to hire laborers for his vineyard. When he had agreed with the laborers for a denarius for the day, he sent them into his vineyard. And he went out about the third hour and saw others standing idle in the market place; and to those he said, 'You also go into the vineyard, and whatever is right I will give you.' And so they went. Again he went out about the sixth and the ninth hour, and did the same thing. And about the eleventh hour he went out and found others standing around; and he said to them, 'Why have you been standing here idle all day long?' They said to him, 'Because no one hired us.' He said to them, 'You go into the vineyard too.' When evening came, the owner of the vineyard said to his foreman, 'Call the laborers and pay them their wages, beginning with the last group to the first.' When those hired about the eleventh hour came, each one received a denarius. When those hired first came, they thought that they would receive more; but each of them also received a denarius. When they received it, they grumbled at the landowner, saying, 'These last men have worked only one hour, and you have made them equal to us who have borne the burden and the scorching heat of the day.' But he answered and said to one of them, 'Friend, I am doing you no wrong; did you not agree with me for a denarius? Take what is yours and go, but I wish to give to this last man the same as to you. Is it not lawful for me to do what I wish with what is my own? Or is your eye envious because I am generous?' So the last shall be first, and the first last."
-Matthew 19:30–20:16
We see in Matt 19:30 a key verse: "The first will be last; and the last, first." How do we know that this is a key verse? Well, we see it repeated again in Matt 20:16 (and even in 20:26-27, said in a slightly different way). Repetition in the Bible should draw our eye and cause us to contemplate the reason for the repetition. If a word or phrase is repeated, it is repeated because God wanted it repeated for emphasis. But also note that in between verse 19:30 and 20:16 there is a parable about the landowner who hired laborers. You can think of these verses (19:30 and 20:16) as bookends that hold up, or help interpret, the parable that appears between them. The parable begins with a landowner who hired some workers for the full day, some for part of the day and others for just the last hour of the day. While each labored for different amounts of time, each was paid the same. Without going too much into the interpretation of this parable (we've already covered how to read/interpret parables in previous posts), this parable states that God's grace and blessing is fully given to all who enter the kingdom of heaven. Each will get the full amount of grace and blessings in heaven regardless of how much and how hard they labored here on earth for the furthering of the kingdom. All will be given equal parts or blessings in heaven.
Then in the next verses (20:17-19) it seems that Matthew just interjects a few verses that break the flow of the theme, which is that the first are last and the last are first (all have equal parts in heaven) and moves into a deeper understanding of what this means in our meditation verses (20:20-28).
Verses 20:17-19 seem out of place here:
As Jesus was about to go up to Jerusalem, He took the twelve disciples aside by themselves, and on the way He said to them, "Behold, we are going up to Jerusalem; and the Son of Man will be delivered to the chief priests and scribes, and they will condemn Him to death,  and will hand Him over to the Gentiles to mock and scourge and crucify Him, and on the third day He will be raised up."
-Matthew 20:17–19
But they are not so out of place as we might think. Jesus is pointing out that while we know that He is the greatest in heaven (even the disciples suspected this since they all wanted their seats to be to the left and right of His throne), He has lowered Himself to the level of being a servant to all. Not only a servant but a servant willing to give all, for all. Read verses 20:17-19 again in light of the last three verses of our meditation scripture Matthew 20:26–28:
 "It is not this way among you, but whoever wishes to become great among you shall be your servant, and whoever wishes to be first among you shall be your slave;  just as the Son of Man did not come to be served, but to serve, and to give His life a ransom for many."
-Matthew 20:26–28
When you read verse 20:28 along side of verses 20:17-19, clear parallels begin to emerge. So verses 20:17-19 aren't out of place. They're intended to show that Jesus is truly serving us to the point of giving His life to ransom our souls from eternal death. He makes Himself the "last" by unjustly dying a criminal's death on a cross and then becomes the "first", triumphantly rising from the dead and taking His place at the right hand of God the Father. Truly He not only is the greatest in heaven, but He is showing us what greatness and prominence will cost us. This echos back to the story of the rich young ruler and what eternal life would cost him and also to Jesus' earlier teaching that to come after Him requires us to deny ourselves to the point of death as we daily pick up our cross. The cost is high for us but nowhere near the cost that only our Savior could pay.
Taking time to look at and understand this context brings out more depth to our meditation verses in Matt 20:20-28.
Now, back to our meditation verses. When we left off James' and John's mother had just made a request of Jesus for prominent positions in heaven alongside Jesus. These two wanted to be first (not last). But Jesus gives them a strange answer, "You do not know what you are asking." First Jesus explains that they are still thinking in worldly ways (e.g., desiring greatness and prominence). If they were thinking in a heavenly way, they would have never asked this question. Rather they would have humbled themselves more and made themselves as servants to one another, as we shall see later in these verses.
Then Jesus asks, "Are you able to drink the cup that I am about to drink?" This question ties back to the statement that they did not know what they were asking. Whenever drinking a "cup" is mentioned in the Bible it usually signifies suffering. In the garden of Gethsemane (Matt 26:39) Jesus asked that this cup be taken away from Him. This cup was the suffering He was about to endure on the cross due to the outpouring of God's wrath. So the cup mentioned here in verses 22 and 23 also signifies suffering. And indeed James and John will suffer for their faith in Jesus. In Acts 12:2 James was beheaded and in Rev 1:9 John was tortured and exiled. So yes, Jesus' words not only foretold how these two would die but also revealed the cost of greatness and prominence in the kingdom of heaven.
As for the request to sit on the right and left of Jesus in heaven, Jesus replied that it was not up to Him. These seats were already set aside by God the Father. Essentially, Jesus told them in response to their question that they would suffer greatly for the kingdom of heaven; however, Jesus will not give them what they wanted (i.e., their positions to the right and left of Jesus' throne). That must have been very difficult to hear.
This is not all bad news for them and for us. In verse 23 Jesus says, "for whom it has been prepared." In the Greek the word for "has been prepared" is in the perfective, meaning that it has already been completed in the past. Did you know that all of our rewards in heaven have already been prepared especially for us? I'm not talking about the general blessings and graces that will be bestowed on everyone equally but the rewards that God has already prepared for the work that we will eventually do in His name. I know this might be difficult to grasp, but we need not fully understand in order to be thankful to God for all of the rewards that are awaiting us in heaven.
My wife and I were talking about rewards in heaven and she reminded me of how some of the churches we attended when we were newlyweds back in Ohio sort of used these verses on rewards as a tool to force the congregation into doing "big" things in the church like giving or witnessing. These things (giving and witnessing) are not wrong; however, using the Bible in such a way as to say, "If you want a bigger mansion in heaven then you need to...." is the wrong way to approach these topics. For Jesus loves a cheerful giver.
Continuing on we see that the other 10 disciples become angered and displeased about what has just transpired starting in verse 24. Maybe they were upset since they didn't think James and John worthy of such a position or maybe they were angry because they didn't think of asking for those seats first. Whatever the reason, Jesus immediately stepped in before things got out of hand in order to teach them what it truly means to be great in heaven.
Jesus first gathered them all together. Yes, He could have just rebuked James and John, but that wouldn't have helped the other 10 to also see their error, which was the same as James and John. The other 10 didn't want James and John to have the most prominent seats; they wanted those prominent seats too.
What follows is directed more towards rewards on earth and in heaven. What we saw in the the beginning of this chapter was a parable on blessings in heaven, which all will receive equally. Now we switch to rewards both on earth and in heaven (i.e., things such as greatness and prominence). However, in this case Jesus specifies that in order to attain rewards we must be last or the least among our brethren. He is taking the world's idea of reward and turning it on its head.
Jesus corrected His disciples in verse 25 first with an example of the Gentile rulers and how they ruled (in a dictatorial fashion). The disciples would have known this fact already being familiar with Roman rule. Then Jesus turns the tables in verse 26 and says, "it is not this way among you..." In some English translations it says, "it is not this way..."in others it is, "it will not be this way....". But in the Greek the verb "is" is in the future tense so verse 26 is best translated as it will not be like the Gentile way of ruling among you. This speaks to the future church that Jesus is beginning to set up that will begin in earnest in the book of Acts and how the church leaders are to lead the church, that is as servant leaders.
The next three verses 20:26-28 then show what is required of us to be great both in heaven and on earth. Or maybe a more concrete way to put it is, how can we each be a servant leader in the church today. Jesus lays out the requirements very plainly in verses 26-27. He says if we desire to become great or important both on earth and in heaven we must first become servants. That is not to say we become servants and then claw our way up to the top to then become great. No, this means that we are to serve one another with joy. Being a servant becomes who we are. You always see Jesus in the scriptures serving His creation while He was here on earth.
In the next verse (27) He says almost the same thing. If we desire to be first among the brethren, we must become your slaves. Jesus made use of hyperbole (an exaggeration to emphatically make a point) many times in scripture. Remember when he says you cannot be my follower unless you hate your mother and father (yet the commandment of God exists to honor your father and mother). We are not taught by Jesus to hate our parents; rather, it is a comparison using hyperbole to show how much more we should love Jesus beyond how we love our earthly parents. Likewise, Jesus is not saying we must become actual slaves owned by another in order to be first. Rather He is using that hyperbolic statement to show how deeply serious we must take being a servant to others.
True leadership means that we must serve one another almost to an extreme manner always putting others ahead of ourselves.
Finally Jesus uses Himself as the ultimate example of becoming great through humbly serving each other. He came down from heaven to serve us and to give His life as a ransom for us. He is the greatest example for us, one that we cannot live up to. Thankfully He provides the grace to us to be great and gracious servants.
Do nothing from selfishness or empty conceit, but with humility of mind regard one another as more important than yourselves;
-Philippians 2:3
STUDY: Matthew Chapter 21
MEDITATE: Matthew 21:12-22
MEMORIZE: Matthew 21:13
THIS WEEK'S STUDY GUIDE
Matthew 21:12–22
Today I want to focus more on the cursing of the fig tree (Matt 21:18-22). The narrative of the fig tree is neatly tucked in between Jesus' triumphal entry into Jerusalem along with the cleansing of the temple and the religious leaders' challenge to Jesus followed by a couple of parables that enraged the religious leaders (note that a third parable in chapter 22 follows these two parables closely). So why is this narrative of Jesus cursing a fig tree right in the middle of all of this? It almost seems out of place. Well, if you've been following me through the book of Matthew you probably know how I'm going to answer this. It all comes down to context. So in order to understand the cursing of the fig tree, we need to start at the beginning of chapter 21 and carefully read everything before and after the fig tree narrative.
Before I go further, I just want to say that there are two really good methods of improving your Bible study and flexing your interpretive muscles (actually there are more that two ways, but these two ways are incredibly important). The first, as I've mentioned, is context. You're probably tired of me saying this, but context is so vitally important to fully and deeply understand God's word. Pastor Trev has been teaching that context is vital to understanding for as long as I can remember. Simply put, context is reading and understanding the text that is around (before and after) the specific text you are trying to understand. So for our text on the fig tree we would need to read all of chapter 21 and in fact we could continue into chapter 22 to get even more context. But for this week I'm going to focus more on just chapter 21.
The second method of Bible study that we should all be using rests on the principal of "sola scriptura", which is Latin that roughly translates to "scripture alone" or "only scripture". The principal of sola scriptura says that scripture is our ultimate authority in matters pertaining to God and salvation. As the ultimate authority it is without error and will not contradict itself. Using this principal we can search the Bible for other verses that either agree with our interpretation of scripture or contradict it. If other scripture agrees with our interpretation then we have can rest easy in our interpretation. However, if other scripture contradicts our interpretation then we must revisit the scripture in question as well as its context. You see, the principal of sola scriptura and context compliment one another. First we understand context, then we interpret, and then we prove our interpretation through other scripture (sola scriptura). And if scripture agrees with our interpretation, we can move on. But if other scripture disproves our interpretation, we must go back to context and try to discern what is misunderstood. These techniques were used by the Bereans in Acts 17:11:
Now these were more noble-minded than those in Thessalonica, for they received the word with great eagerness, examining the Scriptures daily to see whether these things were so.
In short we always should ask ourselves is my interpretation of a verse in scripture fully in agreement with all scripture? A good study Bible will typically list other verses in the Bible that relate to the verse you are reading. This makes the hunt to find scripture that further explains the verse(s) you are reading much easier.
Now all of that seems like a huge undertaking, and it is. However, the key to this whole process, which I left out until now, is that of prayer. Before studying any scripture you and I must pray and ask God to open our eyes to the wonders of His law. We must pray this believing that He can do so. I guarantee that God will answer that prayer as it is fully in His will that you understand His word. Understand that there will be effort on your part to do the heavy lifting (i.e., study hard), but God is faithful to open up the mysteries of His word to you.
Ok, now back to chapter 21. The first main event in chapter 21 is Jesus' triumphal entry into Jerusalem. The crowds that gathered were chanting, "Hosanna to the Son of David." and throwing their coats and palm branches on the road before Jesus signifying that they were paying homage to great royalty. So chapter 21 opens with great pomp and circumstance surrounding the King's glorious entry into Jerusalem as foretold in Zechariah 9:9.
Notice in verse 10 that once Jesus entered Jerusalem that the inhabitants of that city asked, "Who is this?" This is in stark contrast to the crowds that were hailing the promised messiah into the city. Some commentaries will explain that this question may not be so much about the people of Jerusalem not knowing who Jesus was, as His notoriety surely would have swept through Jerusalem. Rather, this question would be more like, "Who does this man think he is, coming into Jerusalem as royalty?" meaning that they still saw Jesus as a prophet and not the King of kings.
In verses 12-17 Jesus enters the temple in Jerusalem. But what should have been a holy place devoted to prayer was instead the seedy underside of the city at work. Merchants and money changers desecrated the temple through deceptive trade. It was as if holy worship to God was pushed out and replaced with worldly, unethical business and commerce. Jesus then drove out these people and brought the temple back to order and a place of true worship. We see people coming to be healed and children shouting, "Hosanna to the Son of David." It seemed as if things were taking a turn for the better...then the religious leaders came on the scene.
Once the religious leaders saw what Jesus had done (basically cleansing the temple), they became angry and possibly even resentful at what Jesus had done and all the attention He was getting. They confronted Jesus concerning the children and what they were shouting. Notice that Jesus responds by quoting Psalms 8:2, "Out of the mouth of infants and nursing babies You have prepared praise for Yourself." Jesus was essentially equating Himself with God by saying that He prepared this praise for Himself, yet another subtle proof that Jesus was God. This further angered the religious leaders.
Next we see the introduction of the cursing of the fig tree (verses 18-22). This short narrative seems out of place here as, on the surface, it describes a hungry Jesus cursing a fig tree due to its lack of fruit. But to understand this narrative we must first understand what a fig tree represents as well as how a fig tree bears its fruit. We see in the OT (Hos 9:10; Joel 1:7) that fig trees were used to represent Israel and, of course, a fig tree could be fruit-full or fruit-less. In this case the fig tree was fruit-less. However, the narrative specifically states that this fig tree did have leaves. Now we can use a Bible dictionary or encyclopedia to further our understanding of how a fig tree grows and bears fruit. A fig tree is usually barren for the first three or so years and then it bears fruit twice a year (sometimes three times a year). But the fruit appears on the tree before the leaves (some references state that the fruit can appear at the same time as the leaves, but either way the fruit and leaves appear together). In this case the fig tree had leaves but no fruit. The fact that Jesus had to come near to the fig tree to see that it did not bear fruit was intended to be a teaching moment for us. It is not that He didn't know the tree bore no fruit or that the tree deceived Jesus in some way by hiding the fact that no fruit existed with a canopy of leaves. For Jesus is God and knows these things. Rather, this was more of a lesson to the disciples (which they would understand more fully later) and to us.
Knowing this, let's review what has happened so far in chapter 21. Jesus triumphantly enters Jerusalem with crowds shouting, "Hosanna to the Son of David." We can compare this to the fig tree that, on the exterior, has abundant leaves that indicates a healthy tree. But then as we read more we notice that the inhabitants of Jerusalem still didn't understand truly who Jesus was as He entered the city; they still thought He was just a prophet. Furthermore, the temple, which should have been a place of prayer and worship, was being turned into a den of thieves as Jesus put it. So we see that, while things looked rosy on the outside (the triumphal entry), the reality like the barren fig tree was that Jerusalem and Israel as a whole was as barren and fruit-less as this fig tree. Therefore, Jesus cursed it. This was a permanent curse as this fig tree would never bear fruit again.
If a fig tree had leaves, it should also have fruit. Israel showed its leaves but did not have any fruit. This puts a much more somber cast over Jesus' triumphal entry into Jerusalem as He fully knew the state of Israel and its fruit.
In general, yes, Israel as a whole was trying to look good on the outside (bearing leaves) but inwardly was fruit-less like the fig tree. However, within the context of the temple narrative and the following narrative about the religious leaders questioning Jesus' authority (we'll get to that in a second) followed by two parables (really three parables counting the one at the beginning of chapter 22) condemning the religious leaders, we see that specifically the cursed tree is focused on those that have led God's people astray...the religious leaders themselves. We will see this theme emerge as we cover the next two parables.
Before moving on from this narrative, Jesus uses this opportunity to teach His disciples about faith since producing the fruit of the kingdom of God requires faith given by God. Without this faith there can be no true and lasting fruits. And a person who has never produced fruit shows that he/she has not yet received faith. So faith and fruits are impossible to separate.
(This would be a great time to read through James where he talks about faith and works and their relationship.)
Jesus goes one step further by saying in verses 21-22 that faith is also tied to prayer. Jesus states that if you have faith and do not doubt (as true faith removes doubt) you can do great things, even greater than cursing a fig tree. In fact Jesus states that you will be able to move mountains. Now, moving mountains in that time was just an idiom or a way of expressing something that was understood only by a certain group of people so like the idiom "he can't hit the broad side of a barn", which in our time would make sense to most people in the US. However, others not familiar with this idiom won't understand it. Likewise, the idiom of moving a mountain into the sea was an expression in Jesus' time meaning that a person who could move mountains into the sea was someone that could do incredibly difficult and great things. This idiom can also be seen in our time in a more simplified way. We can sometimes say that a person can "move mountains" indicating that one has done great and difficult things in one's life. So Jesus isn't saying that through prayer and faith that we should hope to literally move mountains but that we shall do great and difficult things in His power and for Him. Also note that Jesus never actually moved a mountain during His ministry.
Remember when I talked earlier about "sola scriptura" and how it enhances our Bible study? Here is a clear instance where this technique comes in handy. Notice how Jesus says in verse 22 that whatever you ask in prayer you will receive if you have faith. Taking this verse by itself could seem to mean that if you believe in what you are asking will come to pass then you can ask for whatever you want. It's as if prayer is almost like getting wishes from a genie. But this doesn't make sense; we cannot just ask for anything under the pretense of faith believing it will come true. Does the Bible really teach that? Well, no. Looking at other scripture we can see that there is more to it than that. We must pray in faith (i.e., within a real relationship of trust with God) and within the will of God.
For proof we can go to 1 John 5:14-15:
This is the confidence which we have before Him, that, if we ask anything according to His will, He hears us.
 And if we know that He hears us in whatever we ask, we know that we have the requests which we have asked from Him.
When we pray in faith, setting aside our own will and asking that our Father's will be done, we will bear much fruit. But to truly do this we must deny ourselves and take up our cross daily as Jesus taught.
Now Matthew's train of thought doesn't stop here. We should continue reading on as there is more context to be harvested from this chapter. As we move on we read in verses 23-27 how the religious leaders again tried to trap Jesus so to either imprison or kill Him. Now this is what a barren fig tree looks like up close. These religious leaders who supposedly knew the scriptures (OT at that time) and kept the law of God were in fact fruitless. They had lead Israel down a path that led to destruction and, as Jesus put it, they were blind guides leading the blind. These religious leaders were supposed to lead Israel to Jesus and salvation, but instead they robbed the people and forced human laws and regulations on the people that were too heavy to bear.
I love the answer Jesus gives to the religious leaders as they tried yet again in vain to trap Jesus through questioning. Jesus' reply was perfect, and perfectly backed them into a corner that they could not escape from. But Jesus doesn't end His conversation with the religious leaders here; in fact, He goes on the offensive by presenting two distinct parables to them.
It is interesting to note that earlier in the book of Matthew Jesus talked in parables to keep the religious leaders, who were attempting to imprison or kill Him, from understanding His messages. But here Jesus presents two parables to them and even explains the parables to them. This marks a turning point in His ministry whereby He intentionally clashes with the religious leaders. These clashes were to show that He was their true king and authority.
The first parable essentially confronted the religious leaders with the fact that they were obstinate and unwilling to repent. The point of the parable was that the actions of each of the sons in this parable were more important than what they said that they would do. Jesus follows up this first parable with a question, "Which of the two did the will of the Father?" to which they answered Jesus correctly, thus condemning themselves. The religious leaders said they were followers of God, but their words were meaningless since their actions did not prove their words
Afterwards Jesus explained that those sinners who were reviled and cast out by the religious leaders would inherit the kingdom of heaven because of their repentance. But the religious leaders internally were unrepentant. Therefore, the repentant sinners would enter the kingdom of heaven while the unrepentant pious religious leaders would not. Later in the very last verses of this chapter (45-46) we clearly see that the religious leaders continued in their unrepentance, became even more angry, and sought to seize Jesus.
Immediately after this first parable, Jesus presents the religious leaders with a second even more pointed parable. This one concerns a landowner who planted a vineyard (vineyards were commonly used to represent Israel as well). The landowner (God) rented the vineyard out to vine-growers (the religious leaders) to be responsible for and to tend the fields. When it was time, the landowner sent out His slaves (OT prophets) to get the produce from the vineyard. The landowner did this several times and each time the vine-growers attacked even killing some of the landowner's slaves. Finally, the landowner sent out His son (Jesus) and the vine-growers killed Him too.
Again Jesus asked the religious leaders what the landowner will do to the vine-growers. The religious leaders answered correctly that the landowner would bring those terrible vine-growers to a terrible end. This was the correct answer, but it also condemned the religious leaders as they were represented by the vine-growers in this parable. In verses 42-44 Jesus explicitly condemns the religious leaders for not producing fruit associated with God's righteousness. And for this, these religious leaders would be forbidden entrance into the kingdom of heaven. But as I previously mentioned, verses 45-46 show that the religious leaders were still set on ridding themselves of Jesus and His assault on their earthly, man-made kingdom.
Note in verse 43 Jesus says that the kingdom of God will be taken away from the religious leaders and given to a people producing the fruit of the kingdom of God. All of this and all of these parables point back to the narrative of the cursing of the fig tree. Just as this fig tree was being outwardly deceptive by producing leaves while inwardly fruitless (a strange combination for a fig tree indeed) so were the religious leaders specifically as well as the Jewish people, in general, who were outwardly praising Jesus and hailing Him as a conquering King. But the inward reality was that neither the religious leaders nor the Jewish people bore any lasting fruit for the kingdom of God. In a very short time, the whole of the Jewish people would either abandon Jesus or outright call for His execution.
During this time today we all should be taking a hard look at the fruit we produce. Are we bearing the lasting fruit of the kingdom of God? Granted, we all go through dry seasons where it may seem that we are not producing much, if any fruit. However, we need to consistently be on the lookout for any sin or idols that have taken root in our lives and remove them promptly. Perhaps God is working in and around us, even now, to prepare us for an upcoming season of bountiful harvest.
I implore each of us to pray first for ourselves that God may prune us so that His fruit will be plentiful and evident to others. Secondly, we need to pray for our church body as a whole that God would root out sin and idols so that the fruit of our church may also be overflowing and evident to others drawing them to God. For we do not want Jesus to look upon us, find no fruit and say, "No longer shall there ever be any fruit from you." Nor do we want Jesus to clean house as he did with His temple. We want to present the church as holy and useful to God.
God strongly desires our best worship to Him and for Him. Let us be up to the task.
STUDY: Matthew Chapter 22
MEDITATE: Matthew 22:15-40
MEMORIZE: Matthew 22:37-39
THIS WEEK'S STUDY GUIDE
Matthew 22:15–40
Earlier in chapter 21 and at the beginning of chapter 22 we saw Jesus triumphantly enter Jerusalem and immediately cleanse the temple. This angered the religious leaders and in response Jesus explained, in no uncertain terms, that their actions and words were evil and that they would also be barred from entering the kingdom of heaven.
Now in verses 22:15-40 we see the various religious groups of the time (i.e., Pharisees, Herodians, Sadducees and scribes) come together to plot how to trap Jesus by asking a series of loaded questions designed to force Jesus to take a side or a position that would give the religious leaders leverage to use against Jesus. This leverage would be to make Jesus look hypocritical to the Jewish people who followed and listed to him.
Before you read through each of the three questions that were posed to Jesus and how Jesus answered, re-read Matthew 4:1–10:
Then Jesus was led up by the Spirit into the wilderness to be tempted by the devil. And after He had fasted forty days and forty nights, He then became hungry. And the tempter came and said to Him, "If You are the Son of God, command that these stones become bread." But He answered and said, "It is written, 'MAN SHALL NOT LIVE ON BREAD ALONE, BUT ON EVERY WORD THAT PROCEEDS OUT OF THE MOUTH OF GOD.' "Then the devil took Him into the holy city and had Him stand on the pinnacle of the temple, and said to Him, "If You are the Son of God, throw Yourself down; for it is written, 'HE WILL COMMAND HIS ANGELS CONCERNING YOU'; and 'ON their HANDS THEY WILL BEAR YOU UP, SO THAT YOU WILL NOT STRIKE YOUR FOOT AGAINST A STONE.' " Jesus said to him, "On the other hand, it is written, 'YOU SHALL NOT PUT THE LORD YOUR GOD TO THE TEST.' "Again, the devil took Him to a very high mountain and showed Him all the kingdoms of the world and their glory; and he said to Him, "All these things I will give You, if You fall down and worship me." Then Jesus said to him, "Go, Satan! For it is written, 'YOU SHALL WORSHIP THE LORD YOUR GOD, AND SERVE HIM ONLY.' "
Notice how there are also three temptations from the devil and with each temptation Jesus uses scripture to refute the devil. Likewise, Jesus uses scripture to answer the religious leaders (actually in Matt 22 the answer to the first question from the Pharisees does not include a direct OT scripture reference, but the others do). At the end of each narrative, the antagonists to Jesus are fully rebuked and leave Him. In the narrative in chapter 22, the religious leaders leave Jesus, silenced. In fact, the religious leaders did not even attempt to question Jesus after that point.
There are also some contrasts between these two narratives. For example, the devil directly tempted Jesus but in Matt 22 the religious leaders test Jesus (of course, the devil was behind all of this but he is not directly mentioned). The devil required actions from Jesus while the religious leaders only posed questions designed to entrap.
Let's see how, in chapter 22, each of the three attacks were absolutely refuted by Jesus. In fact they were not only refuted, but notice how everyone (the crowds and the religious leaders) went away in absolute amazement as to the answers that Jesus gave.
The first question came from the Pharisees' disciples (students) along with the Herodians in verses 22:15-22. Now this was an odd couple the Pharisees and Herodians. The Pharisees were a religious party that hated Roman rule. In stark contrast to this were the Herodians who were more of a political party that supported the Romans. These two groups were in diametrical opposition to each other under normal circumstances, but with the perceived threat of Jesus taking away power and prestige from each of them they decided to join forces. This underlines the seriousness and hatred of these two groups against Jesus and what He stood for.
The question posed was around the poll-tax given to Caesar which was a single denarius per person in each household. This was a sore spot for the Jewish people as it was a burdensome tax on top of an already burdensome system of taxation. Now the source of this question (i.e., the Pharisees and Herodians) gives us a big clue as to why this specific question was asked. Essentially the Pharisees were against Roman rule and taxation, whereas the Herodians were for Roman rule and taxation since they were embedded within the Roman party and gained much power and wealth from them. So the Pharisees and Herodians conspired in such a way that their question would have to force Jesus to take one side or the other. If Jesus answered that it was lawful to pay the tax, He would have been hated by the Jews. If He answered that it was not lawful, He would be seen as an insurrectionist to Rome.
Jesus' answer was cutting and direct. It was cutting as He saw through their scheme and addressed the Pharisee disciples and Herodians as hypocrites that were only there to test and trap Him. It was direct as He next used a denarius coin as a clear example of not only how to be a citizen under earthly rule (Caesar and Rome) but also at the same time a citizen of the kingdom of God.
The Roman currency had an image of Caesar on it and was provided by Rome to the people in order to buy and sell things. But if the emperor wanted His currency to be payed back in the form of taxes, that was his prerogative. But Jesus adds that we are to also render (or give back) to God the things that are God's. Since we are in the image of God (compare this to the image of Caesar on the coin), we are His. As such we are to render (or give back) ourselves to God since we are His creation. Both the government and God are due what is theirs.
At this point I could go into a treatise on how the governments are given to us by God Himself and how we are to be subject to them, but that would require much more time. Suffice to say that these two sections give us a starting point with which to study the relationships between God, our earthly governments and how we are to subject ourselves to these earthly governments: Rom 13:1–7, 1 Peter 2:13–17.
The Herodians were unable to catch Him in their trap since Jesus' answer permitted the payment of taxes due. And the Pharisees were also unable to catch Him as Jesus rightly stated that their money was from Rome and created by Rome as its currency just as we were created by God in His image for His purpose.
The next question comes from the Sadducees in verses 22:23-33. The Sadducees were a liberal group that were political opportunists. They only accepted the Pentateuch (first 5 books of the OT) as having any authority. However, that "authority" didn't seem to have much relevance to them as they did not believe in the resurrection of the dead, the existence of angels nor anything supernatural. In fact the Sadducees seemed more interested in wealth and power than in anything else, so it's hypocritical that they even viewed the Pentateuch as having any authority.
In verse 23 there is a parenthetical comment about the Sadducees that says they did not believe in the resurrection. This comment is critical to understanding the Sadducees question to Jesus and Jesus' response.
Now their question covers verses 24-28 and is an overly complicated way of using Deut 25:5-6 to ask Jesus about which one of the seven brothers will be married (when in heaven) to the one woman that they all took as their wife in turn. The verse the Sadducees quoted from Deut 25:5-6 is about the levirate marriage that was enacted to preserve family names and inheritances as well as to provide a way to take care of widows.
Notice in verse 28 that the Sadducees state, "in the resurrection...". They did not believe in the resurrection, so why ask about it? Well, they thought that they were setting a trap for Jesus. They were attempting to present Jesus with another unanswerable question. Since the Sadducees knowledge of scripture was only the Pentateuch, they believed that this portion of scripture said nothing about resurrection. If Jesus answered that any of the brothers or multiple brothers would be married to the one wife then they could spring their trap. They could accuse Jesus of allowing incestuous marriages or just randomly assigning the woman to be the wife of one of the brothers, which would have incited many more questions all directed at making Jesus look bad in the eyes of the people. Possibly the Sadducees were trying to confront Jesus with their understanding (or rather mis-understanding) that there was no resurrection with the goal of making Jesus state (incorrectly) that there was no resurrection of the dead. This answer would further solidify the Sadducees as being "right".
Jesus would not be baited into answering their question on their terms. Rather, He first confronted them with their mistake in verse 29a, "You are mistaken..." and then proceeded to expose their misunderstanding in verse 29b, "...not understanding the Scriptures nor the power of God." Now that Jesus has exposed the underlying problem with the Sadducees, He proceeds to correct their understanding.
He begins by explaining in verse 30 that, "For in the resurrection they neither marry nor are given in marriage, but are like angels in heaven." Notice that Jesus begins His answer in the same way as the Sadducees began their answer, "In the resurrection..." In a way He is saying, "Yes, you are right to begin your question with, 'In the resurrection'." He continues by saying that they are wrong to assume that there will be any type of marriage in heaven. Rather we will be "like" angels. Note that He doesn't say we "are" angels but rather that we are "like" angels. Meaning that we will share some characteristics of angels such as not being subject to death and  having no need to marry or procreate.
At this point Jesus has answered their question, but now Jesus goes one more step to fully put to rest the question of the resurrection of the dead in Matthew 22:31-32
But regarding the resurrection of the dead, have you not read what was spoken to you by God: 'I AM THE GOD OF ABRAHAM, AND THE GOD OF ISAAC, AND THE GOD OF JACOB'? He is not the God of the dead but of the living."
There are two incredibly important things to understand about this quote that Jesus used from the OT. First it comes from Exodus 3:6, which is squarely within the Pentateuch. Being that the Sadducees only recognized the Pentateuch as scripture, Jesus was firmly establishing that they truly did not understand even the part of scripture that they upheld.
Secondly, the beginning of this quote, "I am..." in the Greek is a present, active indicative. What this means is that the Greek form of this verb in this context is stating factually that God is and always will be (continuously forever) the God of these three men. If, as the Sadducees believed, death was the final end to people and there was no resurrection, how could God still be the God of these three men after their death? As the scripture in the Pentateuch clearly shows, there must be a resurrection since God is the God of the living and not the dead!
Both the Pharisees and Sadducees had individually attempted to catch Jesus in a trap and both had failed. Now in verse 34 the Pharisees gathered themselves together to make one final attempt to catch Jesus in His words. A lawyer posed a question to Him (lawyers were scribes that specialized in the interpretation and explanation of the law), "Which is the most important (greatest) commandment in the Law?" There were 613 individual laws in the Pentateuch and some of these laws were more weightier than others. The religious leaders of this time were unable to come to a consensus on the relative importance or weight of each law. They failed to realize that the law was only there to show them (and us) how truly far from God's standard of holiness they (and us) really are. From this they should have realized how in need of a savior they (and we) really are. But their worldly desires got in the way, and they completely missed the point of the law and of the only One that could offer salvation to all. Instead they bickered on which laws were weightier than others.
They thought that Jesus would tell them which law was the greatest (or maybe that Jesus would say they were all of equal importance). To the Pharisees surprise, Jesus instead summed up the whole law in Matthew 22:37–40:
And He said to him, " 'YOU SHALL LOVE THE LORD YOUR GOD WITH ALL YOUR HEART, AND WITH ALL YOUR SOUL, AND WITH ALL YOUR MIND.' This is the great and foremost commandment. The second is like it, 'YOU SHALL LOVE YOUR NEIGHBOR AS YOURSELF.' On these two commandments depend the whole Law and the Prophets."
Matthew ends the narrative of these three attempts to trap Jesus in His words here, but in Mark 12:28-34 this last narrative continues. Read through the narrative in Mark alongside this one in Matthew. They are almost the same except for the ending. In Mark, this lawyer responds to Jesus' answer intelligently. Jesus recognizes this and tells him that he is not far from salvation. There are two things to take away from this. First, just because we hear a theologically correct answer from someone doesn't mean that we can assume they are truly a believer. Their fruit will always expose them for who they truly are. Second, there is a reason that Matthew doesn't include this part of the narrative, which leaves us believing that there is hope for this Pharisee lawyer. The gospel of Matthew has a consistent theme of the rejection of Jesus throughout this book. Of course there are the cases of the disciples who followed Jesus and some stories concerning people that did come in faith to be healed or have loved ones healed by Jesus, but one of the overall themes is the rejection of Jesus.
While we can use these verses here as a great case study as to how to handle and answer questions posed to us by those who hate Jesus, we must also look deeper and recognize that this was a total rejection of Jesus (well, hopefully the lawyer eventually came to know Jesus, but we have no confirmation of that in scripture). And as we are not greater than our master and teacher, Jesus, we too will endure rejection. But as we identify with Jesus and suffer as He did, we should moreover rejoice in the knowledge that we are His and this life and these sufferings that we endure are only temporary.
STUDY: Matthew Chapter 14
MEDITATE: Matthew 14:22-33
MEMORIZE: Matthew 14:33
THIS WEEK'S STUDY
Matthew 14:22-33
In Matt 13:53 Matthew ends his discourse section and now we enter into the next narrative section that begins with the rejection of Jesus in His hometown followed by John the Baptist's beheading and then the feeding of the 5,000. The next verses Matt 13:22-33 begin our meditation verses covering the event where Jesus walks on water.
Before we get too far into verses 13:22-33, it is important to note that the disciples had been around Jesus longer than most others and knew Him and His miracles quite well. In fact, they had just witnessed Jesus miraculously feed 5,000 people. By the way, records of the number of people present in situations such as this usually only counted men, not women and children. So it is more accurate to say that the entire crowd was much larger. Some estimates say upwards to 20,000, but this number would assume several things such that there were mostly families and each family had at least 2 children present. Suffice it to say that Jesus' miracle was much bigger than feeding 5,000 people at one time. So we would conclude from this event that the disciples could clearly discern and recognize Jesus and His power. As we will see, the disciples were about to be severely tested on this.
We see in verse 14:22 that it starts out with the word "immediately...". This is to clearly show that the miracle of feeding the 5,000+ was fresh in their minds as Jesus sent them off to cross the Sea of Galilee. It's also important to observe that the word "immediately" occurs 3 times throughout verses 14:22-33:  Immediately, Jesus acted (v22). Immediately, Jesus spoke to His fearing disciples (v27). Immediately, Jesus saved Peter from certain death (v31). We see Jesus working immediately or without hesitation with His disciples. It's easy for us to fail to see that Jesus is able to immediately answer our prayers or is able to immediately work to save others or fix the state of the world we are in. However, we see here that, yes, Jesus can and does work without hesitation. But there are times that Jesus will not work immediately in our lives or in others. In these cases, we need to understand that we do not see the full picture of all that is happening. Maybe there is need for patience on our part for ourselves or others to repent of sin before Jesus works in a person's life, or maybe He is cultivating the fruits of the spirit (including patience) in our lives first. Whatever the reason, it is squarely under the sovereign lordship of Jesus as to when He will work. But know that when Jesus commits to action, the response will be immediate as it is in these verses!
Once Jesus had sent the disciples away on a boat and the crowds away, He went up on a mountain to be alone with this Father and pray. (If you want to know the reason Jesus sent the crowds away, read John 6:15.) Now Jesus was alone on the mountain praying, and the disciples were far away in the middle of the Sea of Galilee in yet another storm. This storm seems to be bad but not quite the same ferocity that the disciples encountered in Matt 9:23-27. Also, Jesus was not with them during this storm, at least not yet.
Another word (or words) that appear frequently in this section are:  fear, terrified, afraid and frightened. These words all describe the disciples out on the water at night during the storm. In fact, the first time we see the word frightened is when the disciples first see Jesus walking on the water next to their boat. Picture the scene here. Jesus is walking across the water calmly while a storm is raging around Him (realize that there were waves big enough and strong enough to batter the boat the disciples were in). The disciples, by contrast, are fighting to steer their boat towards the other side while rowing frantically. All this is happening between 3 and 6 am (the 4th watch of the night).
Now comes a critical test of the disciples, would they recognize Jesus or not? Remember, the feeding of the 5,000+ was fresh in their minds, Jesus had previously calmed a storm that was about to sink their boat (Matt 9:23-27) and the disciples had been following Jesus long enough to know and recognize Him. But no, the disciples saw Jesus walking on the water and were terrified and cried out in fear thinking that He was a ghost. Granted, the disciples were fighting the storm and both physically and mentally exhausted from the effort to get the boat to the other side; however, they still failed to recognize Jesus in all the turmoil.
How many times have I (we) failed to see Jesus walking next to me (us) in the middle of my (our) own storms?
In response to the disciples' inability to recognize Jesus, He responds immediately (the 2nd use of immediately in these verses). With compassion Jesus says, "Take courage, it is I; do not be afraid.". Jesus is, without hesitation, telling the disciples who He is so that they will recognize Him and their fears will cease. But this does not seem to fully quell the disciples' fears. Fears that were hiding the fact that this was indeed Jesus. This leads to Peter calling out to test Jesus, since Peter still isn't sure that what he is seeing is really Jesus or a ghost. Peter asks Jesus to call him to walk towards Jesus on the water. Jesus complies and with a word calls Peter to walk towards Him on the turbulent water.
Peter does something at this point that requires an abundance of faith. He jumps out of the boat and begins to walk towards Jesus on the water. However, Peter's faith in Jesus' call quickly turns into fear as he becomes aware of the strength of the storm. Peter calls out to Jesus to save him and Jesus immediately (the 3rd use of immediately in these verses) saves Peter. Then Jesus says to Peter, "You of little faith, why did you doubt?". Essentially telling Peter that he still had a weak belief in Jesus. Even though Peter jumped out of the boat when Jesus called him, his faith waned when he saw the strength of the storm. In fact, the storm took Peter's eyes off of Jesus and the miracle of walking on water. By the way, through this miracle Jesus answered Peter's question of, "Lord, if it is you..." in verse 28. Jesus had proved that it was truly Him walking on the water and not a ghost. Not only that, but He proved that He had sovereign power over nature (as in Matt 9:23-27). Finally, Jesus proved that He could enable His disciples to do as He did, walk on water, but only under His sovereign influence. Remember earlier in Matthew when Jesus gave His disciples the power over unclean spirits and to heal others and then sent them out to proclaim that the kingdom of heaven is near. Peter, remembering this, perhaps was using it as a test to determine if this truly was Jesus, knowing that Jesus could endow His disciples with the same power to work miracles.
Unfortunately, the little faith of Peter allowed the strength of the storm (insignificant in comparison to Jesus' power) to break his focus on Jesus and cause doubt to flood his mind. Now obviously, Jesus could have kept Peter walking on top of the water regardless of the state of Peter's faith, but He allowed Peter's faith to determine whether or not he would continue to walk across the water or sink beneath it. This wasn't some mean-spirited way of proving that Peter's faith was overly small. Rather, Jesus was using all the failures of the disciples throughout the book of Matthew to build up their faith and understanding of who Jesus really was. This all would finally culminate in Acts when the disciples received the Holy Spirit and their faith overflowed. Take a look in Acts where Peter, having received the Holy Spirit, preached to the masses and many came to know Jesus. Here in Matthew chapter 14 Jesus is training His disciples to become faithful servants
When doubts crept into Peter's mind, his faith no longer was in Jesus but in the strength of the storm and he began to sink. But Jesus was there to immediately help, as He always is in our lives preventing us from sinking beneath the waves of the storm. Our faith simply needs to be single-mindedly focused on Jesus, not divided between the strength of the storm and the strength of Jesus (i.e., doubting).
Did you notice that once Jesus saves Peter and they both get into the boat that the storm ceased? Just as in the first narrative about the storm (Matt 8:23-27), Jesus had total control over the storm that was the cause of the problem in both narratives. It is a beautiful thing to not only be in a storm in our lives but to also know that Jesus is sovereign over that same storm. Jesus can use a storm (i.e., trials) to test our faith and to build us up. Unfortunately, we may choose to focus on the storm (getting our eyes off of Jesus and sinking) not acknowledging that the same storm we are currently in is under the sovereign control of our Lord and Savior Jesus Christ.
The response of the disciples to all of what just happened was to worship Jesus for who He really was, the Son of God. That should also be our response to Jesus.
Now if you continue reading a bit, you will see something very interesting in Matt 14:34-36. Once they made it to the other side of the Sea of Galilee to Gennesaret, it says that, "And when the men of that place recognized Him...". The people of Gennesaret "recognized" Jesus.  This Greek word for recognized is a word we studied earlier in chapter 11, which I'll reiterate here. The typical word for "know" is ginosko which simply means to understand but is usually translated as "to know". However, the word used here is epiginosko (technically, epignontes after it is properly conjugated), which has epi affixed to the beginning of the word. This gives us a slightly different variation of the word "to know". In this case it gives the sense of recognition, that is the people in Gennesaret have a full and instant recognition of Jesus and that He had the power to heal. Their next action to call people from the surrounding area and to implore Jesus to heal their sick show that they indeed recognized Jesus. Contrast this with how the disciples "recognized" Jesus in the storm. They thought He was a ghost. Peter even had to test Jesus to determine if He truly was Jesus. While Jesus passed this test, Peter failed his test of faith.
I've heard it said that a person is either entering into a storm (i.e., a trial in his/her life), in the midst of the storm or just leaving the storm. Usually, we don't have much downtime between storms in our lives. Knowing this, wouldn't it be better to not focus on the storm itself and its strength but instead focus on the One who is sovereign over that storm? The One that can enable us to rise above the crashing waves and endure the storm. The One who can end the storm. But this takes faith, and faith does not doubt. How do we remove doubt from our minds? We simply focus on Jesus, our creator and sustainer, the One who loves us more than we could ever comprehend. Remember to always put Jesus first and the storms last:
But seek first His kingdom and His righteousness, and all these things will be added to you.
-Matthew 6:33
STUDY: Matthew Chapter 15
MEDITATE: Matthew 15:10-30
MEMORIZE: Matthew 15:5
THIS WEEKS STUDY 
Matthew 15:1-20
One of the main themes throughout Matthew is the rejection of Jesus specifically of who He is and His message. We see here in verses 15:1-2 that the religious leaders are once again attempting to catch Jesus breaking their religious laws. The "law" in question was concerning the uncleanliness of the disciples due to a failure of the disciples to wash their hands before eating. I use "law" in quotes because this was more of a tradition handed down verbally for some time before it was actually written down. It was not part of the original Law of Moses. Additionally, the religious leaders were quoting this tradition incorrectly. The only written law in the OT about hand washing before eating was in Lv 22:6-7 and it was specifically given only to the priests from God Himself. The tradition the religious leaders are talking about here is a man-made tradition that was later added to the Mosaic law. Therefore, the religious leaders' accusal was not only weak because the real law was directed only towards the priests (the descendants of Aaron) but also it seems that these religious leaders were scrapping the bottom of the barrel as far as wrong doing to accuse Jesus and His disciples.
Note that the religious leaders were attacking Jesus indirectly by attacking His disciples' actions directly. This is how it still works today. Those that hate Jesus attack us. But in reality they do this to indirectly attack Jesus.
If the world hates you, you know that it has hated Me before it hated you.
- John 15:18
There is truly nothing new under the sun.
Look at how Jesus answers the religious leaders. His words parallel the religious leaders. The leaders asked, "Why do your disciples break the traditions...". And Jesus responds, "Why do you yourselves break the commandment...". Jesus is mirroring the religious leaders' question (effectively answering a question with a question while at the same time condemning their own hearts). There's also a subtle point Jesus is making by answering this way. Notice that Jesus says "you yourselves"; most translations just use the word "you". The way this is written in the Greek is with an adverb-emphatic before the word for "you", thereby emphasizing "you". By translating this as "you yourselves" we get a better sense that Jesus is pointing out or emphasizing the religious leaders in His questioning. In other words, Jesus is stating that the religious leaders should know the scriptures better and honor God by actually following His commands and not creating more "laws" that only undermine God's commands.
The religious leaders' question concerning the disciples was much weaker than Jesus' question followed by a condemnation in response. Consider this: the religious leaders essentially asked why the disciples broke a man made tradition while Jesus asked why do you break the commandment of God Himself. But Jesus doesn't just leave the question there. He backs it up with a clear example of God's command to honor your mother and father and how the religious leaders had nullified this command with a man-made law that said a person didn't have to honor his or her mother and father in cases where this person had already given (or promised) their resources to God. Essentially, this law stated that one could intentionally disrespect his or her parents by simply giving their resources to God instead. This allowed for a willful disregard of one's parents. This is not the intention of God's command when He instructs us to honor our mother and father.
Furthermore, Jesus says that this intentional undermining of God's command has much farther reaching issues. He says that because of this, the word of God has been invalidated. Other translations use the terms made void, nullify and to have no effect. This is not to say that the word of God cannot do its job. God says that His word will never return void; additionally, He says His word is sharper than any double-edged sword piercing both bone and marrow to get to the heart of a person. You see, God's word is always active. However, it is still possible for people opposed to God's word to prevent others from hearing the full gospel that saves (as in Matt 15:14 where Jesus calls them blind guides that lead the blind, both falling into a pit from their lack of sight). These religious leaders were watering down God's word and adding to it to allow for their own proclivities towards selfishness and pride.
Now Jesus turns to quoting scripture to bring His point home. He quotes from Is 29:13 here in Matthew 15:8-9:
'THIS PEOPLE HONORS ME WITH THEIR LIPS, BUT THEIR HEART IS FAR AWAY FROM ME
'BUT IN VAIN DO THEY WORSHIP ME, TEACHING AS DOCTRINES THE PRECEPTS OF MEN.' "
Notice the quote starts with a people who falsely honor God with their words but do not honor Him in the correct way, which is with the heart. The religious leaders should have worshiped Jesus as we have seen others do several times already in Matthew. Good worship was with the heart, not just with words.
Also, in this quote God says that the religious leaders' worship is worthless or in vain. This is because they do not teach only God's word, but they weave in doctrines of their own making to water down or render ineffective the commands of God. Because the religious leaders failed to truly honor God and His commands, Jesus stated that their worship was vain, useless and unacceptable to God. But Jesus was not yet done chastising them.
Next, in verse 15:10 Jesus calls a crowd to Himself and presents a parable to them:
"It is not what enters into the mouth that defiles the man, but what proceeds out of the mouth, this defiles the man."
- Matthew 15:11
Remember, in the previous verses in this chapter, Jesus had pointed out that the question of the disciples not washing before eating showed that the religious leaders were not honoring God as they should. Additionally, the OT quote that Jesus spoke states that they do not honor Him with their hearts (internally), only externally with their lips. Now Jesus is giving the crowd a parable to further demonstrate this. What proceeds out of the religious leaders' mouths was defiling them. But notice that Jesus again goes back to the original argument of the religious leaders by saying that it is not what enters the mouth that defiles a person. This answers the religious leaders' original question in that failure to wash one's hands before eating has nothing to do with defiling a person.
After teaching the crowd this parable, Peter asked Jesus to explain this parable to him and the other disciples (verse 15:15). Jesus gives Peter and the other disciples a bit of a rebuke for not comprehending the meaning of such a simple parable. But we have to remember that Peter and the other disciples had been exposed to the religious leaders' teachings and traditions for a significant time, previous to Jesus' arrival. Now Jesus was beginning to counter their incorrect teachings. The disciples must have had a difficult time trying to unlearn what they had been taught and had believed for so many years. Even looking forward into the book of Acts, we see Peter still wrestling with the idea that something eaten could defile him:
But Peter said, "By no means, Lord, for I have never eaten anything unholy and unclean."
- Acts 10:14
Jesus exposes the crux of the meaning of this parable to the disciples in verses 15:18-20. Here He connects the person's heart (that is a person's character -- essentially their mind, will, emotions and conscience) to their mouth or, more specifically, to what the mouth speaks. Jesus says that the heart contains much evil such as murder, adultery, impure thoughts, lying, stealing, etc. and from the overflow of the heart the mouth speaks all of this. Therefore, what the mouth speaks will defile a person as it shows one's true intentions of the heart. Note that in this context Jesus is not saying that everyone's heart is full of evil all the time but rather that the hearts of the religious leaders were full of evil. Jesus was demonstrating here that truly what one speaks emanates from the person's own heart.If you go back a few weeks to the meditation verses of Matthew 12:33-37 this concept of the heart controlling the mouth and the words spoken by the mouth are what defiles a person, is expanded on by Jesus:
"Either make the tree good and its fruit good, or make the tree bad and its fruit bad; for the tree is known by its fruit. You brood of vipers, how can you, being evil, speak what is good? For the mouth speaks out of that which fills the heart. The good man brings out of his good treasure what is good; and the evil man brings out of his evil treasure what is evil. But I tell you that every careless word that people speak, they shall give an accounting for it in the day of judgment. For by your words you will be justified, and by your words you will be condemned."
- Matthew 12:33–37
How can one who is evil speak good? The answer is that one cannot. It is true that one may speak good things temporarily, but ultimately a person's words will betray him/her and expose what is in one's heart.
Jesus leaves us with a method for discerning the heart of another. We must look at the fruit of the Spirit that one bears. Is it good fruit or bad? We must look at the person's speech. Does it build up or tear down? Does it unify the body of believers or divide? The fruit of the Spirit may also be present (or absent) in one's speech. Finally, is the person truly concerned about what he/she says and the effects of his/her words on others? That is, does that person realize that he/she will have to give an accounting of every careless word said before God?
Granted, we must employ all love, grace and patience when attempting to discern another's heart. We cannot attempt to discern one's heart without grace and a real love for that person. The goal is always to restore someone in the church if he/she strays, not to point fingers and berate. Remember, Jesus desires compassion for others:
"But if you had known what this means, 'I DESIRE COMPASSION, AND NOT A SACRIFICE,' you would not have condemned the innocent.
- Matthew 12:7
STUDY: Matthew Chapter 16
MEDITATE: Matthew 16:24-28
MEMORIZE: Matthew 16:24
THIS WEEKS STUDY
Matthew 16:24–28
In our meditation verses for this week (Matt 16:24-28), Jesus turns to His disciples and begins to teach them about the true cost of following Him. But first we need to take a look at what just happened in verses 16:21-23. Here Jesus is explaining to His disciples that He is to go to Jerusalem, suffer and be put to death. Notice that Jesus doesn't just stop at this point as it would have left no hope for His disciples. Rather, He continues to say that He will be raised to life on the third day. But this last statement about His resurrection must have fallen on deaf ears. The disciples hearts were still hardened and were not fully tuned in to His words.
Peter then took Jesus aside and showed his disapproval of what Jesus just said by telling Him, "God forbid it Lord! This shall never happen to You.". Essentially, Peter was telling his creator, Lord and savior, "No". Peter even addresses Jesus as Lord in his statement, which makes this statement even more absurd. Then Jesus turns and harshly rebukes Peter saying, "Get behind Me, Satan! You are a stumbling block to Me". This, of course, did not mean that Peter was Satan, rather that Peter was being used by Satan in an attempt to cause Jesus to stumble or sin. But at the end of this dialog in verse 23, Jesus gives the real cause of why Peter said what he said. Jesus explained that Peter was not setting his mind on the things of God but on the things of man. This seems to hearken back to when Peter stepped out of the boat and walked on the water towards Jesus, but then got his eyes off of Jesus and onto the storm, doubting and almost drowning. You see, Peter thought he was doing a good thing by forbidding Jesus to go to Jerusalem to His death. Peter loved Jesus deeply and did not want Jesus to die and leave him. That makes sense, right? I know I do not want my friends and loved ones to be hurt or die either. However, Jesus wants us to set our minds on the things of God, not of man. This is not to say that concern for others is bad, but in this case it was out-of-place. Think of what would happen if Peter had his wish that Jesus would not suffer and die for us. There would be no pardon of sins through Jesus. We could not boldly go into the holy of holies to commune with God and speak to Him and, of course, we would be stuck forever within the OT sacrificial systems. Thankfully, Jesus continued on for His glory and for our salvation.
This verse (16:23b) is key to understanding why Jesus turned to His disciples and explained the full cost of following him in verse 16:24. Jesus states in verse 23b that Peter was not setting his mind on the things of God, but of men. We too must always look to the eternal, not the temporal. In verse 24 Jesus explains a bit deeper what this means for us.
In order to follow Jesus, we must first deny ourselves and set our minds on the things of God. This is truly difficult but not impossible with the Spirit's help. Today in our culture, to deny one's self is almost considered an act of evil. The media, Hollywood and governing members are all telling us to be who you think you are, whether that's male, female or something else. Laws are even being enacted in many countries including our own to prevent Christians from speaking God's truth to others about the various maladies inherent in the culture around us. Denial of one's self is completely foreign to a dying world. Yet Jesus commands us to die to one's self and live to Christ, an impossibility without the Holy Spirit's intercession.
The next thing we must do (again, with the constant aid of the Holy Spirit) is to take up our cross. This has already been mentioned earlier in Matthew:
And he who does not take his cross and follow after Me is not worthy of Me.
-Matthew 10:38
Also note the differences between the verses in Matthew and in Luke:
And He was saying to them all,
"If anyone wishes to come after Me, he must deny himself, and take up his cross daily and follow Me.
-Luke 9:23
In Luke the word "daily" is added to describe how often we are to take up our cross...every single day. It is a difficult thing to constantly and fully commit ourselves to God to the point of taking up our cross daily. Doing this task daily simply means that when we stumble, as we all do, we must repent, take up our cross and push on.
Now the cross would have given the disciples a picture of the most humiliating, agonizing and painful death imaginable. The cross here was used figuratively to fully express the requirement of sacrifice, especially denying one's self, to the disciples. Paul even used this symbolism to depict the death of one's self in the process of sanctification. Here, the words of Paul express the utter beauty of something so horrible:
I have been crucified with Christ; and it is no longer I who live, but Christ lives in me; and the life which I now live in the flesh I live by faith in the Son of God, who loved me and gave Himself up for me.
-Galatians 2:20
In this passage, Paul sums up his understanding of "take up your cross." We must deny ourselves so that we can live in freedom and faith in Christ; the One who loved us so much that He went willingly to the cross for our salvation and His Father's glory.
So Jesus is saying that we must deny ourselves (that is, any of our wants, needs and desires that do not line up with the will of God in our lives) even to the point of sacrificing our selves. To put it bluntly, we must be willing to sacrifice and to suffer for Christ's sake. We must ask ourselves the difficult questions: Can we become an outcast of society for the sake of Christ? Can we put to death daily our desire to attack those who attack our ideals and our God, for the sake of our persecutors' souls? Can we pray sacrificially for that person that annoys us and gets under our skin sometimes? Can we deny ourselves even to the point of physical death?...yes, physical death Jesus gives His disciples and us this picture of sacrificially carrying our cross to our death. This is a most difficult lesson from Jesus, but He rightfully demands for us to give all and put Him first in our lives. To put it a different way, we are to give ourselves over to Jesus in such a way that we share in His shame, suffering and even death.
Don't get me wrong, we should not go looking for trouble so that we may deny ourselves. Trouble will always be there; fortunately, God has said that He will never give us more than we are able to bear. Just remember that every weightlifter knows that you only grow stronger by adding a littler more to the bar. (Yes, I am simplifying it. Technically, you grow stronger through progressive overload which can be achieved a few different ways, as my wife pointed out, but you get the idea.) We may struggle with the weight God gives us to bear, but He is always there to extend His hand to us in our time of need.
But we don't sacrifice and suffer to no end. In the next verses 16:25-26, Jesus gives the reasons and implications of denying ourselves and taking up our cross daily. In verse 25 Jesus speaks in a paradox. He says that whoever wants to save their life will lose it and whoever loses their life for Him will save it. Let's look at this a little deeper. A person who wants to save their life is one who is pursuing a life of luxury and ease, a life that rejects self-denial and embraces self-indulgence and acceptance by the world. This is a person who is only looking out for their own life here on earth. This person, Jesus says, will lose their life. Notice the contrast: "wishing to save their life, they will lose it". This person "wishes" vainly to live in comfort with a focus on their self, while Jesus states as a matter-of-fact that this is indeed vanity and they will lose their lives. These people are not Jesus' disciples. Disciples deny their selves even to death. However, Jesus also turns this around to say that those that lose their life for His sake will indeed find it. Notice the contrast in this sentence: "Those who willingly lose their life for My sake will find it". Both losing life and finding life is a promise of Jesus. Will we get serious about following Jesus and fully deny ourselves daily to enjoy His promise of finding our life?
One thing I missed when reading these passages earlier is that the Greek word in verses 16:25-26 can be translated as either "life" or "soul". In verse 25 it is translated "life" and in verse 26 it is translated "soul". Now it is important to understand that we cannot simply pick the definition that we feel is best. And indeed the bible translators would put much effort and time into choosing the most appropriate English word to use in our English translations (or any other translation for that matter). You see that the Greek word "psyche" can be defined as soul, life, mind or heart. Most commonly it is translated either as life or soul. If it is translated as life then we are talking about a living breathing person. However, if this word is translated as soul then we are talking about the human soul that is separate from the body and does not die.
So how do translators decide on which English word to use for this one Greek word. One of the most important things translators look at is the context in which the word is used. Of course there are other things translators look at such as cultural and historic information, the overall main idea of the passage, among other things. A full discussion of this topic of translation would require much more time, so I'll just leave this here and move on.
Most all translations will use "life" in verse 25. However, in verse 26 most translations seem to prefer "soul" as the translated word. Note that there are some English translations (not many, though) that use "life" in verse 26 as well. After digging into this a lot more (including a lot of time spent in prayer over this one Greek word), it seems to me that it is most appropriate to translate this word as "life" in verse 25 and "soul" in verse 26. Let me explain. Verse 25 is tied directly to verse 24 through the use of the conjunction "for" (you can think of this word "for" as "because", which may help a little), which essentially is giving a reason for denying oneself, taking up one's cross and following Jesus. That is, our life here on earth will not be lost to sin, corruption and the temptations of this world if we lose our life by fully denying ourselves. This act of denying one's self must be performed while the person is still living. Therefore, it is appropriate to state that their life will be lost to sin due to worldly living. By denying one's self while alive here on earth and following Jesus, that person will have found true life in their savior. A life that is useful to God is well spent.
Now in looking at verse 26, we see two rhetorical questions that cause the reader to think about future results:
For what will it profit a man if he gains the whole world and forfeits his soul?
Or what will a man give in exchange for his soul?
-Matthew 16:26
Granted, you can look at these questions and notice that they are asked in the future tense (i.e., "what will...") and think that they are pointing the reader to think of these questions as if they are looking towards the end of one's life. While this is true, I don't think that we can simply use this as the only answer as to why the word "soul" was translated here. The first question itself has an eye towards the future since this question asserts that this man has already gained the whole world (e.g., power, fame and money). Now that he has gained this wealth in this temporary life, how will he use it to benefit his soul after his life is over. And the answer is that there is no eternal benefit to temporary worldly gains.
If we look at the second question, Jesus asks what will we give to barter for our soul. The person who is only looking for worldly gain is not thinking of eternity. But once that person is confronted at the judgement seat of God Himself, with what shall that person barter to save their soul? The answer is nothing. All that worldly gain they accumulated has already been burned up as the useless chaff would be after the wheat harvest. They have nothing left with which to save their immortal soul.
What Jesus is saying overall is that we must totally deny ourselves and follow Him. This is non-negotiable. Of course we will fail to always uphold this high calling every day in every way, but it is to always be our clear goal as we come after Jesus. But Jesus doesn't just give us this seemingly insurmountable goal, He also gives us good reason for denying ourselves so fully. That is, verse 25 explains the result of doing this while we are still alive on earth--that we may find our lives in Jesus and the freedom to be who He created us to be. The second explanation goes further to a more eternal outlook to give us true hope that we will not have to barter for our soul in judgement. Rather, Jesus, in grace and mercy, will welcome us with open arms to be with Him in heaven for all eternity. In fact, this flows nicely into verse 27 where Jesus states that He will repay everyone according to their deeds. Whether those deeds are selfish and follow the world 's example or those deeds are selfless and follow Jesus' example.
The last thing I want to leave you with is the very pointed and costly price of following Jesus. But I want you to read this in light of what we have just read up til now in the book of Matthew. Verse 24 is a difficult verse to process, it is one of the highest cost, that of denying ourselves to the point of death as a follower of Christ. But like all verses in the Bible, we need to read this verse in light of all the other verses in the Bible, especially those in Matthew. In verse 25 and 26 we know that denial of self leads to discovering our life here on earth and that denial of self has eternal implications, that is we will not forfeit our souls in the end.
We also need to remember what we've learned about Jesus and following Him in all the chapters leading up to chapter 16. Jesus twice has said, "I desire compassion..." and several times has Himself had a deep compassion on the lost that crowded around Him to be healed and hear Him teach. Jesus is a compassionate Lord and as such does not command us to deny ourselves and take up our cross without also compassionately providing to us the strength to do so. One way He strengthens us is to make us like Him. When we become like Him, we too have compassion for others. This compassion drives out selfishness and a love for the world.
Jesus doesn't just say in Matt 11:28-30 that He will give the weary and heavy-laden rest without cause. He is compassionate and loving and kind towards us. This He promises us:
Come to Me, all who are weary and heavy-laden, and I will give you rest. Take My yoke upon you and learn from Me, for I am gentle and humble in heart, and YOU WILL FIND REST FOR YOUR SOULS. For My yoke is easy and My burden is light.
-Matt 11:28-30
Or in Matt 7:11 how we see God wanting to bless us with gifts far better than we can imagine:
If you then, being evil, know how to give good gifts to your children, how much more will your Father who is in heaven give what is good to those who ask Him!
-Matt 7:11
Or in Matt 6:26-30 how He blesses us daily as He does the birds of the air and the flowers of the fields that are of much less importance than us:
Look at the birds of the air, that they do not sow, nor reap nor gather into barns, and yet your heavenly Father feeds them. Are you not worth much more than they? And who of you by being worried can add a single hour to his life? And why are you worried about clothing? Observe how the lilies of the field grow; they do not toil nor do they spin, yet I say to you that not even Solomon in all his glory clothed himself like one of these. But if God so clothes the grass of the field, which is alive today and tomorrow is thrown into the furnace, will He not much more clothe you? You of little faith!
-Matt 6:26-30
This is not a far-away God who is disinterested in us and gives us unbearable commands to perform without compassion. This is the God of the Bible who is exceedingly loving, kind, gracious and merciful. But this is also a God that requires everything of us because of who He is and what He has done for us. This is our God who has suffered everything for our salvation by picking up His cross and walking to His death on Calvary. He did all of this for us who were deserving of death. Consider this every day as we continue to deny ourselves and pick up our crosses and follow Him who alone is worthy.
STUDY: Matthew Chapter 17
MEDITATE: Matthew 17:1-8
MEMORIZE: Matthew 17:5
THIS WEEK'S STUDY GUIDE
Matthew 17:1–8
And the Word became flesh, and dwelt among us, and we saw His glory, glory as of the only begotten from the Father, full of grace and truth.
-John 1:14
Matthew 17:1-8 covers the transfiguration of Jesus to which only a few of His disciples were present. Jesus was giving them a glimpse of who He really was. This was the high point of their discipleship, up to this point in Matthew. This was for them both a literal and figurative mountain top experience!
lowed by His teaching to deny one's self to the point of death. These two somber moments are now contrasted against this narrative of Jesus giving the disciples a glimpse of His eternal glory so that they may truly see who they are following.
The narrative of the transfiguration which begins in verse 17:1 is slightly different in the various translations. In some versions (e.g., NASB) it simply jumps into the narrative with "Six days later...". In other versions (e.g., NIV) it begins "Now after six days...". However, in a few versions (e.g., ESV and LEB) it begins with "And after six days...". It may be only a slight variation, but the connection that the word "And" brings with it is invaluable for interpreting verse 16:28. This verse (16:28) is a difficult or impossible verse to interpret out-of-context. This word "And" is a connective conjunction that exists in the Greek but is not always translated into every English Bible version. In some cases (e.g., NASB or NIV), it is left out entirely (granted, one could say that "now" is the translated Greek word, but this I don't believe is the best translation for this Greek word). Let's look at how the inclusion of this word "And" helps us interpret this scripture.
The Greek word for "And" here is "Kai" which is a standard means of showing that the previous verse, clause or word is connected to the current verse, clause or word. In this case it implies continuity from verse 16:28 to 17:1-8. Matthew 16:28 states:
"Truly I say to you, there are some of those who are standing here who will not taste death until they see the Son of Man coming in His kingdom."
-Matthew 16:28
This verse is difficult to decipher on it's own since the disciples are all long dead and the second coming of Jesus has not yet occurred. However, when we read the word "And" that connects this verse with the following narrative on the transfiguration we see that indeed Jesus spoke a simple truth. That is, that some of His disciples (i.e., Peter, James and John) who were listening to Him in verse 16:28 would not die before they saw Jesus (the Son of Man) coming in His kingdom. The phrase "coming in His kingdom" gives the impression of Jesus coming in the royal power and dignity of His sovereign kingdom. Connect this to what is described in verses 17:1-8 where Jesus is transfigured from this humble servant, the Son of Man, into His true glory as God's beloved son. And we can see that Jesus in verse 16:28 is simply telling His disciples that a few of them would soon see His true glory. This would be their mountain top experience with the Son and the Father intended to strengthen the disciples' faith and courage, especially in light of the somber tones of chapter 16. However, this profound and glorious experience would take an unexpected turn as Peter makes a critical mistake in verse 17:4.
In verse 17:2 Jesus was transfigured, which means to be transformed. It's important to note that in this context, only the outward appearance of Jesus was changed, the inward nature or essence of who Jesus is remains eternally unchanged. Simply put, the internal unchanging eternal glory of Jesus was made visible externally to the disciples. This is a future glimpse of the glory of Jesus. Yet at the same time it was a revealing of who Jesus really was in the present...our glorious savior! The eternal state of Jesus is displayed here in a brief moment in time. Isn't it amazing the power of God the Son who can fold eternity into a brief moment in time?
In other contexts, such as 2 Corinthians 3:18:
But we all, with unveiled face, beholding as in a mirror the glory of the Lord, are being transformed into the same image from glory to glory,
just as from the Lord, the Spirit.
-2 Corinthians 3:18
The word here for "transformed" is the same Greek word used in Matt 17:2 for "transfigured". But in 2 Cor 3:18 it means an inward change as we are conformed to the image of our savior.
Then something happens that is important for us to examine closely. This is the first of two "behold" statements. In verse 17:3 it says "behold, Moses and Elijah appeared". Now any time the word "behold" appears in scripture it indicates that something important is occuring and we should stop and examine this event closely. A good definition of behold is to look at or see attentively. Matthew is telling us here that Moses and Elijah's appearance are very important. Interestingly, I would have thought that the word "behold" would be more appropriate in verse 2 where Jesus was transfigured before the eyes of the disciples, but Matthew moved by the Spirit has other ideas, much better ideas.
We have to ask why is it so important to behold Moses and Elijah's appearing. Well we can get a clue from Luke 9:31, which is Luke's narrative of the transfiguration:
who [Moses and Elijah], appearing in glory, were speaking of His [Jesus'] departure which He was about to accomplish at Jerusalem.
They were discussing Jesus' mission to go to Jerusalem, suffer and die on a cross as an appeasement to God for the world's sins. Jesus was to take on all our sins for our sake. This was what Moses and Elijah were talking to Jesus about. It makes sense that these two appeared to Jesus and especially to the disciples at this juncture. Moses brought the law to Israel of which Jesus completely fulfilled. The law pointed out our sin and that no one was worthy enough to completely obey the law. Thus we all are in need of a savior.
Elijah appeared since he represented the prophets and was a forerunner of Jesus, preparing the way for Jesus. The prophets were continually pointing out Israel's sin as well as pointing towards the future savior...Jesus. It makes sense that both Moses and Elijah were present as they both pointed to the need for a savior as well as the future promise of the savor. That promise was being fulfilled right in front of the disciples' eyes.
Now in verse 17:4 the wheels start to come off the cart. We see Peter saying to Jesus that it is good to be in this place, which isn't necessarily bad...if he had just stopped there. But Peter continues, saying that he will make three tabernacles (or sacred tents, possibly the kind that were used in the Feast of Tabernacles), one for each: Jesus, Moses and Elijah. This is where Peter missed the point. As we see from the first "behold" statement in verse 3, the key takeaway was that Jesus, who was the promised Messiah, greater than both Moses and Elijah, was to go to the cross. That was God's plan the whole time. But Peter, by asking to create three tabernacles (one for Jesus, Moses and Elijah), was putting Jesus, Moses and Elijah on equal ground. Peter still didn't understand truly who Jesus was, even though Jesus had been transfigured and His clothes were white as pure light. Additionally, by building three tabernacles, Peter was asking to stay on the mountain. However, Jesus couldn't just stay put on this mountain. He had a mission to fulfill.
In verse 17:5 the second of the two "behold" statements appear. (It's important to note that not all translations translate the Greek word for "behold" in both verses 3 and 5, but they are important to understand as existing in the original Greek). Verse 5 is important to understand since it shows that Peter spoke without understanding. First, we see that while in mid sentence, God interrupted Peter and spoke. Here we see the second "behold" that points out the importance of the next words spoken by God Himself, "This is My beloved Son, which whom I am well-pleased; listen to Him!". God was revealing that this was His Son, the Messiah, whom He loved exceedingly. God was well-pleased in Jesus because He was the only one that could fulfill the law and remain sinless in God's sight. Jesus was the only one that could take away all our sins placing those sins squarely on His shoulders, sins that He did nothing to deserve, and die a death that would set us free from sin and its power. God ended this short sentence with "listen to Him!". A command to hear and do what Jesus taught. But this verb for "listen" in Greek is stated in the present imperative tense so as to say, "keep on listening to Him!" or "always listen to Him!". It commands a lifelong activity of listening to Jesus.  [But where the disciples had Jesus to speak directly to them, we have His word in the form of our Bible from which Jesus continually speaks to us.]
This should be especially poignant so close to verse 16:24 where Jesus teaches that denial of self to the point of death is the cost of following Him. Yet all that happened here on this mountain should serve as an encouragement to us to deny ourselves in order to serve the worthy lamb, Jesus.
Many things have happened in these verse (17:1-5), but only one of these events caused the disciples to be terrified. This is the event where God came down in a cloud and spoke the words in verse 5 to the disciples. In response, the disciples fell down in reverence and in fear of the presence of God. But it also says that they were terrified. However, just the word terrified doesn't quite fully describe what the disciples were feeling. In the Greek there is an extra word "sphodra" in verse 6 that is rarely translated. This Greek word translates to exceedingly, very or greatly. So we can understand that the disciples were greatly terrified, being in the presence of God the Father who was speaking about His Son.
As it turns out, the disciples were so petrified in their fear of what just took place that Jesus had to go to each one, touching them and telling them to, "Get up, and do not be afraid". God had already left along with Moses and Elijah, leaving Jesus alone with His three disciples. The image of Jesus touching the disciples and ending their fear echoes Revelation 1:17-18:
When I saw Him, I fell at His feet like a dead man. And He placed His right hand on me, saying, "Do not be afraid; I am the first and the last,
and the living One; and I was dead, and behold, I am alive forevermore, and I have the keys of death and of Hades".
-Revelation 1:17-18
While the disciples here on the mountain top were able to see Jesus' glory with their own eyes, we do not have such a luxury. Rather, we must set aside time daily to meditate on the teachings of our savior. As we do this day-by-day we grow closer to Jesus and, like the disciples, we too can be overwhelmed by His compassion, humility, grace, mercy, strength and glory.
Jesus said to him [Thomas], "Because you have seen Me, have you believed? Blessed are they who did not see, and yet believed."
John 20:29
STUDY: Matthew Chapter 10
MEDITATE: Matthew 10:26-33
MEMORIZE: Matthew 10:28
THIS WEEK'S STUDY
Matthew 10:24–33
Sending And Equipping The Disciples
Previously in chapter 9 we saw patterns of faith, healing and forgiveness followed closely by unbelief, scorn, disobedience and even insults hurled at Jesus. We saw Matthew, a shunned tax collector, called to be a disciple of Jesus, who without hesitation left his job and followed Jesus. We saw Jesus explain that He had come to compassionately heal and call the sinners who knew they needed the supreme physician, but not those who considered themselves righteous (self-righteous, that is) and in no need of the savior who stood right before them.
Then in verses 9:35-38 we see Jesus as He taught and healed throughout the cities and villages, feeling compassion towards the people He was ministering to. Remember in verse 9:13 Jesus said that He desires compassion and here in verse 9:36 He expresses His compassion towards all the people He saw by telling His disciples to earnestly ask that the Lord send out workers (disciples) into the harvest for ministry. Knowing what we read earlier about asking, seeking and knocking (verses 7:7-8), Jesus shows that when we ask in accordance with God's will, we have the promise that "everyone who asks, will receive". The disciples were not only sent as workers into the harvest but were also equipped through the authority Jesus provided to them.
The very first thing we see in verse 10:1 is that Jesus gathered His disciples to Himself and gave them authority over demons, sickness and disease. Jesus then instructed them in their ministry and sent them out into the harvest. How truly powerful the promises of God are when we simply ask, seek and knock according to His will! But as we read in James 4:3:
You ask and do not receive, because you ask with wrong motives, so that you may spend it on your pleasures.
We can also ask with self-serving motives, unable to get what we want. Therefore, we know that we must ask and ask with right motives (aligned with the will of God). So how do we know we are asking with the right motives? Well, first we must seek the Lord in prayer and in Bible study. We pray that our eyes may be opened to His word as we read it. The more we do this the more the indwelling Spirit is able to work and move within us to guide us as well as to convict us of sins. It is this conviction of sins that is strategically important as it helps us understand whether our motives are selfish or selfless. So my prayer (as it has always been from the beginning of this study on Matthew) is that our church will diligently seek God through this study, thereby transforming lives and allowing the Spirit to move powerfully in our church. Then our seeking will allow us to ask of God in accordance with His will and we will see faith move mountains as God works within His people.
Jesus' Instructions for Service
In verses 10:5-11:1 we move into the next discourse (the 2nd of 5) from Jesus. This discourse contains Jesus' instruction to the disciples as they are sent to minister. Jesus starts by instructing them to only go to the sinners of Israel, that is those that know they are unrighteous sinners and are looking for salvation. The rest of verses 10:5-15 instruct the disciples on what to say (preach), what to do, what to accept and not accept and how to deal with those who have faith versus those who show unbelief.
The Dangers of Ministry
In verses 10:16-23 Jesus pivots to warning His disciples of what dangers are to come. This section is particularly distressing for anyone who desires to minister as Jesus' disciple, and haven't we all been called to minister in some way, shape or form?
Jesus begins by describing the disciples as innocent sheep in the midst of wolves. These "wolves" Jesus speaks of are those who would harm both the bodies of the disciples as well as their message (we remember from verse 10:7 that their message in a nutshell is, "The kingdom of heaven is at hand."). In fact, Jesus goes a step farther and says that the disciples will be hated by all men (verse 10:22) because of His great name and that their persecution will cause them to flee from one city to the next.
But in all this danger, Jesus gives the disciples, and us, a brief glimpse as to what this persecution will accomplish. In verses 10:18-20, the result will be that people in power such as governors and kings (not to mention those in the court systems) may hear the testimony of the disciples. There is also a promise buried in verse 10:19b that says God will give the words to speak in those circumstances. So we should never worry about the persecutions of tomorrow, or what we are supposed to say. God's providence is always with us.
Minister Without Fear
Why in the previous verses did Jesus give what seems like such a somber picture of what ministry looks like? Well, in verses 10:24-25 Jesus starts to give us an answer to this question. You see that we (and the disciples Jesus is directly speaking to here) are not above or superior to our teacher, Jesus. At best we can only hope to be like Jesus, but we will never be treated better than Jesus was treated. In other words, as we grow closer to Jesus we become more like Him and what the world sees in us is simply Jesus. Yet another way to think about it is how John the Baptist said it when he said, "He must increase, but I must decrease" (John 3:30). So we will never be greater than Jesus, rather we will be just like Him through the indwelling Spirit. Knowing this we can look back at chapter 9, seeing how Jesus was treated. He was scorned, insulted and disobeyed. Since we are just like Jesus in God's eyes, we also will be treated in a similar way. If they call Jesus Beelzebul (the ruler of demons), then they will call us the same. If they treated Jesus with disrespect and hatred, then they will do the same to us. In fact, the treatment of Jesus proceeds from bad to worse throughout the gospels culminating in His execution at the hands of those He compassionately came to save. So our treatment gives testimony that we not only are God's but we also are truly doing the work of His ministry. It is that which gives us eternal hope in Christ.
Next, we hear Jesus tell His disciples, "do not fear them". And why should we not fear them, in the last part of verse 10:26 He says, "because there is nothing hidden that will not be known" (or, to put it in the positive, everything hidden will be known). Jesus is saying that the hearts and intentions of those opposed to the truth will eventually be revealed to all. This revealing may come swiftly here on earth or it may not arrive until the final judgement in heaven. But whenever God deems it necessary to reveal this, we know that we will be vindicated as the righteous ones who speak the truth. As Jesus was treated so we will be, but our hope should be towards the eternal where Jesus has been vindicated as we will be one day.
Now in verse 10:27, Jesus tells His disciples to speak openly and publicly (in the light) what He has taught only to them so far in private. Additionally, Jesus says to proclaim (note that this is the same Greek word that is translated as "preach" earlier in verse 10:7) what He has taught His disciples privately. Jesus intends for His message to be heard and understood by not only the disciples but also by the Jews and eventually the Gentiles. So the disciples should not fear but rather preach that the kingdom of heaven is near out of obedience and love for Jesus. We must not hide the truth because we fear but reveal it to all with compassion.
Notice in verse 10:28 again Jesus instructs His disciples not to fear, and this won't be the last time either. Here Jesus is contrasting those violently opposed to His message with God Himself. We should not fear those who can only oppose us even though they may harm us or put us to death. For there is a much worse fate for those who oppose God as He can destroy both the body and the soul. For those that oppose Jesus' message, God has given us divine grace to counter them which is the same grace that Jesus has. The grace that says even though you oppose God's message, I will treat you as I would have others treat me.
The Law came in so that the transgression would increase; but where sin increased, grace abounded all the more,
Romans 5:20
And God is able to make all grace abound to you, so that always having all sufficiency in everything, you may have an abundance for every good deed;
2 Corinthians 9:8
Fear will stifle our grace and our love for others, especially those in direct opposition to us. However, as we are filled to overflowing with the Holy Spirit, we cannot help to exude the fruits of the Spirit, especially grace and love towards all others. Only then will our ministry be effective and our discipleship bear fruit just as Jesus' ministry did.
And if it hasn't been fully hammered home, Jesus presents us with a couple of new rhetorical questions (verses 10:29-30) to cause us to stop and consider why we should not fear. Jesus speaks of sparrows that have very little monetary value and the hairs on our head which are of even less value. Regardless of the value of a bird or a hair on our head, God knows each hair and placed them there; likewise, He is so all knowing and all present that not even a bird of no real value can live or die without God's knowledge and providential hand. The workings of God are deeply rooted in even the most mundane and seemingly small things of the world. How much more will God's provision rule in the bigger matters of our ministry?
To sum it up, Jesus tells us that as His disciples the world will hate us, but we who are saved will endure to the end because we know whom we serve and He cares for us more than we can begin to understand. Therefore, do not fear the world, fear God!
As I write these words I realize that this simple phrase "do not fear" seems deceptively easy, that is until we are in the midst of the storm and our boat is starting to sink. Then we cry out to Jesus in fear to save us from the raging storm, all the time wondering why Jesus seems as though He is sleeping through our maelstrom. Only to have Jesus wake up, calm the storm and turn towards us speaking those words, "oh you of little faith.".
So how do we live a life of "do not fear the world, fear God"? Well, God spells it out, "Seek first His kingdom and His righteousness". That is, put God first! We do this by prioritizing prayer and study of the word. I know that in my life when I prioritize God and His word over everything else, the Spirit overflows more and more. I have a growing peace with God that surpasses all understanding. His word begins to shape my thoughts, words and actions. I can truly start to glorify God the way He created me to do so. If we can be a church that prays, studies and bears each others burdens, we will fear the world less and less until only God remains.
This chapter was a tough one for me to read through and properly understand. It talks of what to expect when we minister to the world and it's not always a pretty picture. However, There are also rewards for us and for those we minister to. Just finish reading the rest of chapter 10 (10:40-42). Yes we may receive rewards on earth, such as unbounded joy and blessings from ministering to others, but the real reward awaits us in heaven as we will see those who received our ministry and in turn received Jesus as their Lord and Savior.
I would be remiss if I didn't mention Tom Lane, one of our elders, who has a very big heart for discipling others. I myself have been discipled by him. He is a wonderful man with a skill for teaching others. I would pray that even if you are discipling someone that you would seek out another, such as Tom, who would help you grow in the Lord.
STUDY: Matthew Chapter 11
MEDITATE: Matthew 11:25-30
MEMORIZE: Matthew 11:28-30
THIS WEEKS STUDY 
Matthew 11:25–30
This week I spent a lot more time outlining the meditation verses (11:25-30) and discovering the main ideas therein. This work is especially important when studying your Bible. Most Biblical authors, such as Matthew tend to build their arguments and ideas on their previous thoughts (i.e., context). One easy way to start to see these threads of thought within scripture is to read and re-read many times the scripture you want to study as well as the surrounding scripture. That is why Trev so often points us towards reading scripture many times over as you begin to study a chapter or verse. This helps you to see the overall thoughts and patterns that the author and God intend for you to see.
Overall, what we see in the meditation verses is:
God's loving sovereignty and lordship over all (v25)

Jesus aligning Himself with His Father's will (v26)

Authority given to Jesus by His Father for our salvation (v27)
The effectual call to salvation and to discipleship (vv28-30)
Or to sum it up: The sovereign Father has given all authority to the Son to call, save and make disciples of those who are humble.
As you read and re-read, look for interesting things in the text such as repeated words or contrasting statements. Also look for promises in the text. Promises are typically preceded by a command as we shall see.
Praise For Hiding And Revealing The Son
Now starting at verse 11:25 Jesus gives praise to God and it says He did so, "At that time...". This phrase is used by Matthew about 8 times and when we read this we need to immediately look to the previous text as that will give us a clue as to why Jesus is praising God here. Looking back to verses 11:16-24 we see that John the Baptist was rejected (and later killed) as he was the forerunner of Jesus proclaiming that the kingdom of heaven was near. We also see Jesus rejected for His compassion on sinners (most Jews were looking for a conquering ruler to appear). Then there is a short narrative about the unrepentant cities that Jesus had just ministered in where He also performed many miracles. We see rejection upon rejection by the Jewish people of that time towards Jesus.
In Jesus' praise to God, first we see Him address God in two different ways: first as Father (notice that Father is repeated many times in verses 11:25-27) and second as Lord. This shows that Jesus viewed God as His Father and as such there was a very personal love and attention as a father would have towards a son and a son towards his father. Also, as Father, Jesus saw God as the authority figure. Second, Jesus sees His Father as Lord and not just Lord, but Lord of both heaven and earth. That is, Jesus sees God as the sovereign ruler over all things. This is very important to understand that Jesus is revealing to us God as both a loving father but also One who rules over all with both authority and sovereignty. We know that His rule is perfectly just and righteous because that's who God is.
Jesus continues to praise His Father for both hiding "these things" from the proud and revealing "these things" to the humble. We have to ask what are "these things" that Jesus is praising God for both hiding and revealing. Well, remember the phrase "At that time...", which points us to the previous text that will give us more clues as to why Jesus is praising God. The phrase "these things" in this context is about what Jesus was revealing to the Jewish people, that He had come to bring forgiveness and a way to the Father, first for the Jew and then for the Gentile. But His message of "repent for the kingdom of heaven is near" was outright rejected by the vast majority.
We see here that God in His sovereignty was hiding "these things" from those who thought they were wise and intelligent. Those who thought they knew best by pridefully trusting the OT laws to the letter but not listening to Jesus' message of compassion and repentance of which God values more than sacrifice (see Matthew 9:13). In fact, many forcefully opposed Jesus' message. However, we also see that God does reveal "these things" to infants. Those who are humble and teachable. Those who will listen and follow Jesus as disciples.
In verse 11:26 Jesus completes His praise directed towards God by aligning Himself with God's will in full agreement, "Yes, Father...". He continues by saying, "...for this way was well-pleasing in Your sight". The phrase "this way" refers back to God's sovereignty of both hiding these things (from the proud) and revealing these things (to the humble). God's will here in hiding and revealing was well-pleasing to Himself. Other translations use "seemed good" or "good pleasure" for "well-pleasing". You see, God's will always brings glory to Himself and, of course, Jesus.
All Authority
Now in verse 11:27 we move into the section where Jesus states that all authority has been handed over to Him. Think about this, if Jesus says earlier that God is both Father and Lord of all (hence God has all authority over all) and then Jesus continues by saying that this authority from God has been given to Him by God, that is a clear indication that Jesus is on the same level as God...or, to say it more succinctly, that Jesus and God are one.
Jesus continues by showing us how His authority operates. The Father knows His Son and likewise, the Son knows His Father. The Greek word for "know" here is interesting. The typical word for "know" is ginosko which simply means to understand but is usually translated as "to know". However, the word used here is epiginosko, which has epi affixed to the beginning of the word. This gives us a slightly different variation of the word "to know". In this case, it gives the sense of recognition, that is the Father and the Son have a deep, full and intimate knowledge of one another. One that produces instant recognition of each other. They know each other so well that nothing counterfeit could replace either one. This reminds me of:
When he puts forth all his own, he goes ahead of them, and the sheep follow him because they know his voice.
- John 10:4
We as Christians know our Lord's voice and because we know, we follow. Likewise, Jesus knows the Father and follows perfectly in the Father's will.
But notice it isn't just that the Father and Son know each other, it's also that the Son reveals the Father to those who are humble infants. This is repeated and confirmed by:
Jesus said to him, "I am the way, and the truth, and the life; no one comes to the Father but through Me."
-John 14:6


Jesus is the bridge to allow us access to the Father. Jesus' authority given to Him by His Father allows us to know the Father and to be known by the Father. Jesus reveals the Father and in so doing, opens the way to salvation.
The Call
Now that we know Jesus is the only way to salvation, Jesus calls us to follow Him in verse 11:28. He calls all of the humble infants that are weary, tired and exhausted from trying to be good enough to get into heaven and that have been given a burden too difficult to bear by the religious leaders who touted the adherence to the law was of supreme importance. You see, the religious leaders of this time had put the full burden of the law upon the shoulders of the Jewish people. Unfortunately, they did not see that the law only convicts and does not save. Only Christ saves. The law was an unattainable goal that was never designed to make a person righteous before God but to show how depraved we all are and how much we need the grace of Jesus to save us. We know because we have read:
For by grace you have been saved through faith; and that not of yourselves, it is the gift of God;
- Ephesians 2:8
and:
who has saved us and called us with a holy calling, not according to our works, but according to His own purpose and grace which was granted us in Christ Jesus from all eternity,
- 2 Timothy 1:9
Only Jesus has the power to save and it is nothing that we bring to the table or how righteous we "think" we are or how much we adhere to the law that can save us. That is such a freeing idea that we don't have to exhaust ourselves trying in vain to get righteous with God under our own power nor do we need to carry the unbearable burden of the law. We simply have to look to Jesus and follow Him as humble children. That is the grace of Jesus. A grace that provides rest to our weary souls.
This isn't to say that the work of ministry and discipleship is easy. It is not, but we have a gracious and merciful Father that sees to all our needs and loves us as children. One to whom we can boldly approach: asking, seeking and knocking. He tells us not to worry, fear or be anxious because He is sovereign over all and is the perfect provider. You can see how this is relief from the impossible chasing of self-righteousness that can never appease our Lord. The work of ministry is never easy, but we are told to rely on our Father and not on ourselves. This brings about true rest for our souls. If you are weary or burnt-out from ministry, meditate on these verses and lean heavily on Jesus right now. With thanksgiving, prayerfully submit your requests to the One who can answer with true authority and give rest to your soul.
The Command And Promise
Finally in verses 11:29-30, we receive two commands followed by a promise. The commands are in verse 11:29 where Jesus says, "Take my yoke upon you and learn from me". Both the words "take" and "learn" are imperatives or commands for us. We are to join ourselves to Jesus for the work of ministry, and we are to follow Jesus' example. The promise of "rest for our souls" follows these commands. If we put Jesus first in our lives, work humbly with Him and continue to learn from His example that He gave us through His word, then we will experience the rest that is beyond all understanding.
Jesus ends this section by describing His yoke and His burden in a very interesting way. Jesus says His yoke is easy giving the sense of something comfortable to wear. A physical yoke that was used to join two oxen together for work wasn't overly weighty or bulky. A yoke also had to be placed just right on the oxen or it could injure the animal's neck and back as it pulled the load. The religious leader's yoke (prideful adherence to the law) was overly heavy and was incorrectly fitted, injuring the wearer. In contrast, Jesus' yoke fit perfectly and would not injure the wearer nor was it overly heavy. Likewise, Jesus says that His burden for us is light. By definition a burden is supposed to be a heavy load, but Jesus' burden is contrary to this definition. Understand that Jesus' burden is not weightless but is light. By contrast the religious leaders' burden placed on the Jewish people of adhering to the law was unbearable in that this burden only convicted of sin; it did not forgive one of their sins.
This rest that Jesus speaks of is not necessarily freedom to be lazy and do nothing but rather a respite from the wearying work of trying to adhere to the law. Some ways that being yoked to Jesus gives us rest are:
A peace that is beyond our understanding
There is now no condemnation for us
The wrath of God towards us has been appeased
We are told to give our burdens to Jesus (all of them)
We are free to become the person God intended us to be
Our final destination is to be in Heaven with our creator for all eternity in perfect harmony
If you are tired and weary of trying to be righteous through your own efforts, it is a good thing to start afresh and yoke yourself to Jesus and learn from Him. Prayerfully study His word. Cast all your burdens on Him who is gentle and humble in heart. As you continue to do this faithfully every day, you will find rest for your soul.
STUDY: Matthew Chapter 12
MEDITATE: Matthew 12:33-37
MEMORIZE: Matthew 12:34
THIS WEEKS STUDY
Matthew 12:33–37
So also the tongue is a small part of the body, and yet it boasts of great things. See how great a forest is set aflame by such a small fire!
And the tongue is a fire, the very world of iniquity; the tongue is set among our members as that which defiles the entire body, and sets on fire the course of our life, and is set on fire by hell.
For every species of beasts and birds, of reptiles and creatures of the sea, is tamed and has been tamed by the human race.
But no one can tame the tongue; it is a restless evil and full of deadly poison.
With it we bless our Lord and Father, and with it we curse men, who have been made in the likeness of God;
from the same mouth come both blessing and cursing. My brethren, these things ought not to be this way.
Does a fountain send out from the same opening both fresh and bitter water?
Can a fig tree, my brethren, produce olives, or a vine produce figs? Nor can salt water produce fresh.
- James 3:5-12
Today's meditation verses come from Matthew 12:33-37. In these verses Jesus contrasts the speech of an evil person versus a good person. As we go through these verses it would be good to keep in mind two questions:
1. How can we discern other's hearts by their speech?
2. How can we gain insight into our own hearts through our own speech?
These verses are so relevant for today. In our hyper-connected world of instant messaging, social media and always-on connectivity the world seems to believe that the only way to justice is to "weaponize" our speech in order to shame and coerce others into falling in line with what the world says we should believe. We are assailed on all sides with endless speech (both spoken and written) designed to manipulate us into certain beliefs. Beliefs that are not in-line with what the Bible teaches us.
Let's take a look at the Pharisees' speech recorded in chapter 12. In verse 12:2 the Pharisees slyly condemned Jesus' disciples for picking grain to eat on the sabbath. While this was directly attacking the disciples, underlying this was a thinly veiled attempt to catch Jesus in a trap. Next, in verse 12:10 Jesus was directly attacked for healing a man with a withered hand on the sabbath. After healing the man, the Pharisees went out to conspire (or plan) against Jesus in order to kill Him. In verse 23:24 the Pharisees actually accused Jesus of casting out demons by the devil. You see here the progression from bad to worse. When the Pharisees couldn't gain ground by attacking Jesus' disciples, they attacked Him directly. When their attacks on Him failed, they instead became more bold with their attacks even to the point of calling Jesus the devil. Now this final attack on Jesus was not really directed at Jesus Himself, but at the Holy Spirit. The Pharisees actually accused the Holy Spirit of being the devil. Jesus rebuked them with a rebuke so harsh and final that it spoke to the true condition of the Pharisees' hearts and that there was no coming back from this sin for them. Speaking evil against Jesus was wrong, but forgivable. Speaking evil against the Holy Spirit was not forgivable.
In verses 12:33-35 Jesus describes speech as both a fruit and a treasure. Comparatively, this fruit and treasure can be good and useful or evil and useless. Both verses 33 and 35 must be read in light of verse 34. In verse 34 Jesus uses the term "brood of vipers" that earlier in Matt 3:7 John the Baptist used to describe the religious leaders. As we know a "brood of vipers" is a nest of baby poisonous snakes that are too young to control the poison that they excrete. Therefore, Jesus is describing these religious leaders that we've seen earlier in Matthew chapter 12 as children of evil that cannot help but to indiscriminately and carelessly excrete their poisonous speech. Then Jesus goes on in verse 34 to present a rhetorical question, "how can you, being evil, speak what is good?". This follows from verse 33, that a good tree produces good fruit and, likewise, a bad tree produces bad fruit. Not only that, but the tree is actually known or understood as being good or bad by its fruit. We've heard the good and bad trees described before in Matthew in verses 7:15-20. Jesus is describing the false prophets who, like the Pharisees here, can be understood or known by their fruit. In this context, the fruit specifically Jesus speaks about is the Pharisees' words.
To further explain exactly what Jesus means by His rhetorical question in verse 12:34, He states that "the mouth speaks from the abundance or overflow of what fills the heart". That is, what was in the hearts of the Pharisees is fully expressed in their speech. Notice the words used by the Pharisees towards Jesus and His disciples earlier in chapter 12 and how Matthew describes their words as: condemning, accusing, conspiring and speaking against. These descriptions of the Pharisees' speech show what was in their hearts. Now when we read verse 12:35 about the good and bad treasure, it makes sense in light of verse 12:34. That is, a good man will bring out and put on display to others the good that he has stored up in his treasure vaults. The good man is a righteous man, useful to God, who has a treasure house where he can either store up good for himself or bad. But for the good man, like the good tree, he only stores up good for himself in his treasure vault. However, the evil man, like the bad tree, can only store up evil or useless things for himself in his treasure vault.
We must always be on our guard as evil people will seem to bring some good out of their treasure vault or even produce what looks like good fruit even though the tree is bad and full of thorns. The craftiness of evil people may temporarily hide their true hearts' intentions, but we must be patient and closely examine what fruits they continually produce and what things they bring out of their treasure vault. Ultimately, their craftiness can only hide what is truly in their hearts for a short time. All will eventually be revealed.
Now in verse 12:36 Jesus says, "But I tell you that...". Here Jesus is trying to get the attention of His hearers (especially you and I) to tell us something of utmost importance. Jesus could have stopped at verse 35 when discussing good and bad speech, but instead He wants to draw us in to tell us something additional that will enhance our understanding of verses 12:33-35 above. And here it is... Jesus tells us that an account of every careless word spoken will be required of us. In this case, "Careless word", gives the sense of written or spoken words that are: worthless, empty, given without thought, seemingly insignificant but harmful. It is not just hateful words that Jesus is condemning here but words that we flippantly say...words not meant to hurt, yet hurtful just the same.
You see, it's not the words themselves that Jesus is trying to point us to, it's our hearts. What is in our hearts shows up in our words. Jesus came to change our hearts, to remove our heart of stone and replace it with a heart of flesh...a heart that is given to Jesus, sanctified daily and beholden to His word.
Jesus' last words here in verse 12:37 show us the final result of our words. They will justify us or condemn us. Let's make sure that we store up good in our treasure vaults and that we produce good fruits, especially the fruit of our speech. Then in the day of judgement we may be acquitted based on what we say (and write).
I have to go now, I really need to apologize to my wife for something careless that I said without forethought...
STUDY: Matthew Chapter 13
MEDITATE: Matthew 13:44-46
MEMORIZE: Matthew 13:44
THIS WEEKS STUDY GUIDE
"The kingdom of heaven is like a treasure hidden in the field, which a man found and hid again; and from joy over it he goes and sells all that he has and buys that field. A Costly Pearl
"Again, the kingdom of heaven is like a merchant seeking fine pearls, and upon finding one pearl of great value, he went and sold all that he had and bought it.
- Matthew 13:44-46
Matthew 13:1-52 is where we once again jump into Jesus' next discourse. This is the third discourse in Matthew. In this discourse Jesus introduces 7 new parables. Jesus had earlier taught with parables such as in Matt 5:14-16 concerning a lamp not being placed under a basket and Matt 7:24-27 about the wise man who built his house on the rock compared to the foolish man who built on sand. There are a few other parables earlier in Matthew, but here we see Jesus making a big change in His ministry. Jesus was speaking only in parables to the crowds. In verse 13:34 it says that in fact, Jesus only spoke in parables. In 13:10-17 the disciples ask Jesus why he spoke to everyone in a parable (and it seems that even the disciples did not understand the parable since Jesus had to explain it to them in the verses that follow). Jesus' answer was that His followers had been granted understanding of who Jesus was, that God had come near to them to bring salvation. But to others such as the religious leaders, they were not given this understanding because of their full and complete rejection of Jesus as seen in Chapter 12 when they said that Jesus drove out demons by the prince of demons thereby accusing the Holy Spirit of being the devil.
Since we are getting into more parables in this chapter (including our meditation verses in 13:44-46), I thought I'd spend some time talking about how to properly interpret parables. For me, parables are not so easy to understand. I'm sure that I'm not alone in this either. Understanding the real meaning of a parable was difficult until I started learning how parables are supposed to be interpreted. This understanding has helped me immensely with properly interpreting parables. So let's jump in...
Before you start reading a parable it's important to understand a few general points about parables:
There is only 1 central point in each parable.
Parables explain doctrine; they do not introduce new doctrine (it's all about context in which the parable is spoken).
The details of the parable reinforce the central point.
Don't allegorize (attach spiritual meaning) all details of a parable. Sometimes a word is just there to point out a location or object or to enhance the imagery of the story in order to make it memorable.
Now the first point "There is only 1 central point" is something that is contested amongst academics. Some say that there is only 1 point for each parable and others say that there could be multiple points (e.g., 1 point for each character in some parables). Some even say that if there are multiple points that they can be distilled down to one overall point, to which the other points are subservient. However, to keep it a little simpler for myself and others, I try to boil things down to just 1 point if possible. And with our meditation verses, it is very easy to keep it to a single central point in each parable.
To help you understand parables, I'm going to present you with a few questions to direct your observation to specifics in the text. These questions aren't my own. They come from several sources (books, courses) that I've used over the years. But one source has been very helpful which is "40 Questions About Interpreting the Bible" by Robert L. Plummer. This book has more details on the questions that follow.
Question #1:  Who are the Main Characters?
To get to the main point of any parable, you need to first figure out who are all the main characters; what are their characteristics; and what do they do and say. For our meditation verses, there is only one character per parable. In the first parable it is the man who found the treasure. In the second parable it is the merchant who is looking for pearls of great worth.
In other parables you will see multiple main characters. For example in Matt 7:24-27 we see two men, one wise and one foolish.
Question #2:  What Occurs at the End?
The most important point that Jesus brings to the forefront is typically at the end of the parable. Both parables in our meditation verses end in the exact same way. The man in each parable ends up selling all that he has and buys the object of great worth. In the parable of the treasure, the man buys the land so that he can keep the treasure that is buried on that land. In the parable of the pearl of great worth, the merchant buys that one pearl that is worth more than all the others. But notice that in both parables each man is first selling all that he has in order to buy the object of greater worth.
Question #3:  What Occurs in Direct Discourse?
In other words, what is spoken in the parable. For our two parables neither man speaks, rather only their actions are mentioned.
For other parables, there is a spoken dialog usually between two or more of the main characters. In these parables, the dialog will emphasize the main point of the parable. So any spoken words should be read with a view towards bringing out the central point of the parables. For example, in Matt 18:23-34 notice the words that the first slave says to the king and compare that to what that same slave says to his fellow slave when the fellow slave asks for mercy. Then finally the king pronounces judgement on that first slave saying that he should have forgiven as his king forgave him. Those words build up to the central point of the parable: since we have been forgiven by our King, we should likewise also forgive others in the same way.
Question #4:  Who or What Gets the Most Space?
That is, who or what is spoken about most in the parable. I believe in both of the parables in our meditation verses that the man who found the treasure and the merchant seeking fine pearls are the focus. This man and merchant are emphasized in these parables to show us how they responded to a treasure of great value. Once they found the treasure/pearl, they then sold all that they had in order to buy the pearl or the land that the treasure was buried on.
Because both parables begin with, "The kingdom of heaven is like a...", we can begin to understand that finding the kingdom of heaven is of such great value that we should value it as such. This is not to say that in order to become a christian believer we must sell all of our material possessions. Rather, it is making a point which is how we should value the kingdom of heaven. We should value it as a single fine pearl of great value that we seek out diligently and as a treasure that we discover. The way that we value the kingdom of heaven influences how we respond. Are we truly valuing the kingdom of heaven as it should be valued? Is the kingdom of heaven worth more to us than all we have?
Notice also that with the man who discovered the treasure did not just sell all he had, but it says, "and from joy over it he goes and sells all that he has...". There is an unfathomable joy that we have from finding the kingdom of heaven that we cannot help to make it first in our lives above all else.
These parables seem to echo the idea in Matthew.
"But seek first His kingdom and His righteousness, and all these things will be added to you."
-Matthew 6:33
Once we have found Jesus, our great treasure, it is our joyful duty and grateful response to place Him above all other things in our lives. This is the singular point that Jesus is trying to get across in these two parables.
There are, of course, other questions we can ask of parables such as:  what prompted Jesus to teach a specific parable? or what is the cultural significance to the things mentioned in the parables such as the land or pearls? But try not to raise all the details of the parable to equal importance. Sometimes land is just land and a pearl is just a pearl. These details are there simply to support the central point of the parable and to make it more memorable.
Matthew and the other gospels include many more parables. Every time you encounter a new parable read, observe and ask these 4 questions.
STUDY: Matthew Chapter 6
MEDITATE: Matthew 6:25-34
MEMORIZE Matthew 6:25
THIS WEEK'S STUDY
The Cure for Anxiety
Matthew 6:25-34 begins with a simple command, "do not worry". Some translations say "do not be anxious". It seems that in this day and age, anxiety is rampant even touching those who are very young and should not need to carry these types of concerns. We see this very concerning trend among people of all ages, which has been furthered by the pandemic, politics, social media and various world crisis. Even at our workplace "mental health" or "wellbeing" are common buzzwords. I know that I am inundated weekly with emails, webinars and other various media about how to stop worrying and have peace. But if all this worldly advice works, why hasn't anxiety been cured. As we listen to Jesus in these verses, He gives us a different path to follow, a narrower path, one that required effort to traverse, but ultimately leads to Him, to a life of peace.
Notice that verse 25 starts with the word "For" (some translations use "Therefore" or "Because"). This word is incredibly important to understanding the flow of thought as Jesus speaks about anxiety. This word "For" or "Therefore" is essentially a big blinking arrow that points to the preceeding verses. So before we start reading verse 25 we need to read what comes before, Matthew 6:24 (technically you should start reading from verse 6:19, but for our purposes 6:24 will do nicely):
        "No one can serve two masters; for either he will hate the one and love the other, or he will be devoted to one and despise the other. You cannot serve God and wealth."
-Matthew 6:24
We see here two masters, God and wealth, both competing for our attention. In this case, Wealth is not only money, but material possessions, which are personified as opposing God. We cannot love both. If we try, we will end up only loving one and hating the other. To the people who Jesus was talking to back then, wealth was an important part of life. Having wealth meant you could eat good food and could dress well. It was also important because back then wealth was seen as a type of righteousness. The religious leaders of the day thought that if you were wealthy it meant that you had not sinned and were in God's good grace. In fact, the religious leaders would usually reserve the best seats in the temple for those who were wealthy and well dressed. Conversely, if you were poor or afflicted (blindness, leprosy, etc.) you were thought of as having sin in your life and God's blessings were withdrawn.
Notice Jesus is not saying that believers cannot be wealthy. It is not a sin to be wealthy as wealth can be a blessing from God. He is saying that we cannot serve our wealth as though they were idols. We cannot replace Jesus with our money and possessions. If we do, we end up anxious since wealth is so easily lost. And so Jesus says "For this reason [those trying to serve two masters] I say to you, do not be worried". If we serve wealth as if it is our god, bringing us happiness and safety, then we will end up with worry and anxiety for fear of losing our wealth. Robbers may break in and steal our riches or rust and moth may destroy our possessions. God, however, cannot be stolen from us nor destroyed in any conceivable way.
Jesus continues in verse 25 to command us (yes, "do not be worried" is an imperative, a command) to not be worried or anxious about life (food and drink) and our body (clothing). But how? How are we to not be worried about these things. If Jesus stopped there it would have been no more meaningful than the Nike slogan of "just do it". But Jesus gives us much more. In the verses that follow He presents us with 5 lovingly rhetorical questions to get us thinking about the true greatness and sovereignty of God. Let's go through each rhetorical question and look at what Jesus is trying to get us to think about. In fact, these questions are perfect to meditate on. Throughout this week try meditating on each of these questions. You will start to see the greatness of God's love towards you and how He protects us no matter who we are. So do not be worried. Instead, replace worry by meditating on these words Jesus spoke:
Verse 25b "Is not life more than food, and the body more than clothing?"
If life were just about our next meal and what we would wear today, how empty of a life would that be. What about serving a loving God or showing grace and mercy to our neighbors? What if we placed food and clothing in their rightful place? If all you are concerned about is your worldly goods, then your world suddenly grows small and cold. Fear of losing it all can creep in and replace your happiness. Life is much more than food, clothing and even possessions. We need food and clothing. God knows this, but as we just saw Jesus say to the Devil during His temptations "Man shall not live on bread alone, but on every word that proceeds out of the mouth of God.". Living as if bread alone is what will make us happy is a lie of the Devil. We must replace this lie with God's word.
Verse 26 "Look at the birds of the air, that they do not sow, nor reap nor gather into barns, and yet your heavenly Father feeds them. Are you not worth much more than they?"
Consider something so small and insignificant as a bird. God provides for them. But we are of much more value than birds. The logic follows that if God provides for a creature of much less value then God will greatly provide for creatures of much greater value. As I look outside, I see many birds flying around where we live. It amazes me that so many birds can exist out here in the desert. God provides for these, so how much more will He provide for you?
Verse 27 "And who of you by being worried can add a single hour to his life?"
Is worry a blessing, a benefit, a help to us in times of need? Of course not. Worry is the opposite. It curses. It takes away. It hinders us. So how can worry do anything good for us, much less add a single hour to our lives? In fact, worry that is out-of-control may even remove hours from our life. Why should we worry, to what end? Jesus is speaking to the uselessness of worry in our lives. You can also think of it like this, "How will worry glorify God?". It simply cannot.
Verse 28 "And why are you worried about clothing? Observe how the lilies of the field grow; they do not toil nor do they spin"
This verse echos the idea of verse 26 except with a slant towards clothing. If flowers are clothed in such splendor, how much more will God meet our needs with clothing and material needs? Again, if God provides for something of lesser value, how much more will He provide for us?
Verse 30 "But if God so clothes the grass of the field, which is alive today and tomorrow is thrown into the furnace, will He not much more clothe you?"
This verse continues the thought of verse 28 above, introducing the idea of the difference in brevity of life among plants versus our longevity. The flowers and grass are clothed in an array of wonderful colors, but they only live for a very short time (especially here in the desert) and then they are discarded. We however, live to see many seasons and are not simply discarded without a thought. How much more will God care for us?
Meditate on these verses, these rhetorical questions Jesus posed to His followers. As you are meditating on them, remember that God is mighty and all powerful (omnipotent). Slowly worry and anxiety will be displaced with the words from Jesus.
        "Do not worry then, saying, 'What will we eat?' or 'What will we drink?' or 'What will we wear for clothing?'
        "For the Gentiles eagerly seek all these things; for your heavenly Father knows that you need all these things."
-Matthew 6:31–32
Know that God is mighty and that He knows we need these things to live. God's care for the smaller creatures and plants only proves that He will care for us in a much greater way. We know this because He says in His word (John 3:16) "For God so loved the world...". The "world" being us, those that He created in His own image to worship Him and be a blessing to Him and others. [By the way, did you notice in John 3:16 that it too starts with the word "For", just like Matthew 6:25.]
Finally we get to the overarching command from Jesus to rid ourselves of worry and anxiety.
        "But seek first His kingdom and His righteousness, and all these things will be added to you."
-Matthew 6:33
It is so simple, put God first and He will meet all your needs, even the needs that you probably don't know about. Notice the parallel between this verse and earlier verse where Jesus began His ministry saying (Matthew 4:17) "repent, for the kingdom of heaven is at hand". Jesus is again saying (according to His earlier preaching), that we first need to seek the kingdom of God. For the unbeliever, this means to seek to become a part of God's sovereign kingdom, that He may rule over our hearts and minds. For the believer, this means to continually grow closer to God through the study of His word, prayer and living righteously...essentially sanctification.
As a final note on this verse, the word "seek" in the Greek is a present active verb, giving the sense of a continual seeking of His kingdom and His righteousness. This is a lifelong mandate from Jesus to continually seek to put God first in our lives. As we put God first and learn to let Him rule in our lives and allow His righteousness to permeate our lives, our words and our actions, then we will truly see Him meet our needs and bless us. Worry and anxiety will not hold any power over us anymore. But we must always make the effort to put God first.
If you are anxious today, meditate on the 5 rhetorical questions that Jesus poses to us. Think about them every day. Pray that God would give you greater insights into these verses. Then do as Jesus says, put God first. Replace that thing you are so anxious over with God's word and His righteousness. He is faithful to heal and restore.
STUDY: Matthew Chapter 7
MEDITATE: Matthew 7:7-14
MEMORIZE Matthew 7:12
THIS WEEKS STUDY 
Matthew 7:7–12
God's Kindness To Us through Prayer
Last week we read that God knows we need certain things to live and that we must put God first (seek first His kingdom and His righteousness) in order to stop anxiety and be at peace with God. But if you read all of chapter 6 you would also have read the Lord's prayer which gives us a model of how to pray (Matthew 6:5-15). Today in verses 7:7-8 Jesus provides more instruction on how to pray. Specifically, He tells us to ask, seek and knock so that we will receive, find and have the door opened to let us in. We see in these verses a common pattern. That is, a command followed by a promise. Also notice how verse 7 is a parallel of verse 8. Jesus says "ask and you shall receive" in verse 7 with its parallel "For [because] everyone who asks receives" in verse 8. Likewise, "seek and you will find" with "because he who seeks finds" and "knock and it will be opened to you" with "because to him who knocks it will be opened". The command is to ask, seek and knock. But there's more there, if you look at the Greek, the verbs ask, seek and knock are present active imperatives, which gives the idea of commands to: ask and keep asking, seek and continue to seek, knock and keep knocking. That is what Jesus is commanding us to do, but we don't ask without ever getting an answer or knock without the door ever being opened because God promises to answer us. In verse 8, the use of the verbs is interesting; take the first part of this verse "everyone who asks receives". The word "asks" is a participle that describes "everyone", and the main verb "receives" is a present active indicative which is a verb indicating a fact by the speaker (Jesus). In other words, Jesus is saying that all the "askers" will receive. The same can be said for all the "seekers" and all those knocking. It is a statement of fact from God Himself that we will receive, find and the door will be opened if we continue in our efforts to ask, seek and knock at the door. God's kindness and goodness are almost overwhelming here!
 Now we know we cannot ask for just anything. We ask because we seek God's kingdom and His righteousness. We put Him first and by doing that we naturally ask within His will, not ours. We ask because we have first knocked at the door and Jesus has graciously let us in to fellowship with Him. But asking without seeking or knocking has the opposite effect; we won't receive. This verse from James sums up why we may not receive when we ask.
You ask and do not receive, because you ask with wrong motives, so that you may spend it on your pleasures.
-James 4:3:
This loving and gracious command with its promise is given to us. But Jesus wants to say more about the manner in which we who ask will receive. In the next several verses, Jesus tells us to consider how truly kind God is with His gifts to us. Listen to verses 7:9-11 to really get a sense for how kind and generous God is.
Last week we read that God cares for the very small things of this world, the birds of the air and the lilies of the field. He both sustains them and cloths them in decadent colors, more-so then even Solomon in all his glory. This week we read in verse 7:11 that even if we (being evil in nature) know how to give good gifts to our children, how much more will God give good things to those who ask of Him. Jesus also uses the technique of the rhetorical question to further make us consider more deeply this message. He states that we who are not God and are not very good are still generous and give lovingly to our own children. In light of this, we can know that God who is infinitely more loving than we are, will give gifts that are so much better for us. God's kindness has no bounds! 
Throughout this week meditate on these rhetorical questions from Jesus: "Who among you will give your child a stone if your child asks for bread?" or "Who will give your child a snake if your child asks for a fish?". Giving a stone to anyone who needs food is just a terrible way to treat a person, but giving a snake instead of a rock is not only terrible, but also inflicts harm on the person. Obviously, we would want to give a child food if he/she ask for food, but what about God? What would God give us when we truly ask, seek and knock. Well, for an unbeliever, the answer would be the Holy Spirit along with everlasting life in paradise. We may ask for food from God, but only He can give us His life sustaining Spirit. In fact Luke is quick to point this out.
"If you then, being evil, know how to give good gifts to your children, how much more will your heavenly Father give the Holy Spirit to those who ask Him?"
- Luke 11:13 
Of course, for the believer who asks within God's will, we have His promise that He is faithful and good and will answer our prayers. The answer may not come quickly, but we will receive if what we ask for is in line with God's will.
Let's look at some other scripture that talks about God giving us good gifts:
For the LORD God is a sun and shield; The LORD gives grace and glory; No good thing does He withhold from those who walk uprightly. 
O LORD of hosts, How blessed is the man who trusts in You!
-Psalm 84:11–12
I shall make mention of the lovingkindnesses of the LORD, the praises of the LORD, According to all that the LORD has granted us, And the great goodness toward the house of Israel, Which He has granted them according to His compassion And according to the abundance of His loving kindnesses.
- Isaiah 63:7 
He who did not spare His own Son, but delivered Him over for us all, how will He not also with Him freely give us all things?
 - Romans 8:32 
Every good thing given and every perfect gift is from above, coming down from the Father of lights, with whom there is no variation or shifting shadow.
-James 1:17
The Golden Rule
Now, in verse 7:12 we get to an all encompassing verse that covers how we should always act in any circumstance. This is a verse that should be read using multiple Bible versions. I'll explain why. All English Bible versions are a translation of ancient texts that were written in long dead languages (Greek for the NT and Hebrew/Aramaic for the OT). Each English Bible version is written by scholars that have a clear understanding of the ancient texts. However, they also have differences in the way they translate the texts in order to make it easier to understand for people who exist in contemporary times and may not have known all about ancient languages, cultures and history. For example the NASB and ESV are as close as possible to a word for word translation of the ancient texts and anyone who studies these ancient languages will tend to use these translations, whereas other translations attempt to put the language in a more contemporary setting to which contemporary readers are more accustom to. This doesn't mean that one translation is more correct or more incorrect than another. It just means that one version may be more easily read and understood than another.
To give a simple example of the differences in translations we see verse 7:12 translated three similar ways:
                "In everything, therefore, treat people the same way you want them to treat you, for this is the Law and the Prophets.
-Matthew 7:12 (NASB95) 
                "So whatever you wish that others would do to you, do also to them, for this is the Law and the Prophets.
- Matthew 7:12 (ESV)
"So in everything, do to others what you would have them do to you, for this sums up the Law and the Prophets.
- Matthew 7:12 (ESV)
The ESV version is about as close as you can get to the original text. However, it omits the "In everything, therefore..." and replaces it with the word "So..." and the NIV adds "So in everything...". Again, it is not that the translators omitted or changed some words erroneously, but that they worded the verses differently due to their overall intentions for that specific translation. There is another translation, the Lexham English Bible (LEB), that attempts to place the words in a smoother, more English friendly way of saying things: "Therefore in all things...". So we can see from reading multiple translations that there is a pattern "Therefore in all things...", "In everything, therefore..." or "So in everything...". You may miss this if you only use a single translation. This phrase is important for us to understand because it shows us how to apply verse 7:12. That is, we apply this verse in all situations and to all people. In fact, most scholars agree that this verse (7:12) is a final summation or conclusion of all the verses from Matthew 5:17 all the way through Matthew 7:11. Go back and read these verses with Matthew 7:12 in mind. Notice how the golden rule in 7:12 applies to each section. 
As we get to the end of verse 7:12, the NIV ends this verse in a way that very few (if any) translations do. The NIV says "for this sums up the Law and the Prophets". The Law is the Torah (the foundational first 5 books of the bible) and the Prophets is the Tanakh (all of the OT). Jesus essentially summed up the entire OT in a single verse. Only He could do something as amazing as that.
 Matthew 7:21–23
 Do The Will Of Your Father
We read in Matthew 1:21, "She will bear a Son; and you shall call His name Jesus, for He will save His people from their sins.". Jesus is our saviour, even the name Jesus means "the Lord is Salvation". Reading through Mt 7:21-23 bears this up. These verses paint Jesus as the final arbiter of judgement. Not only that, but He is a righteous judge as only He can discern the real intentions and the heart of those that He judges. Only the true Messiah would be worthy of the title of righteous judge.
 Verse 21
"Not everyone who says to Me, 'Lord, Lord,' will enter the kingdom of heaven, but he who does the will of My Father who is in heaven will enter." 
(See parallel verse in Luke 6:46)
 "Now because this verse starts with "Not everyone", we know that some who say "Lord, Lord" also do His will. So we can't make a blanket statement that all who say "Lord, Lord" are guilty of unbelief. Also, typically when you see a word duplicated it puts a special emphasis on this word as if they are emphatically saying it. In verse 7:21 it is as if they were saying "look, look lord at what I've done", while in verse 7:22 it's more of an emphatic pleading as if they were saying "why, why lord, just look at what I've done for you". Both emphasize their works over their faith.
This verse is even more telling when read in light of:
                "These people come near to me with their mouth and honor me with their lips, but their hearts are far from me".
- Isaiah 29:13
Jesus makes a forceful statement here that states lip service is simply not enough to award entry into heaven. Those who say "Lord, Lord", but don't act as if He is truly lord of their life, show their unbelief. Conversely, doing God's will shows that the person is placing God in His rightful place as lord over their life. And as lord, the Christian must put their trust in and obey God. And, of course, how can you both know and do the will of the Father unless you have His Spirit along with true God given faith. But there is a question here, is Jesus talking about works based salvation, since He says the "one who does the will of My Father". Some might question whether or not salvation is based on what one does, not one's faith. As we see in Ephesians 2.               
"For by grace you have been saved through faith; and that not of yourselves, it is the gift of God; not as a result of works, so that no one may boast."
-Ephesians 2:8-9
And
"What use is it, my brethren, if someone says he has faith but he has no works? Can that faith save him? If a brother or sister is without clothing and in need of daily food, and one of you says to them, "Go in peace, be warmed and be filled," and yet you do not give them what is necessary for their body, what use is that? Even so faith, if it has no works, is dead, being by itself. But someone may well say, "You have faith and I have works; show me your faith without the works, and I will show you my faith by my works.""
-James 2:14-18
First comes salvation and then the works follow. These works act as proof of a person's salvation by showing that one is obedient to the will of God and does these things for His glory, not their own.
Verse 22
"Many will say to Me on that day, 'Lord, Lord, did we not prophesy in Your name, and in Your name cast out demons, and in Your name perform many miracles?"
This next verse shows us a little more about these people. Again, they begin "Lord, Lord", except this time it seems a lot more like pleading than any type of haughty expectation as in verse 7:21 above. They are utterly confused as to why they are denied admittance to heaven.
From this, these people think that maybe they can plead their case before the Lord. Surely, He will have to admit them into heaven if He knows what they have done on earth. Unfortunately, for them, this is another sure sign that they are not truly Christians. If they were, they would have known that Jesus is God and that as God, He is all knowing. Jesus would have known all that they had done "in His name" as they said. Jesus does know what they did, but more importantly, he knows why they did it. They did it for their own glory, not God's glory. This is confirmed in verses 7:15-20. A bad tree cannot bear good fruit. Good fruit is only born by a good tree. These people are not "good trees". One of the fruits would be humility and humility is not shown by these people as in this verse and verse 7:23 below. Humility (God given humility) would allow the person to give glory to God and God alone. With these "bad trees" bearing "bad fruit" we can surmise that they were not producing good fruit (including humility) but the opposite, or pride in what they've done (bad fruit).
Something else interesting in this verse is that these people state that they prophesied (Meaning that they were either foretelling the future or preaching the word, could have been either), cast out demons (which the apostles did as well) and performed miracles (perhaps healings like Jesus did). And they did all of these "in Jesus name". That is a bold statement coming from someone whom God calls "practitioners of lawlessness" in verse 7:23 below. These people are basing their salvation fully on works that they attribute to God in name only. Truly they want the glory for themselves. But the interesting thing here is that non-believers are doing miracles and casting out demons. On the surface we'd think that this is not possible, they are doing good things, but they don't have the power of God in them to do these things. There are a couple of explanations:
Satan is the real worker of these "miracles". In this, he is deceiving the person as to make them think that they are truly doing God's work. Not only that, but he can then deceive others who view these "works".

As we know, Judas Iscariot was an apostle and participated in the works of the apostles such as healing and casting out demons. God allowed this, possibly as a test or a word of warning to others. Whatever the reason, God did and will use it for his glory alone.

We do see, even today, that these "wolves in sheep's clothing" do good in our world (sometimes). But ultimately their fruits will give them away as to who they really are on the inside. I think we've all seen someone who is like this.
 Verse 23
"And then I will declare to them, 'I never knew you; DEPART FROM ME, YOU WHO PRACTICE LAWLESSNESS.'"
 This is simply the most difficult and terrible thing you could ever hear, ever! This is a declaration from Christ, it is final, no re-trial or pleading for forgiveness will occur here. It is done. And they are declared lawless, essentially workers of sin.
 "practice" is (in the Greek) a verb that is conjugated as a present participle, which means that although it is a verb, it functions as a kind of adjective that describes the unbeliever that this passage is talking about. Essentially, all this says is that these unbelievers are characterized as practitioners of lawlessness. That's the essence of who they are.
 Application
There seems to be a warning here as well as an application. Although, I do think the following verses 7:24-27 (the parable of the 2 builders) sums up the application much more completely and clearly than in 7:21-23.
 First, there is a warning. The warning to us as a church is to make sure that we are truly Christians and not just faking it like the people in verses 7:21-23. The easiest and most sure way of doing this is discipleship. Once a person professes Christ as their savior we must, without delay, involve them in discipleship. I do know that Tom Lane is very active in discipling people (as he has done to me as well). Tom is a wonderful person who loves the Lord and has a big heart for discipling people. If you don't know him you should get to know him.
 I know that in my life I was converted at a weekend retreat at the Baptist Student Union group in College. However, there was no one that truly discipled me or explained to me what I was going through and what I would be up against. This would have helped me mature much quicker as a Christian instead of floundering the first few years as a new Christian. Discipleship is also crucial in determining if a confession was truly genuine. A non-genuine confession is one of the worst things, as we see in verse 7:23 Jesus says the most awful of all words to the person at judgement "I never knew you, depart from me". Discipleship can correct this problem through a more complete understanding of what being a repentant believer really is, then the person (if they are not truly a believer) can make a true decision.
 But how do we know whether someone is a believer or not? The answer is their fruits. We can see a person's obedience and love of Christ through their fruits (as was explained in verses 7:15-20). These fruits are only visible from a person who lives by faith in Jesus Christ their Lord. As it says, a bad tree cannot produce good fruit. Visible fruits usually take time to fully see, that is, you cannot meet a person for the first time and instantly make a call of whether or not they are a Christian by what you see in that short time. Fruits are consistent and are good. A non-Christian may be able to fake true fruits for a short time, but only true and long lasting fruits come from a relationship with God. God manifests the fruits in our lives and these fruits are:
Galatians 5:22-23 (compare these "fruits of the spirit" to "works of the flesh" in Galatians 5:19-21)

Leading others to Christ

Caring for both Christians and non-Christians

Teaching/Preaching

And others…
 Second, the application is really about doing God's will, or obeying God through faith. A person can't simply say that they are a believer and not obey God. Granted, we are living in the flesh and won't be perfected until we are with Christ in heaven, so we do sin. The difference is that a believer is repentant over their sins and a "fake" Christian is not (i.e. they are more sorry that they got caught as opposed to being truly repentant). 
 Matthew 7:24–29
 Act On God's Word
See parallel verses in Luke 6: 47-49
  Verse 24
"Therefore everyone who hears these words of Mine and acts on them, may be compared to a wise man who built his house on the rock."
 Verse 24 starts out with "therefore" (although in the ESV version this word is omitted, but the word "then" is placed after "everyone", which is semantically the same--the Greek word can be translated either way). The word "therefore" basically connects the previous verses to the ones that follow. In this case the previous verses verses 7:15-23 are where Jesus is describing two different types of people, the bad trees (wolves in sheep's clothing and practitioners of lawlessness) versus the good trees (those bearing good fruit). Those two groups are described in more depth as builders in the portion following the "therefore" in verses 7:24-27.
An important point in this verse is the words "these words of Mine". In the Greek there is an article so it looks like "these the words of Mine", which is awkward in English and therefore not translated that way. However, definite articles in Greek are significant. In this case "these words" are specifying a definite set of words, Jesus' words of course, but more precisely the words that Jesus has been speaking in the context here, which is the sermon on the mount. Additionally, Greek does a really cool thing with the way the verbs are constructed, especially in the historical books. The Greek attempts to place the reader into the moment when Jesus was actually speaking these words, in order to bring the narrative alive for the reader. But again, it's not translated like that into English since it would read very awkwardly.
 The wise man here is the one who both hears and does, not just hears. Wisdom is not just the intellectual knowledge of right or wrong, good or bad, but it is putting faith and knowledge into action. Here we see the wise man both listening and doing.
 In Luke 6:48 there is a much more descriptive text of how the man "built" his house. Luke says he "dug deep". It wasn't just that the man built on the rock, but he dug deep in order to place his house's foundation on the rock. This is no mere haphazard building of a house, but a well thought out and difficult plan that was carried out.
 Finally, the word "rock" is translated from the Greek word meaning large stone or rock ledge. It's the same Greek word that Jesus uses when he said "on this rock I will build my church". Also, note that it is "the rock" not just "rock" or "a rock". The wise person always builds their life upon the one true rock, Jesus, of which no storm can cause its fall. As one who has actually, literally, built their family's house (back in New Hampshire) on a granite shelf, I can attest that a house built on that firm of a foundation will not bow or crack or go out of plumb, level and straight (as us carpenters like to say). A house built on rock cannot be moved.
 Verse 25
"And the rain fell, and the floods came, and the winds blew and slammed against that house; and yet it did not fall, for it had been founded on the rock."
 This verse describes outside forces (rain, floods and wind) beating against the house founded on the rock. Note that the rain, flood and wind are coming from all directions, down, up and sideways. The crowds would have acutely understood the very real and immediate danger of this weather pattern. In this area of the country where Jesus is speaking, they have similar conditions as we do in Arizona. The ground is dry and very hard, making water absorption very difficult. Hence the flash flooding conditions that are being described here. And as Arizonians we also have an acute understanding of how a lot of rain in a short time out here can create very dangerous conditions.
 Now it says that the house did not fall. I think at times we can want this to mean that we will always come out unscathed from the trials and tribulations that occur to us on Earth. However, we see all the time that bad things happen to Christians too. We can lose all our savings, or loved ones or even our own lives. We just have to look to those nations that have outlawed Christianity and actively kill those who practice it. Those Christians can lose everything, but Jesus says they are wise and that their "house" will not fall. That points to the house being the faith of the person. In this case the wise man establishes his faith on the rock, Jesus.
 Verse 26
"Everyone who hears these words of Mine and does not act on them, will be like a foolish man who built his house on the sand."
 Now we turn our attention to the foolish man who establishes his faith on sand. Perhaps this sand could be another faith, or maybe it is the confidence of one's own self. Whatever it is, it is not solid. This hearkens back to verse 7:13 about the entering through the wide gate because it is broad and easy to navigate. The foolish man took the easy way out and did not dig deep to build a solid foundation.
 I looked up some water and sand facts online and found this:
For example, when an earthquake strikes, wet soil underground sometimes "liquefies"--suddenly becoming more like quicksand than the sturdy walls of a sandcastle. This happened during the 1989 Loma Prieta earthquake in San Francisco. Vibrations liquefied water-soaked soil in the Marina District, causing buildings to sink until their third floors were at ground level.
From <https://science.nasa.gov/science-news/science-at-nasa/2002/11jul_mgm/>
There are 2 full floors of this building underground because of the soil liquefying. 
Verse 27
"The rain fell, and the floods came, and the winds blew and slammed against that house; and it fell—and great was its fall."
 The house built on the sand fell and its fall was great, meaning that it was totally and completely destroyed.
 It is interesting that the sermon on the mount does not end on a high note, but rather concludes with this sobering parable.
Verse 28
"When Jesus had finished these words, the crowds were amazed at His teaching;"
 I added verses 7:28-29 since this is a great conclusion to the sermon on the mount.
 When Jesus was done preaching, Mathew says that the crowd was "amazed" at His teaching. This word "amazed" in the Greek is in the imperfective, which is basically saying that the crowd continued in their amazement after Jesus finished preaching. It wasn't the kind of thing that the crowd could just shrug off. Not only that, but this word in Greek is expressive of an overwhelming amazement that they experienced. This was due to (as we see in the next verse) His authority in His teaching. Something they had not seen or heard before.
 Verse 29
"for He was teaching them as one having authority, and not as their scribes."
 There is a dichotomy between Jesus' authority and the scribes, who, rather than speaking with the same authority as Jesus, had to consult scriptures as well as others in their sect. Also, scribes interpreted the scriptures that existed at that time and spoke from scripture's authority, whereas Jesus spoke directly from His own authority, which was from his Father .This puts the people (the crowd) that heard Jesus' discourse in a position to choose between Jesus the savior and their scribes. In Matthew 5:21 Jesus says, "For I say to you that unless your righteousness surpasses that of the scribes and Pharisees, you will not enter the kingdom of heaven.". So we can see the difference between the righteousness of Jesus and the scribes who were not righteous and unable to save (through the Law) even though they were from the religious elite. At this point, nothing more is said about what the crowd did or if any believed.
 The central point is this: Jesus' entire approach in the Sermon on the Mount is not only ethical but messianic—i.e., christological and eschatological. Jesus is not an ordinary prophet who says, "Thus says the Lord!" Rather, he speaks in the first person and claims that his teaching fulfills the OT; that he determines who enters the messianic kingdom; that as the Divine Judge he pronounces banishment; that the true heirs of the kingdom would be persecuted for their allegiance to him; and that he alone fully knows the will of his Father.
Carson, D. A. (1984). Matthew. In F. E. Gaebelein (Ed.), The Expositor's Bible Commentary: Matthew, Mark, Luke (Vol. 8, p. 195). Grand Rapids, MI: Zondervan Publishing House.
 Some more detailed background on the scribes:
 In ancient times the scribes were merely officers whose duties included writing of various kinds; but, on the return of the Jews from Babylonian captivity, the sopherim, as the scribes were called, were organized by Ezra into a distinct body. Among other duties, they copied the Pentateuch, the Phylacteries, and the Mezuzoth. So great was their care in copying that they counted and compared all the letters to be sure that none were left out that belonged to the text, or none inserted wrongly. On stated occasions they read the law in the synagogues. They also lectured to their disciples. Because of the knowledge they obtained through their work, they became natural interpreters of God's law as well as copyists.
The lawyers (Matthew 22:35; Luke 7:30; 11:45; 14:3) and the doctors of the law (Luke 2:46; 5:17; Acts 5:34) were substantially the same as the scribes. Efforts have been made to show that different classes of duties were assigned to lawyers, doctors, and scribes, but without any measurably different results. It may be, as some believe, that the doctors were a higher grade than the ordinary scribes. The scribes were all carefully educated for their work from early life, and at an appropriate age—some say thirty-years-old—they were admitted to office through a solemn ceremony.
The scribes were not only copyists of the law, they were also keepers of the oral traditional comments and additions to the law. Gradually accumulating with the progress of time, these were numerous, and were regarded by many as of equal value with the law itself. To this Jesus alludes in Mark 7:5–13. Paul represents himself as having been, before his conversion, "exceedingly zealous of the traditions" of his fathers (Galatians 1:14). The scribes also adopted forced interpretations of the law, endeavoring to find a special meaning in every word, syllable, and letter. Thus the Savior charges them: "Woe to you experts in the law, because you have taken away the key to knowledge. You yourselves have not entered, and you have hindered those who were entering" (Luke 11:52).
At the time of Christ, the people were increasingly dependent on the scribes for a knowledge of their Scriptures. The language of the Jews was passing into the Aramaic dialect, and the majority of the people, being unable to understand their own sacred books, were obliged to accept the interpretation that the scribes put upon them. Hence their astonishment, as indicated in our text-verse, at the peculiar style of teaching adopted by Jesus, and especially illustrated in His Sermon on the Mount. The scribes repeated traditions, but Jesus spoke with authority: "I tell you." The scribes had little sympathy with the masses, but Jesus mingled with the people, explaining to them in a simple, practical way the requirements of religion.
 Freeman, J. M., & Chadwick, H. J. (1998). Manners & customs of the Bible (pp. 420–421). North Brunswick, NJ: Bridge-Logos Publishers.
 Application
Since overall, Mathew is pointing us to Jesus as messiah, we must read this in light of that. Jesus is establishing here in the last part of the sermon on the mount that He and only He is the one not only who can rightly judge us, but also can truly save us.
 It is plain in the Sermon that Jesus knew the way of salvation and taught it. He was able to declare who was blessed and who was not. He could point to the narrow gate which led on to the hard way which ended in life. And he was quite clear which kind of house would survive the storms of judgment, and which would founder.
But if we penetrate more deeply into his message, we find that he not only taught salvation; he actually bestowed it. Even in the beatitudes he appears in the role of one who virtually himself distributes blessedness and gives the kingdom. Professor Jeremias thus quotes with approval J. Schniewind's insistence 'that the beatitudes are concealed testimonies by Jesus to himself as the saviour of the poor, the sorrowing etc.'.
Stott, J. R. W., & Stott, J. R. W. (1985). The message of the Sermon on the mount (Matthew 5-7): Christian counter-culture (pp. 217–218). Leicester; Downers Grove, IL: InterVarsity Press.
As Jesus the messiah, He points us to how we can know that we are truly His. First, by our fruits, described in verses 7:15-20 and then through our hearing followed by obedience (i.e., doing) as we have heard in verses 7:24-27. Therefore, we must cultivate fruit in our lives and that is done not-so-simply by both hearing from the word and doing what we hear. This is the essence of obedience.
The first step to obedience is to "hear" Jesus' word (a.k.a., the Bible). Hearing is where we listen to the word from preachers of God's word, we read it from scripture, we saturate our minds with it through diligent study, memorization, and meditation on it. But if we stop there, we are like the fool who built upon the sand (note that both the wise and foolish men heard, but only one of them put those words into practice). The key to this all is to put what we hear into action. This can only happen when our God given faith within us helps us to put our knowledge into action (obedience). That is the proof that we are God's children and that we will never have to hear "depart from me, you who practice lawlessness".
In this we must make the uncomfortable consideration of ourselves, "is what I profess, based on a genuine relationship with Jesus". That question can only be answered by our actions (obedience).
STUDY: Matthew Chapter 8
MEDITATE: Matthew 8:23-27
MEMORIZE Matthew 8:26
THIS WEEKS STUDY
Matthew 8:23–27
Completion of The First Discourse
Last week we finished up the first of the 5 discourses (Jesus' teachings) in Matthew, which covered the sermon on the mount. This week we begin in the next narrative section (a recounting of what Jesus does). All of the discourse sections end with a phrase similar to "when Jesus had finished these words...". This phrase shows up at the end of the first discourse in verse 7:28.
Faith Defined
In chapter 8 I want to focus on the end of verse 8:26 where Jesus says "you men of little faith". All of chapter 8 talks about faith and how it is expressed through various individuals and groups of people. But before we dive into how these people expressed their faith (or lack of it), we first need to define what faith is. In simplest terms faith is trust in something or someone. Faith expresses itself in an active manner, conversely a lack of faith will have no outward expression. Thus faith will express itself as active trust in someone or something. As an example, I could have faith that a chair will support me, but that faith remains inactive until I show my faith by actively trusting that the chair will support me by sitting in it. This is why James says:
14 What good is it, my brothers, if someone says he has faith but does not have works? Can that faith save him?
15 If a brother or sister is poorly clothed and lacking in daily food,
16 and one of you says to them, "Go in peace, be warmed and filled," without giving them the things needed for the body, what good is that?
17 So also faith by itself, if it does not have works, is dead.
18 But someone will say, "You have faith and I have works." Show me your faith apart from your works, and I will show you my faith by my works.
19 You believe that God is one; you do well. Even the demons believe—and shudder!
20 Do you want to be shown, you foolish person, that faith apart from works is useless?
21 Was not Abraham our father justified by works when he offered up his son Isaac on the altar?
22 You see that faith was active along with his works, and faith was completed by his works;
23 and the Scripture was fulfilled that says, "Abraham believed God, and it was counted to him as righteousness"—and he was called a friend of God.
24 You see that a person is justified by works and not by faith alone.
25 And in the same way was not also Rahab the prostitute justified by works when she received the messengers and sent them out by another way?
26 For as the body apart from the spirit is dead, so also faith apart from works is dead.
James 2:14–26
Faith is a gift of God and precedes works. However, the faith a person is given is ultimately expressed as an active trust in God. In other words, obedience to God and His word. Just as Abraham trusted God with his son Isaac. Therefore, faith and works go hand-in-hand, but faith without any works is a dead faith (or a faith that cannot save). And how do we express this faith of ours, Proverbs gives us a complete picture of this:
5 Trust in the LORD with all your heart And do not lean on your own understanding.
6 In all your ways acknowledge Him, And He will make your paths straight.
7 Do not be wise in your own eyes; Fear the LORD and turn away from evil.
Proverbs 3:5–7
Examples of Faith
In verse 8:1-3 we see a leper coming to Jesus bowing down to Him and asking to be healed from his leprosy. There are 3 key things to see here in this narrative. First, the leper bows down to Jesus. Now this word in the Greek is an imperfective showing that the leper bowed to Jesus and stayed in this worshipful position as he asked Jesus to heal him. Also, the word for bowed down gives the sense that the leper was giving worshipful reverence to Jesus by this action. Second, the leper begins his request to Jesus by saying "Lord". This shows that the leper was properly honoring Jesus as his lord. Third, the leper asks by saying "If you are willing...", not "please make me clean" or just "heal me!", but the leper expressed his understanding of Jesus' sovereignty. That is, the leper knew that his lord had the ability to heal him and could heal him at any time, but it was not up to the leper as to whether or not Jesus would actually heal him. Whether or not the leper would be healed was fully dependent on whether or not it was Jesus' will to heal him. It was a sovereign act of his lord. And of course, in the next verse, Jesus says that He indeed is willing to heal the leper and does so.
This leper's faith in Jesus exposed itself through his actions (bowing in a worshipful way) and words (asking his lord that if his lord wills it, may he be healed). This is a very excellent example of how we should approach Jesus in humbleness and faith, asking of what we need. As we read earlier in chapter 7
"If you then, being evil, know how to give good gifts to your children, how much more will your Father who is in heaven give what is good to those who ask Him!"
Matthew 7:11
We know that God cares about us more than the birds and flowers (Matthew 6:26-32), and He knows how to give good things beyond what we can imagine. We simply need to act as this leper did and ask in humbleness and in faith, knowing who our lord is.
Next we see the centurion ask Jesus, in faith, to heal his servant who is at home paralyzed (Matthew 8:5-13). Again we see the centurion, like the leper, address Jesus as lord, signifying that Jesus was the one in authority here. Additionally, the centurion adds "I am not worthy for you to come under my roof". Here again we see humility, not expressed as in bowing worshipfully as did the leper, but through the centurion's words "I am not worthy". In fact, the centurion says much more than just that, he says "lord, I am not worthy".
Now the centurion says to his lord, "just say a word and my servant will be healed". This is faith in that the centurion knew Jesus' power and authority and that He could simply heal from a significant distance with only a word. But the centurion doesn't stop there, he shows his understanding of his lord's authority over people and what afflicts them by explaining in verse 8:9 his human authority over those soldiers under him. The centurion's authority came from the emperor so that whatever the centurion commanded, it was as if the emperor was saying the command. Likewise Jesus' authority over everything came from God so that whatever Jesus said was as if it came straight from God.
Notice here what Jesus says in response to the centurion. Jesus says, "I have not found such great faith with anyone in Israel". This centurion's faith was greater than anyone's faith in Israel, even the disciples. Imagine how the disciples would have felt at that moment. Imagine how this would have sounded to any Jew at the time. A Gentile Roman centurion who has more faith than anyone in Israel.
There is an addition that I want to add that I missed in the Greek but was brought up in a commentary. That is, the words Jesus initially says to the centurion: "I will come and heal him". When reading Greek the typical structure of a sentence is verb-subject-object, whereas in English it is usually subject-verb-object. Now Greek word ordering is important in that different orderings in Greek, such as the subject-verb-object as in this sentence, places emphasis on the subject. From this many Greek academics have pointed out that this sentence sounded much more like "Shall I, I a Jew, come and heal him." Remember, the centurion is not a Jew and was considered lower than a Jew by all Jews. Jesus knew this and seems to be using this phrasing to test the centurion. The centurion passed the test by stating "lord, I am not worthy...". This adds a bit more strength to the statement Jesus makes about this centurion's great faith. How do we react when we come face-to-face with our lord? Will we have great faith and simply say "lord, I am not worthy..."
Examples of The Cost of Faith
The leper and centurion showed faith in action or a faithful active trust in Jesus. Now we move on to a scribe and a disciple who was following Jesus. The scribe in verses 8:19-20 said he will follow Jesus wherever He may go. But Jesus explains that the road to following Him will be difficult. Here the scribe has a choice: suffering with Jesus or comfort without Jesus. Also note how the scribe addresses Jesus, as teacher, not lord as the leper and centurion did. This could very well indicate a lack of faith in who Jesus was, as He had proven Himself over and over again to not only be the authoritative teacher, but also much more than that. Somehow this scribe had missed all of this and seemed to be enamored only with Jesus' teachings. Jesus (knowing the scribe's heart) replied with a warning. Essentially Jesus is saying that if you follow me the road will be rough and there will be little to no comfort.
The next person is simply described as "another disciple" in verses 8:21-22. While this disciple did address Jesus as lord, he asked if he could "go and bury his father". This was a common figure of speech back in those times that meant "to wait until I receive my family inheritance". In other words, this disciple was allowing his worldly cares to interfere with following Jesus. He wanted to put worldly things ahead of Jesus. Jesus answers this disciple by telling him to "Follow me and allow the dead to bury their own dead". This means that those who are spiritually dead can take care of worldly things, but those that have faith should follow Him. As we previously read in Matthew 6:33, we must seek first His kingdom and His righteousness putting God first in our lives. This always involves personal sacrifice
Nothing more is said of these two people by Matthew. However, we have two questions that we can ask of ourselves to test our own faith. From the narration of the scribe we can ask ourselves, "Do I understand the cost of following Jesus?". From the other disciple we can ask ourselves, "Am I placing worldly cares above Jesus in my life?". These are tough questions to ask of yourself, but always remember back in chapters 6 and 7 that we have a God who cares for us more than we can ever imagine and who not only says He cares for us in His Word, but actively cares for us, providing for us as well as comforting us in times of need.
Example of Little Faith
Now we get to the disciples that followed Jesus onto the boat in verses 8:23-27. I wonder whether or not either the scribe or the other disciple previously mentioned were on that boat?
We know that as they were sailing across the Sea of Galilee on their boat that a great and violent storm raged around them swamping the boat with the storm's waves. This was an especially dangerous storm that threatened to sink their boat. And all this time Jesus was calmly sleeping, exhausted from His work. The disciples, in their terror, woke Jesus and told Him to save them from what looked like certain death. Jesus calmed the storm through a rebuke, showing that He also had authority over nature. Who could have authority over such an untameable force, except for the One who created it?
Once the storm was calmed, the disciples were amazed and were wondering what sort of man Jesus really was, that He could control nature (never-mind the recent healing of many sick people). Jesus asked them why they were fearing for their lives, calling them men of little faith. There is a single word in Greek for "little faith" and it means to have a small quantity of faith or to have a very weak trust and reliance on someone (Jesus in this case). The disciples, like the leper and the centurion, called Jesus lord when they asked Him to save them, but a key difference is that the disciples asked all of this out of fear not faith. The disciples were fearing for their lives and came to Jesus fearfully asking to be rescued. Did they not know that the kingdom of God was near them? Had they not heard any of the sermon on the mount, just recently preached by Jesus? Did they not know that this is Jesus the Messiah, who's time had not yet come? Yes they did know these things, but these things had not yet taken hold of them. That is, the disciples had a "head" knowledge, but not a "heart" knowledge of Jesus.
The disciples had little faith now, but there would come a time when they would have the Holy Spirit poured out on them in excess. Then Jesus would never again have to call them "men of little faith".
Example of No Faith
Finally in chapter 8, we get to the story of when Jesus exorcized the two men possessed by a demon hoard in the country of the Gadarenes. In this story, Jesus drives the demon hoard out of two men and into a herd of pigs that stampedes into the sea and drown. Jesus did all of this simply with a word: "Go!". But since we're focusing on stories of faith, I want to take a closer look at what happens after the men are freed of the demons. The herdsmen that were tending the pigs that were now all dead ran back to the town and told them what had happened. The entire town came out to meet Jesus and once they saw what had happened to the two possessed men (not to mention the herd of pigs, which would have been the livelihood of some of the people), they became frightened and they asked that Jesus leave their region. But it wasn't just that they nicely asked Jesus to leave, they implored Him to leave. This was an emphatic begging of Jesus to leave. These people were in great fear of Jesus (and also of losing more of their herds) and wanted Him gone. These people had no faith at all. Fear of Jesus' power completely choked out any faith that could have existed in these people.
STUDY: Matthew Chapter 9
MEDITATE: Matthew 9:9-13
MEMORIZE Matthew 9:12-13
THIS WEEK'S STUDY
In chapter 9, as in chapter 8, we again see narratives of both faith and unbelief. The faith of those in need of physical and spiritual healing contrasted with the unbelief of the scribes, Pharisees and others.
Patterns of Faith And Unbelief
If you read through chapter 9 several times, you may start to notice a pattern emerge. In verse 9:2 Jesus forgives a paralytic of his sins because of the faith shown to Him. This is in stark contrast to the reaction of the scribes that witnessed the forgiveness of his sins. The scribes were not  acting in faith but rather were thinking evil of what Jesus had just done.
In verse 9:18 an official bowed down to Jesus and asked Him to lay His hands on his daughter, who had just died in order that she live again. Notice here that the word "bowed" is the same verb used in the story of the leper in verse 8:2 from last week. This official showed faith by placing himself in a worshipful position in front of Jesus as he asked that his daughter be brought back from the dead (note here that the word for "bowed" is argued by some to mean a worshipful stance and others to mean more of a reverential stance towards Jesus; in either case this official saw Jesus as someone with authority from God to heal and even raise the dead). Jesus and His disciples went to the girl and when they arrived, Jesus asked the mourners at this girl's funeral to leave because the girl was not dead but asleep. Notice the mourner's response to Jesus...laughter. The girl's father (the official as we know him) had faith to come to Jesus, bow in worshipful reverence, and ask Jesus to do something so incredibly miraculous as raising his daughter from the dead. Then we see the mourning crowd who, in stark contrast to the official, had no faith and laughed at Jesus.
Then there was the two blind men that followed Jesus asking Him to have mercy on them in verses 9:27-31. Now this story is more subtle than the previous stories. Notice that Jesus asks the blind men, "Do you believe that I am able to do this?". Jesus asked if they believed that specifically He was able to heal them. They responded "Yes, Lord.". This, coupled with the fact that they were addressing Jesus as the Son of David (a messianic title), revealed that the blind men were driven by faith to ask Jesus to heal them and that they recognized Jesus to be the messiah. Though they were unable to see, they saw Jesus as who He was clearer than most did who had never lost their sight. Jesus did heal their blindness saying, "It shall be done to you according to your faith.
Up to this point the blind men had responded faithfully, but now we see the story take a wrong turn. Once the blind men's sight had been restored, Jesus commanded them in no uncertain terms to not to tell anyone, but the blind men responded unfaithfully and told everyone throughout that area. These men believed that Jesus could restore their sight, but they did not obey His command to keep quiet about this miracle. They saw Jesus correctly as the messiah, the Son of David, but they failed to obey Him. We, unlike these two healed blind men, must not let our exuberance get in the way of obeying God after we, in faith, receive an answer to our prayers.
The last of these patterns occurs in verses 9:32-34 where a demon was cast out of a mute man. After the demon was cast out, the crowds that witnessed this were amazed since they had never seen anything like it before. However, the Pharisees again were speaking evil of Jesus, saying that He casts out demons by Satan.
In Matthew we see this pattern over and over where Jesus displays grace and mercy to the faithful while those without faith are there continually opposing Him. This pattern of rejecting the messiah is a constant underlying theme in Matthew. In this chapter we see the rejection of Jesus. The Pharisees claimed that He was blaspheming and that His powers came from the devil. Moreover, some ridiculed Him while others did not obey His commands.
The Calling of Matthew
Now there's one more pattern like this that we haven't looked at yet, which is the center of our meditation verses for this week: the calling of Matthew and the response of the Pharisees. In verses 9:9-13 we see that Jesus notices Matthew sitting in his tax collector's booth. Tax collectors were not people you wanted to be seen with. Tax collectors were very much hated in the Jewish community because they collected taxes for the Roman government and very frequently would over-tax the Jews and pocket the extra money for themselves. This caused them to be thought of as traitors to the Jews and despised greatly.
Jesus simply said to this outcast of the Jewish community "Follow me", and Matthew followed Jesus. In fact, in Luke it says that Matthew left everything and followed Jesus. Indicating an abrupt end to his sinning lifestyle and fully committing to Jesus. Here we see Matthew's faith in action. Jesus called him and Matthew obeyed. This is in stark contrast to the two blind men that Jesus healed in verses 9:27-31. Those men had faith that Jesus could heal them but not enough to obey Him. Contrast this with Matthew, who needed no physical healing; however, when called by Jesus, the response was simple faithful obedience.
Dinner With Sinners
Soon after Matthew's calling, the text states that Jesus was at a house. It isn't definitively stated that this was Matthew's house, but we might assume it is due to context. Indeed, looking at the other gospel accounts in Luke and Mark, this house is identified as Matthew's. Now Jesus was eating and drinking with a large group of people that consisted of other tax collectors and sinners. It is interesting to note that if anyone else would invite this group of people over to their house, it probably would have turned into a wild party. However, here the Jewish sinners and outcasts were dining with Jesus and His disciples. There was no revelry or craziness as you might expect from a group such as this.
The sincere scene of Jesus eating and drinking with these sinners is interrupted by the Pharisees asking Jesus' disciples why He was hanging around all of these sinners. In the religious leaders' minds, they thought that the righteous should associate with other righteous people and be separated from the heathen. Whereas Jesus, who was truly righteous, was associating with the heathen. It just didn't make sense to the Pharisees who saw themselves as righteous.
Now Jesus heard what the Pharisees were saying to His disciples since they (Jesus, His disciples, and the Pharisees) were probably all sitting in close proximity of one another at the table. Jesus responded to the Pharisees with a very pointed answer. Essentially He said I have come to call sinners to righteousness. Let's unpack verses 9:12-13:
12 But when Jesus heard this, He said, "It is not those who are healthy who need a physician, but those who are sick.
13 But go and learn what this means: 'I DESIRE COMPASSION, AND NOT SACRIFICE,'
for I did not come to call the righteous, but sinners."
Matthew 9:12–13
In these 2 verses Jesus is using a point-counterpoint argument to defend his associating with sinners. Typically with a point-counterpoint argument the point is the more important of the two and outweighs or replaces the counterpoint:
(Counterpoint) the healthy don't need a doctor, (point) the sick do need a doctor
(Point) God desires compassion, (counterpoint) over sacrifice
(Counterpoint) Jesus did not come to call the righteous, (point) Jesus did come to call sinners
The sick need a healer and a healer must be compassionate to the sick. Jesus came to heal the sick of this world. You can easily replace the word "sick" in these statement with the word "sinner" and  replace "healer" with "savior". What Jesus is communicating is that those who realize they are hopelessly lost (sick) and in need of a savior (the healer) are the very ones that Jesus came to minister to and call into righteousness. Notice that all of the previous stories in this narrative of those having faith coming to Jesus to be healed describe people coming to Jesus in humility and with a reverential posture (e.g., bowing down) to be healed. As the Roman centurion spoke in chapter 8 "Lord, I am not worthy" so should we remember that example of humility when we come to Jesus asking, seeking, and knocking.
Now the Pharisees believed that since they followed the letter of the law and were of the descendents of Abraham that they were automatically viewed by God as righteous children of God. This couldn't be farther from the truth. In fact, Jesus was saying that the Pharisees, who believed they were already righteous, were not the ones that Jesus came to minister to or call into true righteousness. Rather, it was the sinners that had come to meet Jesus here at this dinner--those who know they are lost and in need of a savior. In other words, the false righteousness of the Pharisees caused them to stumble and fail to understand who Jesus really was and furthermore worked to exclude them from Jesus' call.
Embedded in the middle of these two verses (9:12-13) is a very sharp rebuke to the Pharisees concerning God's law. Jesus says "go and learn" to the Pharisees about the OT verse "I desire compassion and not sacrifice", which is taken from Hosea:
6 For I delight in loyalty rather than sacrifice, And in the knowledge of God rather than burnt offerings.
Hosea 6:6
This rebuke is even weightier due to the fact that the Pharisees prided themselves on knowing and following God's law (i.e., the OT). Yet here is Jesus telling them to go and relearn what they thought they already knew. What Jesus is saying is that while the self-righteous Pharisees regarded sacrifice (i.e., required by the Law) as the ultimate act of faith, God requires compassion towards the sinners of this world. Again throughout chapters 8 and 9 we see the compassion of Jesus over and over as he heals, forgives and calls His disciples. Indeed, Jesus' compassion is highlighted in verse 9:36, "Seeing the people, He felt compassion for them...".
This pattern of faith and unbelief (or the rejection of Jesus) along with the last 3 verses in chapter 9 (9:36-38) are a perfect segue into the next chapter (ch 10) which delves into what discipleship really means along with its cost.
STUDY: Matthew Chapter 1
MEDITATE: Matthew 1, verses: 3, 5, 6, 16
MEMORIZE Matthew 1:21
STUDY: Matthew Chapter 2
MEDITATE: Matthew 2:7-12
MEMORIZE Matthew 2:2
THIS WEEK'S STUDY GUIDE
Chapter 2 overview
This first section in Matthew (Matt 2:1-12) includes 3 main characters, Jesus, Herod the king and the magi (the magi being several men of which little is known but most traditions state that there were 3 magi due to the 3 gifts they brought). Jesus had already been born at this time and was at most 2 years old. We can see this from the decree Herod made to kill all male children of 2 years old and under in verse 2:16. Jesus at this time was still in Bethlehem since the magi had not visited Him yet, later God would direct Joseph to take his family and flee to Egypt to avoid Herod's wrath. Next, we see Herod the king. Herod was a jealous, vengeful and evil king who sought mainly to keep his throne at all costs. There are extra-biblical accounts of him killing one of his wives and 3 of his sons. We know that the sons were killed because Herod thought that they meant to take his throne from him. However, Matthew does not need to dive deeply into Herod's past to demonstrate his wickedness. Matthew simply states that Herod ordered the murder of all male children 2 and under in Bethlehem and the surrounding vicinity and that is all the words needed for us to truly understand the wickedness of Herod. Finally, we get to the magi who were traveling from the east. Nothing much is mentioned of the magi including how many there really were. What we can understand from history is that magi were educated men that were practitioners specializing in astrology, sorcery, medicine, and dream interpretations among other things. The term magi was used by the Babylonians, Medes, and Persians and so we can discern that these magi were Gentiles.
Here in these initial verses in chapter 2, we see a couple of contrasts. First, we see Jesus King of the Jews alongside Herod the king (also known as Herod the great). Jesus, the rightful and righteous king of not only the Jews, but also all the world. Jesus, who was prophesied as the king and born into His kingship. Jesus, who was fully God and fully man. This is in stark contrast to Herod who is evil, unrighteous, and very deceitful. Herod was very fearful of losing his throne to others, whereas no one can ever take the throne away from Jesus.
The second major contrast is that of who was drawn to Jesus. Matthew is a Jew writing to Jews to prove that Jesus was messiah, king and savior. Jesus even stated that He came first to the Jew and second to the Gentiles (see Jesus' conversation with the Canaanite (Gentile) woman in 15:21-28). However, the first people that Matthew mentions who are seeking out Jesus (not only as Jesus, but as Jesus King of the Jews) are the magi...Gentiles! We do have other gospel accounts where shepherds were drawn to Jesus by an angel's appearance, but Matthew leaves that out, focusing on those outside of the Jewish community seeking Jesus. As we shall see in verse 2:2, they weren't just seeking Him, it was far more important than just seeking Him.
About the Meditation Verses:  Matthew 2:7-12

Now Matt 2:3-8 details the reaction of Herod and the Jews. Most likely "all Jerusalem" meant the religious leaders (chief priests and scribes mentioned in Matt 2:4) and not every single person in Jerusalem. The Jewish religious leaders seem apathetic to this news of magi seeking out the king of the Jews since they clearly explained to Herod where Jesus would be born but they themselves were not seeking their messiah. Herod's fear and hatred of this new king eventually peaked in the religious leaders later during Jesus' ministry as they sought to trap Him and eventually kill Him. Nothing much more is said of the religious leaders at this point as scripture only tells us that they were "troubled", but not enough to actually take action as Herod did. We do know that later the religious leaders would take it upon themselves to kill their messiah. It is possible that they might have thought not to get involved at this point and maybe Herod would solve their problems for them by killing their messiah. This would allow them (in their minds) to keep their hands free of blood by turning a blind eye towards Herod's actions when in truth it just meant that they were complicit in Herod's actions against Jesus.
After leaving king Herod, the magi moved on from where they were. At some point, they again saw the star. This time the star led them to the place where Mary and Jesus were staying, which some historians say took roughly 2 hours of travel time. Salvation was so close to all in this story, but very few had their eyes opened in order to see things clearly. Notice how the magi reacted to seeing the star once again. Matthew says they "rejoiced exceedingly with great joy". Usually when there is repetition, in this case with "rejoiced" (a verb) and "joy" (a noun), it places an emphasis on what is repeated. We know that the magi's joy (both inward and outward) is being emphasized here, but Matthew doesn't stop there, he also adds that they rejoiced "exceedingly" and that their joy was "great". We must understand the magi's joy as magnificent, overwhelming and exhilarating. The magi were finally going to be able to fulfill their purpose in worshiping the king. Do we come to the King in this manner...rejoicing exceedingly?
Upon finding the house where Jesus and Mary were staying, the magi entered and seeing Jesus and Mary they first "fell to the ground" or bowed down before Jesus. This showed their reverence for Jesus and was a prelude to their worship of Him. It is interesting that Matthew wrote that the magi both bowed down and worshiped. The Greek word for worship here could have also been translated as bowing down in order to show homage to others of higher rank (including human kings). Translating this word as bowing down would not make sense within this context since Matthew already stated that the magi "fell to the ground". Rather, the magi first bowed down and then worshiped Jesus. This is important since some would argue that the magi simply came to see a human king that would someday rule the Jewish nation, not that they came to see God himself. If the magi simply fell down before Him, you could argue (perhaps poorly) that they were simply paying homage to a man. However, since they fell down and worshiped Him, we know this is more than just paying respects to a potential human king, it was much more. This same word is used later in Matthew to describe how the disciples worshiped Jesus:
Matthew 14:33 - And those who were in the boat worshiped Him, saying, "You are certainly God's Son!"
The magi's final act of worship was to present their treasures to Him. They brought Him gold as appropriate for a king, frankincense as appropriate for a deity, and myrrh as appropriate for death, which was used for embalming. These treasures were of high value and highly valued, they were their best treasures that they gave to Jesus the King.
These verses give us an example of how we are to worship. We are to worship with exceeding joy, a joy defined by the object of our worship, Jesus. Our worship should be humble and submissive to an all-powerful and all-loving God, Jesus. Our worship should be to glorify the one who was born to us in the most humble circumstances, Jesus. Our worship should cause us to want to give our best to the one who gave everything that we could be made whole, Jesus.
Throughout these verses we also see God's sovereignty play out, protecting and providing for Jesus, Mary and Joseph as well as the magi. Protection for Jesus and the magi against Herod's wrath, as Herod was also enraged when the magi didn't return to tell him where Jesus was at. Protection for Jesus and His family as Herod pursued them in order to kill Jesus (presumably the same fate would have awaited Mary and Joseph, as well as Herod, would have wanted to end king David's bloodline once and for all). Provision for the magi in the form of a star. Provision for Jesus and His family in the form of the treasures given to Him by the magi that would be useful in their travel to Egypt (Matt 2:13).
About the Memory Verse:
"Where is He who has been born King of the Jews? For we saw His star in the east and have come to worship Him." - Matthew 2:2
Why do you think we should memorize a verse that speaks of Gentiles who were looking for Jesus (and not only just any Gentiles but those practicing things that God forbade and mocked, see: Isa 47:13–15)? The answer lies in understanding exactly what God wants us to hear and understand in this verse and that can only be found by examining this verse intently and within the larger context of chapter 2. First, we see that this entire verse is what was uttered by the magi (Matt 2:1) and is comprised of 2 distinct sentences. The first asks a question and the second provides a reason for the initial question. To expand our view slightly, Matt 2:1 ends with "magi from the east arrived in Jerusalem, saying,". We see the magi in Jerusalem after traveling quite some distance and they were asking those in the city where their king is. This word "saying" in the Greek is a present participle verb that is also plural. Knowing that this verb is of a plural form gives us the image that each of the magi was asking this same question. Additionally, the present participle gives the sense they they kept asking this question, obviously not getting an answer. This is very odd since the Jewish people had the scriptures and knew of this prophecy, but were oblivious when the prophecy arrived. The magi were not oblivious, they had been studying the Jewish scriptures and had realized (probably through a prompting by God to understand scriptures and also by the appearance of the star) that the king of the Jews was here. Jesus was already working, He was calling to Himself those who were spiritually poor and in need of the ultimate healer.
The first question they asked was "Where is He who has been born King of the Jews?". This shows that the magi not only understood the prophecy about Jesus, but that they also had knowledge of the genealogy of Christ. Obviously, the gospel of Matthew was not yet written when the magi were looking for Jesus so they couldn't have just looked up Matt 1 and read about His genealogy, so they had to have intently studied the scriptures (the OT at that point in time) in order to understand that Christ was of the line of King David. It's interesting that no one gave an answer to the magi's question, otherwise the magi would have immediately gone to the house where Jesus was. We see later that king Herod was a jealous king and wanted to rid himself of this king of the Jews. This is God's sovereignty at work, God prevented Herod from killing Jesus prematurely (before He could fulfill what scriptures said about Him) essentially blinding everyone except the magi from where Jesus was at during this time. Notice that the magi were not following the star at this point in the story, which must have disappeared temporarily while they met with Herod in Matt 2:7. This is also very telling of God's sovereignty and how far away from God the Jewish people had strayed.
Now the magi didn't stop with just this question, they gave an explanation as to why they were asking such a question. One that again must have been perceived by the people of Jerusalem as strange or crazy. Just imagine if you were a Jew in Jerusalem at that time and an outsider came to you asking where your king was. They must have thought these magi had lost their minds. This second sentence starts with the word "for", which in Greek is a conjunction that indicates an explanation is coming and we see here that the first reason for their question is due to not just a star appearing, but "His" star appearing. Now we get to the high point of this verse, and the second reason for the magi's question, in which the magi state "...and have come to worship Him.".  This is the crux of this verse, the fact that they didn't just want to find this king of the Jews, but that they wanted to worship Him. In fact, their main purpose was to worship Him. How do we know this. Well, looking at the verb in the original Greek we see that it is what is called an adverbial infinitive, which is just a fancy way to state that the phrase "to worship" makes further assertions about the verb it modifies (i.e., "have come"), that is the purpose of the magi's quest in seeking out the king of the Jews. Simply put, the central purpose of the magi's journey was to worship the king of the Jews!
This is absolutely amazing, in this one verse we see the magi, who are gentiles, eagerly looking for the one whom is prophesied as the king of the Jews. They have followed scripture and a star (His star) to Jerusalem where the star mysteriously disappeared (but we know that this was God's provenance in order to protect Jesus from Herod and possibly even the religious leaders). And most importantly, we see that the magi have come to worship Jesus as king. Contrast this with the reaction of the Jews. They cannot (or won't) answer the magi's question, we know this because the star had to reappear to guide them, otherwise someone would have told them where to go. Additionally, Herod and "all of Jerusalem" (Matt 2:3) were troubled by this news. The chief priests and scribes of the Jews informed Herod of the OT prophecies of where Christ would be born (Matt 2:4-6), but they were not eagerly seeking Jesus as the magi were. Finally, Herod, who was exceedingly jealous of his throne, was worried this king of the Jews would take his throne so he secretly plotted to kill Jesus.
Today, as we commit this verse to memory, we should also strive to be more like the magi when we come together as a church. Coming together humbly and with joy to worship Jesus as our king, knowing what He has endured for our sake. It is my prayer that this verse would cause us to pause and consider our own worship and how we can grow closer to Christ in worship. Let us be more like the magi (Matt 2:10-11) exceedingly joyful, bowing down in submission, worshiping and giving of our best (first-fruits) to Jesus.
STUDY: Matthew Chapter 3
MEDITATE: Matthew 3:11-12
MEMORIZE Matthew 3:11
THIS WEEK'S STUDY GUIDE
Chapter 3 - Overview
Matt 3:1-12 can be divided into 2 major sections verses 1-6 introduce John the Baptist while verses 7-12 contain what John says after he sees the Pharisees and Sadducees arriving on the scene. All of this transpires before Jesus even arrives to be baptized by John. Before we get to the meditation and memory verses, let's first examine how Matthew answers the question of who is John the Baptist. This will help us understand the rest of Chapter 3.
Chapter 3 - Go Deeper
The Preaching of John the Baptist
John the Baptist is the son of Zechariah who was a priest of the order of Abijah and his wife Elizabeth, who was a daughter of Aaron. Luke 1:6 says that they both were righteous before the Lord and walked blamelessly in all the commandments of the Lord. But Matthew's gospel begins not with his birth, but at a time when he appeared in the wilderness of Judea preaching. This word for preaching gives the sense of a herald, who is publicly and loudly announcing something very important. Indeed, John is considered a forerunner of Jesus who would prepare the people to receive their messiah, effectively heralding in or announcing the presence of the messiah. His message was simple:
        Repent, for the kingdom of heaven is at hand.
- Matthew 3:2 
This is the key to John's message. The idea of repentance is important, so important that it is mentioned 3 times in Chapter 3 alone. To understand this term better we need to first define repentance. In the NT, repentance generally refers not simply to changing one's mind but also to turn back to God.1
We also see how Paul uses repentance in Acts.
First to those in Damascus, then to those in Jerusalem and in all Judea, and then to the Gentiles, I preached that they should repent and turn to God and demonstrate their repentance by their deeds.
- Acts 26:20
That is repentance! It is not just turning away from sin, but also turning to something better. If we simply turn away from sin we turn away on our own strength and do not enlist the help of Jesus. However, by turning away from sin and towards Jesus, we find grace and mercy from Him to help overcome our sins.
John doesn't just stop here in preaching to repent, but he gives a reason to repent, that of the kingdom of heaven being near. Now Matthew is the only gospel that uses the phrase "kingdom of heaven", other places we see the "kingdom of God". These two terms are interchangeable, Matthew was a Jew writing to other Jews and at that time God's name was usually not used out of respect. Instead heaven was used in place of God's name. Simply put the kingdom of heaven is the sovereign rule of God over His domain. The rest of this verse, "for the kingdom of heaven is at hand" refers to the nearness of God's rule in the person of Jesus and explains why John emphatically preached this command. In other words, "Repent, Jesus is near!". As we will see later in Matthew, Jesus tells us that the kingdom of heaven has arrived:
But if I cast out demons by the Spirit of God, then the kingdom of God has come upon you.
- Matthew 12:28
Of course, the kingdom of heaven can also mean the future reign of Jesus on earth:
I say to you that many will come from east and west, and recline at the table with Abraham, Isaac and Jacob in the kingdom of heaven;
 - Matthew 8:11
As to which of these definitions we are to use when interpreting the phrase "the kingdom of heaven", we must rely on the context of scripture. Here in chapter 3, we see John proclaiming that the kingdom of heaven is near and then we see Jesus appear and be baptized by John. Jesus is God incarnate and the rightful and sovereign ruler of the world. It's not by chance that John is telling the people that the kingdom of heaven is near and then the king of heaven appears. Additionally, if we look at verse 3:3 we see an OT prophesy that tells us who John is. He is the one that will "MAKE READY THE WAY OF THE LORD". He is preparing the way for Jesus by announcing that He is near. That the kingdom of heaven is near. So in this context it is clear that this phrase refers to God's sovereign rule in the person of Jesus.
Now in verse 3:4 something curious is mentioned. It talks of what John is wearing and what he ate. This is an odd verse to have situated between an OT prophesy and the picture of everyone coming out to be baptized by him in the next verses. In these cases (and there are quite a few of them in the Bible) where some seemingly random verse is thrown into what seems like a cohesive paragraph (i.e., verses 3:1-6) we have to look more intently at this odd looking verse. Let's go back to what we have just read. We read what John was preaching, who he is as prophesied by Isaiah and then we are told what he wore and ate. So Matthew is explaining who John is in verses 3:1-3 so it stands to reason that verse 4 is also giving us more of a clue as to who or what John is. Some Bibles have a built-in concordance that cross-references other verses that have a bearing on the verse you are reading. If we follow those cross-referenced verses (especially in the OT) we see some similarities between John and Elijah in 2 Kings.
 They answered him, "He was a hairy man with a leather girdle bound about his loins." And he said, "It is Elijah the Tishbite."
- 2 Kings 1:8
The description of both John and Elijah is very similar. Additionally, we see Jesus say in Matthew.
And if you are willing to accept it, John himself is Elijah who was to come.
- Matthew 11:14
But John said that he was not Elijah in John chapter 1.
They asked him, "What then? Are you Elijah?" And he said, "I am not." "Are you the Prophet?" And he answered, "No."
- John 1:12
So who's right? Well, if we dig up more cross referenced verses we see that John came in the spirit and power of Elijah as we see in Luke chapter 1.
                It is he who will go as a forerunner before Him in the spirit and power of Elijah, TO TURN THE HEARTS OF THE FATHERS BACK TO THE CHILDREN, and the disobedient to the attitude of the righteous, so as to make ready a people prepared for the Lord.
- Luke 1:17
So John was a "type" of Elijah that prepared the way for Christ. That is, the literary device "Typology" is use to relate John to Elijah. Typology is the way to show how an OT person or institution is understood to correspond to or foreshadows a NT person or institution. In essence, Elijah was a foreshadowing of who was to come, that is John
 Similarities exist also between the ministry of these two men. Elijah faced political opposition in his encounters with King Ahab. John the Baptist's opposition was Herod Antipas. Each man spoke out strongly against the evil of these two political powers. But both men's real enemies were the wives of these two leaders: Jezebel and Herodias. Each woman hated the prophet of God and each woman manipulated her husband to have the prophet put to death.2
Next we see that In preparing the way for Christ, John was baptizing many people as they repented and confessed their sins. We see in verses 3:5-6 that people were coming from all around to hear John's message of repentance and as a result they were repenting and becoming disciples of John. This was preparing the people to hear the messiah's message and to open their hearts to Him. As John himself says in verse 3:11, I baptize with water for repentance, but Jesus will baptize with the Holy Spirit. Repentance must come first before we can turn to Jesus and truly be ready to receive His Holy Spirit.
The Arrival of the Religious Leaders
Now in verse 3:7 we come to a point of inflection in the story. Verse 3:7 starts with the word "But" which indicates a contrast in the story. Previously in verses 3:5-6 we saw an amazing sight, people from all over were showing up to repent and be baptized (there are indications that Gentile converts were being baptized as well). Now we see the Pharisees and Sadducees come on the scene (...play ominous music here...). Not only did they show up where John was preaching repentance, but Matthew says they came to be baptized. Bear in mind that what John says, in the following verses (3:8-12), is directed mainly at these religious leaders but all who were present heard it. He starts by calling them a "brood of vipers", which would have brought to mind a nest of baby vipers, poisonous snakes that, as newborns, cannot control their venom. Note that Jesus also used this same term for the religious leaders in Matt 12:34. John's second rebuke of these leaders was to ask the rhetorical question of "who warned you to flee from the wrath to come?". These religious leaders believed, as perhaps many Jewish people did, that the "wrath to come" from God would be directed only towards the Gentiles. This couldn't have been farther from the truth, and John was about to point that fact out to them.
In verse 3:8 John again falls back to his original proclamation, which is that of repentance. But here John adds that the religious leaders should bear fruit in accordance to true repentance. For a person who thinks they are righteous (when they really are not), bearing fruit is an impossible task. Remember that repentance is not only turning from sin, but also towards God. The turning towards God also requires faith, which is necessary in order for us to bear fruit. The religious leaders were not repentant as we see later in the Gospels when they continuously try to trap and eventually kill Jesus.
Verse 3:9 is where John presumes (correctly) what the religious leaders were thinking and answers them directly. They were thinking that because they were the sons of Abraham they were automatically given a ticket to heaven. Again, this could not be further from the truth, our genealogy does not determine our acceptance or rejection by God, nor does our works or our goodness or who we know or what we know. But, if our faith is the same faith as Abraham (which, as we know, was credited to him as righteousness), we can know that we are truly children of God. John further strengthens his argument against the use of genealogy as proof of faith by stating that God can raise up sons of Abraham from these very stones. The key to properly interpreting this verse is to understand what is meant by "stones".
And coming to Him as to a living stone which has been rejected by men, but is choice and precious in the sight of God, you also, as living stones, are being built up as a spiritual house for a holy priesthood, to offer up spiritual sacrifices acceptable to God through Jesus Christ.
- 1 Peter 2:4-5
In the above passage, we can see that not only is Jesus considered the chief cornerstone, but we (as faithful believers) are considered "living stones" of which the church is built. So if John is talking about believers as living stones, who are the stones in verse 3:9 referring to? Well, we can look at the previous context verses 3:1-8 and we see John mentioned two groups of people, the repentant people seeking baptism and the non-repentant religious leaders. John is certainly not talking about himself here, neither is he talking about the religious leaders as repentance is necessary for John's baptism of repentance. And as we see in the rest of Matthew the religious leaders are not repentant. Therefore, John must be talking about those repentant people that were seeking John's baptism of repentance. John is basically saying that God can raise up His church from those repentant people that are being baptized by John. This again is another twist of the knife in the religious leader's sides as not all of those seeking repentance were Jewish, some were Gentiles truly seeking the messiah.
In verse 3:10 John returns to the idea of bearing fruit in accordance with repentance. But in this verse the idea that sudden and swift judgement was at hand as the ax was already near the root of the trees (note that "trees" is in the plural). Any tree that does not bear fruit (remember, to bear fruit one must first be repentant, turning from sin and towards God) is cut down and thrown into the fire. This is a fairly common use of imagery to denote the unrepentant sinner's final judgement in hell.
About the Meditation & Memory Verse:
We now come to our memory verse for this week, Matthew 3:11.
                As for me, I baptize you with water for repentance, but He who is coming after me is mightier than I, and I am not fit to remove His sandals; He will baptize you with the Holy Spirit and fire.

Here we see the contrast between John and his baptism of repentance as compared to Jesus and His baptism with the Holy Spirit and fire. John doesn't say too much about himself here, only that he is baptizing with water for repentance and that he is not worthy to even serve Jesus (as evidenced my his unworthiness to even untie His sandals). However, John does glorify Jesus. He says that Jesus is mightier that he and that Jesus will do something that no human can do, which is to baptize not with water, but with the Holy Spirit. Not only with the Holy Spirit, but fire too.
What does baptism with fire mean? Fire is mentioned 3 times. Once before verse 3:11 and once after in verse 3:12. In both cases the use of fire is to burn up useless or unfruitful things. We've already seen in verse 3:10 that fire is used to burn up unfruitful, unrepentant trees. In verse 3:12, fire is used to burn up the useless chaff, which is the useless husk that surrounds the seed of a plant such as wheat. Before there was gas powered farm machinery, the farmers would use a wooden pitchfork-like shovel called a winnowing fork to toss the wheat into the air that has been gathered from the fields. The lighter chaff would blow away and would be collected and burned up, whereas the heavier seed would fall to the ground to be collected and safely stored in the barn. Examining the second part of verse 3:11 "He will baptize you with the Holy Spirit and fire." placed in context within the verses about the unfruitful trees and the useless chaff being burned up and further within the context of John rebuking the unrepentant religious leaders, we can understand that Jesus will baptize those who repent and turn to God with the Holy Spirit, but for those who remain unrepentant, there is only fire.
Final Words:
This has been a difficult passage to digest. There are some difficult verses to interpret as well as some words in which even the academics are divided on as to how to precisely interpret. The introductory verses tell us who John the Baptist is and what his message was, one of repentance. After verse 3:6 the focus is mostly on the "brood of vipers" or the religious leaders and their unrepentant, unceasing march towards judgement along with a comparison between John and Jesus and their respective types of baptisms. As we read this passage we need to respond by clearly seeing those around us who, like those seeking John's baptism of repentance, are truly seeking God and we must pray that God would direct us to minister/disciple to them with the hope of gently leading them to Christ. Likewise we need to clearly see the stubborn unrepentant people in our lives, similar to the religious leaders, that don't see a need for Christ and we must pray that God would grant them repentance leading to salvation. While we are not commanded to call them a brood of vipers, we are to demonstrate grace to them, which is difficult for us but glorifies God.
The truth here is that in order to preach and teach Jesus, we must first preach and teach repentance. Repentance, faith and salvation; one leads to another, but all must be present in order to reach the lost for Christ and bring them to salvation.
1 DiFransico, L. (2014). Repentance. In D. Mangum, D. R. Brown, R. Klippenstein, & R. Hurst (Eds.), Lexham Theological Wordbook. Lexham Press. 2 Cooper, R. L. (2000). Mark (Vol. 2, p. 158). Broadman & Holman Publishers.
STUDY: Matthew Chapter 4
MEDITATE: Matthew 4:1-11
MEMORIZE Matthew 4:19-20
THIS WEEK'S STUDY GUIDE
The Meditation | Matthew 4:1-11
The Temptation of Jesus
We have just read of Jesus' baptism by John the Baptist in Ch 3, now Matthew immediately moves on to Jesus' temptation by the devil. Why do I say "immediately moves on", well there are 2 reasons. First, the Greek word for "Then" that starts verse 4:1 gives the sense that this action occurs very soon after Jesus' baptism. Second, if we look at Mark 1:12 we see that the Spirit immediately impelled Him to go out into the wilderness. Two reasons to consider that these temptation began right after His baptism. Notice that we see He didn't first go out and begin to minister, heal and teach to the population, rather He first went through some major testing. You may be thinking, "wait, this is Jesus, why be led to temptation first rather than immediately going out to proclaim the good news?". Well we need to go back to Matthew 1:1 and remember why Matthew is writing his gospel. Matthew is proclaiming Jesus as king of the Jews, messiah and savior, all this to the Jews (as that was Matthew's main audience). Jesus' temptation and failure of the devil to break Jesus through temptations is yet more proof that Jesus is the messiah and savior, having come to take away our sins. You see He must be the spotless lamb (sinless) in order to be a substitute for our sins. Not succumbing to the devil's temptations (especially in Jesus' weakened condition, having fasted for 40 days) is yet more proof that He is our perfect savior. The One the Jews were looking forward to had arrived.
Before we get into the actual temptations, we must first understand that Jesus was in a severely weakened from His 40 day fast in the wilderness. Verse 4:2 indicates that after His fast He became hungry. This wasn't just a few minor hunger pangs, but the hunger of one who is approaching death if food is not provided. Indeed Jesus was in a perilously weakened state...and then the tempter came to Him. I know that if I miss just a few meals in a row, I'm much more susceptible to sinning than if I have a full stomach. I can't imagine what Jesus was experiencing here, but I do know that it is yet more proof that Jesus is the perfect sacrifice who takes away all of our sins. But also beyond that, One who can understand our problems, trials and temptations like no other, as He has gone through far worse.
Now Jesus is going to endure 3 temptations, but rather than going through each temptation individually, I want to compare and contrast them together to get a sense for the progression throughout all of the temptations. These temptations and how Jesus responds to them acts as a road-map for us to understand how to deal with temptations in our lives. Listen as Matthew shows us how the devil acts and how Jesus responded in complete sinlessness.
The Devil's Wording
In the first 2 temptations the devil says "If you are the Son of God...". The conditional "If" in this statement isn't suggesting that the devil did not know if Jesus was truly the Son of God, rather it implies the word "since". So while "If" is a good translation of the Greek, in cases where an "If" in the Greek is followed by an indicative verb "you are" (all one word in the Greek)--the indicative indicating a fact--and this indicative is objectively true, that is, we certainly know Jesus is the Son of God (as did the devil), then we can understand the word "If" with the sense of the word "Since". Here the devil is essentially saying in the first 2 temptations that "Since you are the Son of God...". The devil is setting a trap for Jesus. Additionally, we can go back to scripture and again prove that the devil does, in fact (objectively), know that Jesus is the Son of God, as in Mark.
Whenever the unclean spirits saw Him, they would fall down before Him and shout, "You are the Son of God!"
-Mark 3:11
If the unclean spirits know who Jesus is then it is obvious that their leader knows too. Moving on to the third temptation in verse 9.
"and he said to Him, 'All these things I will give You, if You fall down and worship me.'"
Matthew 4:9
We see a slightly different use of the "if" conditional. In this case the devil shifts his wording slightly in that he gives the promise of rule over all the kingdoms of the world first and then the conditional. This conditional is interesting since it uses a subjunctive verb for "worship". Now a subjunctive verb indicates a future possibility. In this case the future possibility of Jesus bowing down to the devil, which we all know is ludicrous; however, the devil seems to believe in the possibility of Jesus succumbing to this temptation. This speaks to the devil's complete and utter rejection of God, and by relation, the truth. He believes there is some possibility that Jesus would worship him.
The Devil's Tactics
ou see at each turn, each time the devil is defeated, he takes a different tact. If he can't overcome Jesus through a head on attack (as with the first temptation) then the devil changes his tactics in an attempt to use scripture against Him (as in the second temptation). The devil twists God's word in an attempt to cause Jesus to sin. This is a similar tactic that the serpent (a.k.a., the devil) used in the garden of Eden in Genesis 3:1 when he said "did God really say...". Here in this second temptation in Matthew 4:6, the devil again commands Jesus to do something (throwing Himself off the temple), but this time the devil missuses scripture (Psalms 9:11-12) in such a way to add credibility to what he is asking. Essentially commanding Jesus to prove that He is who He says He is, which as we have already learned, the devil knew very well who Jesus was. The devil even mirrors Jesus' speech by using the phrase "it is written" in an attempt to give authority even though he is one with no authority.
Finally, the devil showed him all the kingdoms of the world and offered them to Jesus on the condition that He would worship him. Instead of continuing to try to command Jesus to do something, as in the previous 2 temptations, here the devil offers a bribe, if you will, to entice Jesus to sin. That is, for Jesus to break His relationship to God. For our sakes Jesus remains sinless, otherwise He could never be the sinless offering for our sins to appease God's wrath.
Why is this progression of attacks to critical for us to understand? Well, if the devil fails to tempt us in one way, he will use another avenue to tempt us. It's useful to know that the devil uses many different means with which to attack us. He is always trying to come at us in different angles at different times (usually when we are most vulnerable) and with different types of temptations (e.g., pride, lust, fear and other fleshly desires). However, one of the most important ways that I want to call out here is the way in which the devil attempts to use truth to entice us to sin. You see in the second temptation, the devil tries to use scripture against Jesus. But the devil is misusing scripture for evil purposes. He subverts the meaning of scripture, for example, taking it out of context, and applies it in an attempt to cause Jesus (or one of us, God's children) to sin.
For this reason, it is imperative that we not only memorize scripture, but also understand and meditate on it constantly.  Before I even memorize a verse, I like to first study and understand what I'm memorizing. There is always context and points of interest that you can use to learn more about a verse. All of these things helps to make the verse more "memorable". This helps us memorize a verse by adding color and details to simple words on a page (granted they are the inspired words of God, but you get my point). The next step is to actually memorize the verse. Memorization enables the Spirit to bring to mind various scripture in order to fight temptation. If we don't have our minds saturated in scripture, how can we use it to battle temptation. Meditation on scripture goes hand-in-hand with memorization of scripture. By bringing up scripture in your mind and really thinking about it and using that scripture as you pray, it further solidifies scripture in your mind. As a side note, it is no secret that people who are really good at memorization and recall are also those that employ a technique called spaced repetition. This way this technique is used is to first memorize something and then for the next several days in a row try to recall what you have memorized (re-memorizing what you can't recall). Then after a few days of this, simply space out these recall sessions with longer and longer periods of time. Maybe a few days between recall sessions and moving up to a few weeks. Eventually, you will have solidified scripture in your long term memory, enabling you to call it to mind whenever temptation or the need strikes.
Jesus Responds
To put it simply, Jesus uses scripture each time in reply to the devil. All of this scripture comes from Deuteronomy 8:3, 6:16, 6:13-14. In reply to the first temptation, Jesus says "It is written, 'Man shall not live on bread alone, but on every word that proceeds out of the mouth of God'". Here Jesus is maintaining that God's word is eternally more important than food, which can only sustain for a short time (unlike God's word which sustains us eternally). Jesus is also saying that the words (commands) of God are of infinitely greater importance than the words of the devil, which are of no value. It is key that Jesus is stating that God's words are what sustains us. Not the words of the devil or even of man. Even food, which our body needs is not as valuable (eternally) as God's word. In His weakened state, Jesus would not allow Himself to be commanded by the Devil for any reason. As for us, we should also value God's word as the greatest of all, and in valuing His word, obeying.
In reply to the second temptation, Jesus says "On the other hand, it is written, 'You shall not put the Lord your God to the test'".  The devil is using scripture to goad Jesus into testing that Jesus really believes God will do what He says He will in scripture. But Jesus is not falling for that. Jesus' trust in God and His word is unbreakable. Jesus will not test God by jumping off of the temple, in fact testing God could have shown doubt, giving the devil a foothold. But faith is the opposite of doubt. Additionally, Faith in God's word is a shield for us, Ephesians.
 " in addition to all, taking up the shield of faith with which you will be able to extinguish all the flaming arrows of the evil one."
-Ephesians 6:16
Our faith in Jesus and His word is our first line of defense from the attacks of the devil. Just as a physical shield was the first line of defense to the soldier.
In reply to the third temptation, Jesus says "Go Satan! For it is written, 'You shall worship the Lord your God, and serve Him only.'". Notice here that Jesus is now giving the command, which is basically a single word "Go", directed at Satan (in other translations this word is translated as "Away with you", "Away from Me" or even "Go away"). This command the devil cannot ignore and must comply, showing who has true authority. In response to the devil's offer of all the kingdoms of the world, Jesus replies that there is only one God that shall be worshiped and served. Jesus knew that it would be impossible to both accept the devils offer and to serve God, as it is true for us as believers also. As in Matthew.
"No one can serve two masters; for either he will hate the one and love the other, or he will be devoted to one and despise the other. You cannot serve God and wealth."
-Matthew 6:24
We either serve our God or we do not. We cannot straddle the fence, so to speak. We must treat Jesus' response as a model for how we are to respond in temptation. As we see in James.
Submit therefore to God. Resist the devil and he will flee from you.
-James 4:7
Jesus' responses to the devil's temptations gives us a perfect model to imitate. First, when we are initially tempted (as in Jesus' first temptation) we must immediately go to the word of God. Second, when the devil tries to twist the word of God to confuse us (as in Jesus' second temptation) we must understand scripture in order to turn away to temptation. This requires us to constantly be in the scriptures so that we can properly understand and apply scripture. This is not always easy as there are quite a few difficult passages in scripture. It will require prayer and study to understand scripture and possibly seeking out others in the church that can explain scripture well. Finally we must always put God first. We must only worship God and serve Him. Ridding ourselves of idols that we place in front of God is a priority as well as a lifelong work if we are to truly be able to worship and serve Him. So to summarize: we must go to the word, we must understand the word and we must worship and serve the one to gave us the word.
The Memory Verse | Matthew 4:19-20
"And He said to them, 'Follow Me, and I will make you fishers of men.' Immediately they left their nets and followed Him."
-Matthew 4:19-20
The word "them" in verse 19 refers to Simon (called Peter) and his brother Andrew, mentioned in verse 18. Now it seems that this was not the first time that Jesus had met these two brothers, they were mentioned in John 1:35-42 as having previously met. Andrew was a disciple of John the Baptist, possibly Simon was as well since they were brothers. They left John the Baptist to follow Jesus for awhile and at some point must have returned to their normal jobs as fisherman. At this point Jesus has found them again working at their jobs.
When Jesus called out to them to follow him for the purpose of making them fishers of men, we know that they already knew Jesus and suspected Him of being the long awaited messiah. Likewise, Jesus knew Andrew and Peter. In fact, Jesus had already changed Simon's name to Peter at their earlier meeting. At this point, Jesus was beginning His earthly ministry by selecting and calling His disciples individually.
In verse 20 we see the response of Peter and Andrew. The main verb (and most important word in this verse) is "followed", but we have a preceeding adverb "immediately" and a verb "left" that is a participial. Essentially giving us a more complete picture of how they followed Jesus. That is, they immediately and without hesitation left their job, their main source of income in order to follow Jesus.
When Jesus calls us to deny ourselves, pick up our cross and follow Him--whether that be to follow Him as a new creation in faith, to put His word into action or even to simply pause, be quiet and listen to Him--we need to be like the disciples and without hesitation stop what we are doing and put our eyes on Him who is the author and perfecter of our faith. Only then will we be mold-able by Him so that He can transform us into useful instruments to be used by Him. Only then can He make us into fishers of men.
STUDY: Matthew Chapter 5
MEDITATE: Matthew 5:13-16
MEMORIZE Matthew 5:16
THIS WEEK'S STUDY GUIDE
The 5 Discourses of Matthew
The structure of Matthew is highly debated, but most seem to fall into the camp of dividing this gospel into 5 major discourses, which are interleaved between narrative sections. So the general outline of Matthew can be best described as:
I. (Prologue) The King's Advent (1:1–4:25)
II. The King's Authority (5:1–9:38)
    A. Discourse 1: The Sermon on the Mount (5:1–7:29)
    B. Narrative 1: The Authenticating Miracles (8:1–9:38)
III. The King's Agenda (10:1–12:50)
   A. Discourse 2: The Commissioning of the Twelve (10:1–42)
   B. Narrative 2: The Mission of the King (11:1–12:50)
IV. The King's Adversaries (13:1–17:27)
   A. Discourse 3: The Kingdom Parables (13:1–52)
   B. Narrative 3: The Kingdom Conflict (13:53–17:27)
V. The King's Administration (18:1–23:39)
   A. Discourse 4: The Child-likeness of the Believer (18:1–35)
   B. Narrative 4: The Jerusalem Ministry (19:1–23:39)
VI. The King's Atonement (24:1–28:15)
   A. Discourse 5: The Olivet Discourse (24:1–25:46)
   B. Narrative 5: The Crucifixion and Resurrection (26:1–28:15)
VII. (Epilogue) The King's Assignment (28:16–20)1
The first discourse, starting with chapter 5, covers the sermon on the mount. Here we are focused on Matthew 5:13-16 that talks about followers of Christ as the salt and the light of the world. This section starts out with Jesus teaching that we are the salt of the earth. What does it mean to be the "salt of the earth"? Well, first we need to understand what Jesus means by "salt". Today we think of table salt when we think of salt. That is, something that makes our food more flavorful. But back in the time when Jesus was teaching this, salt would have been well known as a food preservative. Refrigeration wasn't invented yet and transporting large blocks of ice to a warmer region wasn't practical, so salt was used to preserve food, preventing it from going bad. Salt was a means of survival. Without salt, food would have to be eaten immediately and could not be stored.
Now to preserve food, one would have to rub salt into the food in order to protect all of the food from contamination and rot. We are the salt of the earth because we have had the word of God and the Spirit of God "rubbed" into us. Fully permeating us. This produces godliness in each one of us, thus we can act as the salt of the earth (or maybe a better phrasing for us is that "we are the earth's salt"). Now we as "salt", made salty by  God's word and Spirit, can be vigorously rubbed into the earth (that is, humanity, not the actually ground we walk upon) just as though salt were being rubbed into meat to preserve it. As we (the salt) permeate humanity (the earth) we act as a preserving agent. Preserving those who listen to God's effectual call to salvation. Preserving our families whole and useful to the Lord. Preserving also, our churches from disunity. In a greater sense the church as a whole (the body of believers) acts as a preservative to their communities and even to society.
The second part of verse 5:13 talks about the salt losing its taste and becoming useless. Notice that here the verse is not saying that the salt is lost, but the flavor of the salt is lost. We cannot associate losing the taste of the salt with one losing his/her salvation. We know that God is perfect and does not make mistakes and that salvation is a gift of God; therefore, we cannot interpret this verse as saying the person has lost his/her salvation. Rather, the person has lost his/her effectiveness due to some type of sin that has entered one's life. Perhaps one has allowed more of the world to overtake him/her, choking out the word of God in his/her life. Once this happens, one becomes ineffectual to God and, as it says in this verse, not good for anything except to be trampled under foot by men.
I know that in my life, whenever the world starts to crowd out the word of God, I become more like the world and less like Jesus. The world cannot see Jesus in me and I become less and less effective for the work God has before me. To overcome this takes effort and most of that effort involves discipline. Discipline to pray that God shows me my sins or weaknesses that have made me ineffective and to give me the will to repent and turn back to Him in humility. For we know that He is full of grace, mercy and love towards us and welcomes us with open arms just as the prodigal son was welcomed back with open arms and not only that, but a feast. So it is that God welcomes us back into the fold with much rejoicing.
Now we get to the next 3 verses (5:14-16), which refers to us as the light of the world (or again, a better phrasing could be "we are the world's light"). In fact the Greek word for "light" gives the sense of something emitting light, such as a lamp. It is important to note that we, in and of ourselves, are not the source of light, but it is Jesus, the light of the world, who is the source of our light.
Then Jesus again spoke to them, saying, "I am the Light of the world; he who follows Me will not walk in the darkness, but will have the Light of life."
- John 8:12
In other words, we shine with the brightness of Jesus' glory.
When we act as the world's light, it is not sensible for us to hide this light in any way, but to set it on a high place (a hill or a lampstand) to provide illumination to all. We must let the light of Jesus shine in order to draw others out of the darkness and into the light. The verb "shine" in verse 5:16 is an imperative or a command. We are the light of the world and as such we have a responsibility to act accordingly, that is we must allow the light of Jesus to shine, to emanate forth from us.
Jesus doesn't stop with just commanding us to shine as beacons of light in this world, but He also tells us the manner in which we shine. Jesus follows up the command "Let your light shine before men", with "in such a way that they may see your good works". We are not called to let our light shine for selfish purposes (e.g., thinking we are better than others or without grace and mercy), rather we are to show the light of Jesus with our good works. And all of our good works originate from the Spirit of God. In fact, earlier in this chapter (verses 5:3-12) Jesus teaches these good works in the Beatitudes: humility, gentleness, mourning over our sins, righteousness, mercy, purity, peace,rejoicing in the midst of persecution.
Now the result of letting our light shine in this world is not that we get a reward, but that God is glorified. It just makes sense to glorify God since He made us into a new creation at salvation, placing His Spirit in us, removing our heart of stone and replacing it with a heart of flesh, causing us to bear fruit and do good works. All the work is done by God, to Him should be all the glory.
 Keep your behavior excellent among the Gentiles, so that in the thing in which they slander you as evildoers, they may because of your good deeds, as they observe them, glorify God in the day of visitation.
-1 Peter 2:12
Allowing the light of Jesus to shine in our lives gives others a view as to who is at work within us. Our good works draw others to Jesus. As John the Baptist said "I must decrease so that He increases". We must step aside (our decrease) and allow the Spirit to work and draw others to our good works for the result of God's glorification (His increase). If we follow this command to allow our light to shine in this sinful world, giving all glory to God. God will work in such powerful ways that we cannot imagine.
1 MacArthur, J. F., Jr. (2006). The MacArthur study Bible: New American Standard Bible. Thomas Nelson Publishers.